Kazakhstan Cadets SAMBO Championships were held in Aksay
Federations
20 September 2018
Aleksandr Solomahin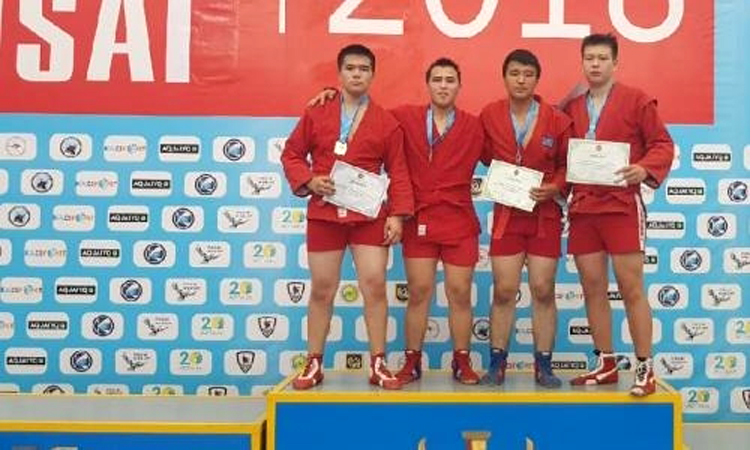 Kazakhstan Cadets SAMBO Championships (born in 2002-2003) took place in the town of Aksay in the West Kazakhstan Oblast. As a result of the competition, winners were determined in weight categories.
Gold medals among girls were won by Aruzhan Arman (38 kg, Almaty region), Asemkul Baltabai (41 kg, Shymkent), Kundyz Zhylkybai (44 kg, Kyzylorda), Guzal Ayupova (48 kg, Almaty Oblast), Nargiz Voisova (52 kg, Kyzylorda ), Aknur Asylbekova (48 kg, Almaty Oblast), Aidana Zharbolova (60 kg, Almaty Oblast), Madina Erzhan (65 kg, Astana), Riza Suleimenova (70 kg, ZKO) and Karina Skogoreva (over 70 kg, Almaty Oblast) .
As to the boys, the highest step of the pedestal was taken by: Nurdaulet Yerik (42 kg, Zhambyl Oblast); Yernar Kuandyk (46 kg, Kyzylorda); Madi Orazov (50 kg, Atyrau); Madeniet Kulmanov (55 kg, Atyrau); Diaz Majitov (60 kg, Baikonyr); Iliyas Abduakhas (66 kg, Turkestan); Serikbol Estay (72 kg, East Kazakhstan Oblast); Beksultan Ashen (78 kg, Turkestan); Mukhamedali Mavlidov (84 kg, Almaty Oblast); Zamir Khamzin (over 84 kg, ZKO).
According to the chief secretary of the championships Nuftolla Tumenov, the winners will be awarded the title of Candidate for Master of Sports and will be included in the national team. The team will take part in the World Cadet Championships that will be held on December 7-8 this year in Novi Sad, Serbia.