2013 World SAMBO Championship: FIAS website will show everything!
12 November 2013
Sergei Grishin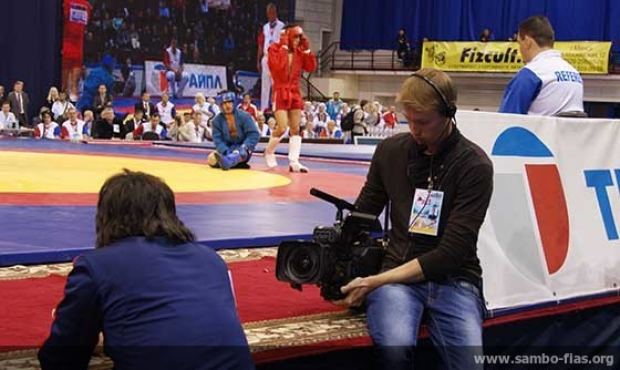 10 days left before the main tournament of the year in SAMBO calendar starts. On November 22 the first sets of the 2013 World SAMBO Championship medals will be competed for in St. Petersburg (Russia). It is expected that about 7,000 spectators will be able to follow this spectacle in the gym of one of the most famous sports centers of the city on the Neva River – the Yubileyny Sports Palace. Not only residents and guests of St. Petersburg, but also the many-million Internet audience of fans from all over the world will see all the twists and turns of this event. We'll show you not only the event itself, but also a backstage of the tournament on the FIAS official website.
The 2013 World SAMBO Championship will be webcasted on the FIAS website for the whole three days of the competitions. You won't miss anything and will see fights of both morning and evening parts of the tournament. Professionals of the Championship Host Broadcaster – All-Russian State Television and Radio Broadcasting Company, Russian State Television Company – will work on-camera for you from morning to evening. It is through their eyes the live webcast viewers will see all the fights within the competitions on the FIAS website.
What happens outside SAMBO mat, how do coaches prepare athletes, want do spectators want to see, what emotions do winners feel, what do losers think about – we'll tell about this and much more in regular video reports from the tournament in St. Petersburg. The FIAS television crew will prepare 15 news shows, so that you'll see every exciting moment of the tournament and even virtually visit places where you've never been. Visit the FIAS website – it will be very interesting!