"World Sambo Championship in Africa is great! Right now the history is happening"
Competitions
14 November 2015
Sergei Grishin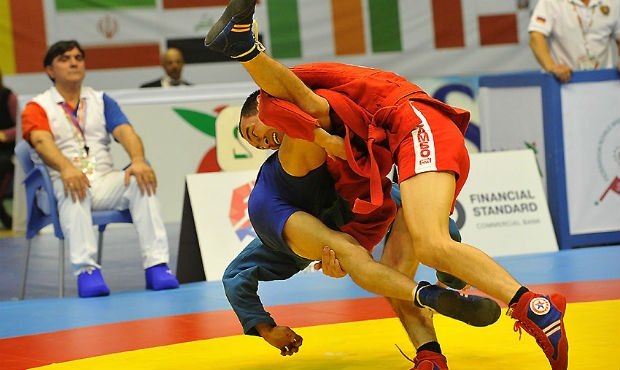 Emotions and experiences of the participants on the first day of the World Sambo Championship in 2015 in Casablanca, Morocco in their interview at the FIAS's site. The official sponsor of the World Sambo Championship in Morocco in 2015 is JSC "Togliattiazot".
The sports festival began immediately after the opening. Emotions of the Venezuelan sambo athlete Maria Guedez who became the world champion in the weight category of up to 48 kg, moved each and every one. The athlete has made a long way to her victory, trained at home and finally managed to achieve an outstanding result for herself and her country.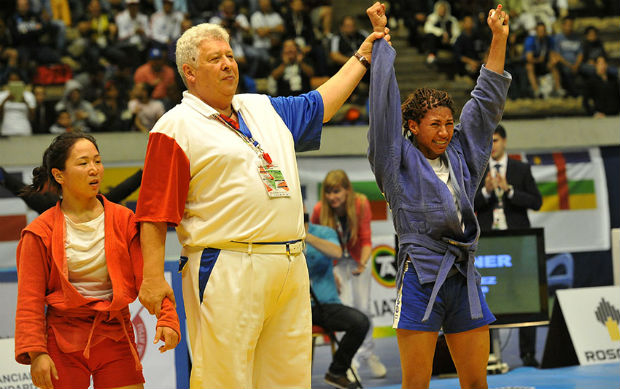 "Unfortunately, I missed the last World Cup in Japan because of the problems with the visa. But I haven't been resting all this time and went on training. Even during that world championship held in Japan, I trained for the next championship. I arrived to Morocco with only one purpose, to win the gold medal. And I'm really happy that I managed to do it. I know that in Venezuela many watched my performance via online translation on the FIAS's site. But my main fan is my boyfriend who also arrived in Morocco and actively helped me during the competitions. He is a sambo athlete too and his tips during the fights helped me a lot. And now I'm just really happy!"- said Maria.
As befits oriental men, Beimbet Kanzhanov showed his joy from the first gold medal in a somewhat more restrained manner. The winner in the weight category of up to 52 kg in sport sambo, the Kazakh athlete shared his thoughts:
"I've passed a long way to become a world champion. Began to train under the guidance of my father 14 years ago, and all this time I've been working in order to become a champion. I won't stop at this. I want to be at least two-time, but better yet, a three-time world champion. I want to dedicate my medal to all Kazakhstan and especially to my father, who came with me to Morocco and supported me. He has always been there for me, and together we have reached this success."
A famous Bulgarian athlete Marko Kosev for the fifth time rose to the highest step of the podium at the World Sambo Championships in the weight category of up to 57 kg. As previously reported the FIAS's site, Marco has long been set out to become a five-time champion.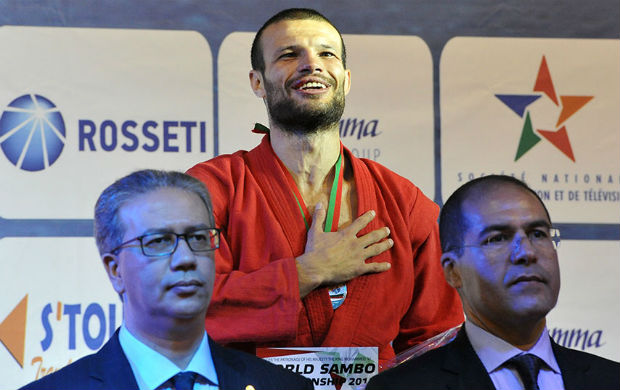 "Last year I was not able to win my fifth world title, but this year I've trained hard and was able to reach this record achievement, - said Marko Kosev. - My good friend died this Friday, the 13th, so I dedicate this victory to him. Unfortunately, he is no longer with us. Will I fight for the 6th title? I don't know yet and I can think about that later. Today I am pleased with my victory; there is no one in my weight to have become a five-time world champion. I did it for myself and for all the fans."
A Russian athlete Nikita Kletskov spent a lot of time trying to become a world champion in the weight category of up to 68 kg. After many different attempts when something was always missing, he got what he wanted in Africa.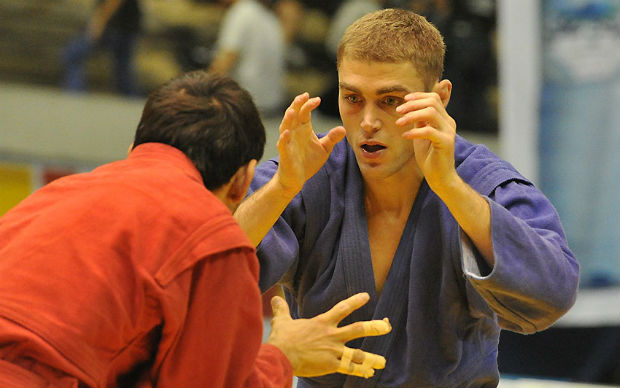 "I feel great satisfaction. I've made a long way to this gold, overcame many difficulties. As the saying goes, what does not kill us makes us stronger. At the moment I have not quite felt the taste of victory yet, I'm not fully aware of what had happened. I figured it would be hard to win, and so it was. - said the Russian. - The fact that the championship is held in Africa is very comfortable for me. I've noticed that I feel more comfortable when in the time-zone I'm in it's earlier than in Moscow and not later. Africa is a lucky continent for me; I already fought here two years ago at the World Cup, and also managed to win. That time I met my brother in the final. We didn't struggle as such and agreed in advance who would win. And today I fought to my full extent until the very last second."
The African championship has become happy for the representatives of the African continent too. A girl from Cameroon Paule Sitcheping has won the bronze medal in the weight category of up to 60 kg.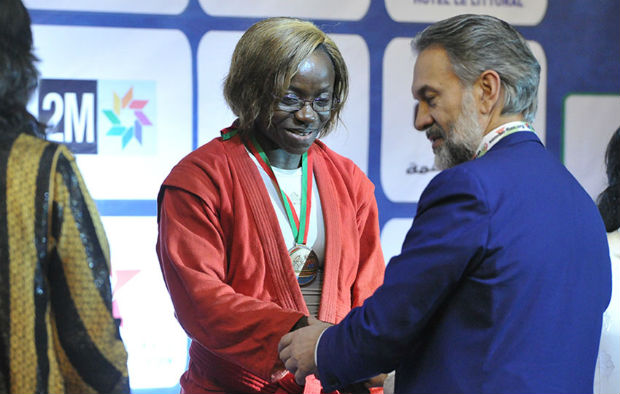 "This is my first major award, which is of great importance not only to me but to the whole Cameroonian Sambo. Here this sport is gaining momentum, but still is not as developed as would be desirable. Hopefully, this bronze at the World Cup will be an important stimulus for all athletes to pay attention to Sambo and develop in this direction. I can't speak for all, but for myself I'll say: the fact that the world championship in sambo is being held in Africa for the first time is just great! Right now, the history is happening!"
In the same weight category a Russian athlete Anastasia Shinkarenko was overfilled with joy. In the final, she managed to win over a famous athlete from Belarus Ekaterina Prokopenko.
"This year at the European Championship I lost to Ekaterina in the fight for the finals. For the World Cup, prepared more carefully and already in the final was able to beat my opponent tactically. How did I do it? I will not tell you: it's a secret. Now I'm happy! I went to the championship only for the gold medal. For me, it would have been a surprise if I'd lost. The next year, I will defend the title. In a couple of days I'll get home, I'll hug my family, thank everyone for their support: my coaches, and all the sambo school of Mozhaisk"
An experienced sambo athlete Alsim Chernoskulov has confidently reached the finals in the weight category of up to 90 kg. But in the decisive battle he had to set himself for the victory from the psychological point of view.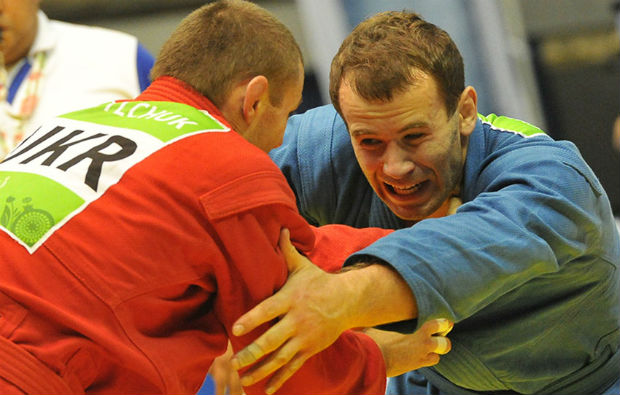 "The final was difficult from the psychological point of view: I've been first thrice, and second thrice, what will be next? I also had a slightly injured rib that was the reason why in 2011 I lost in the final to my current rival Ivan Vasilchuk. Today I've told myself that this will not happen again, - said Alsim Chernoskulov. - I'm happy that the coach is happy. I congratulate all the Russians, thank everyone who supported me. To be honest, I could not resist a swim in the ocean before the competition. The water felt good: when you lose some weight, and I lost ten extra kilos, the water always helps. In the final I had to fight the grips and give my opponent no chance in the parter. My rib injury prevented acting to my full capacity, but I was determined to do everything to win."
German sambo athlete Helge Molt happily examined his bronze medal, kissed it and received congratulations from his teammates. The representative of Germany was the winner in the weight category of up to 90 kg in sport sambo.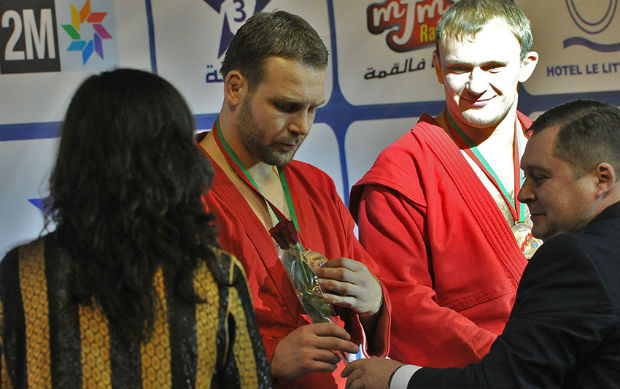 "This is my first medal in sambo. In the last two years I have won the 5th and 6th places but continued to actively train, - said Helge. - Today I am very happy, I love Sambo, I'm in love with Morocco, happy to be here and to be part of this grand celebration! I hope that my medal will make sambo increasingly popular in our country, and after a while I will be able invite you to the World Cup in Germany. And today I want to relax and celebrate the achievement of the long-awaited medal. I love sambo!"
A Ukrainian Natalia Smal has achieved victory in the weight category of up to 72 kg. Tired but happy, she told about her impressions: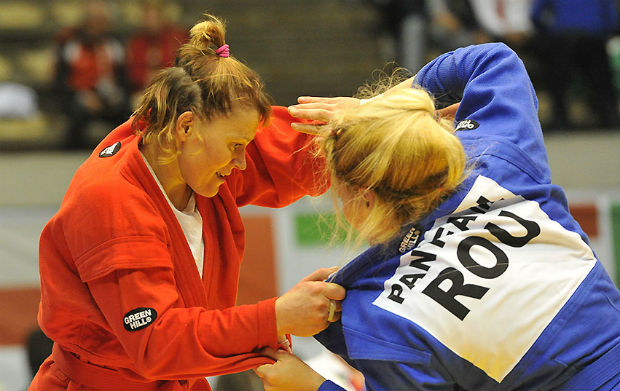 "The final match was worthy. Currently I feel no emotions. Today I've had such difficult tournaments that I did not even realize that I had become a world champion. It turns out that Friday the 13th was the happiest day for me. I'm a bit superstitious, yes. For example, before going to the competition I try not to say anything to anyone. This time, I did just that and I succeeded. Only my husband and my mother knew that I went to the World Championship. When I return, I will rest. I want to devote some time to my son and family. I want to relax at least three weeks, maybe even go somewhere. My son is now two years old, he is already going with me from time to time to the training room. I'm showing him the world of sambo. If he wants to, he will follow in my footsteps."
The winner in the weight category of up to 100 kg in the combat sambo Vadim Nemkov said that before the championship he received some kind words from the legendary fighter Fedor Emelianenko: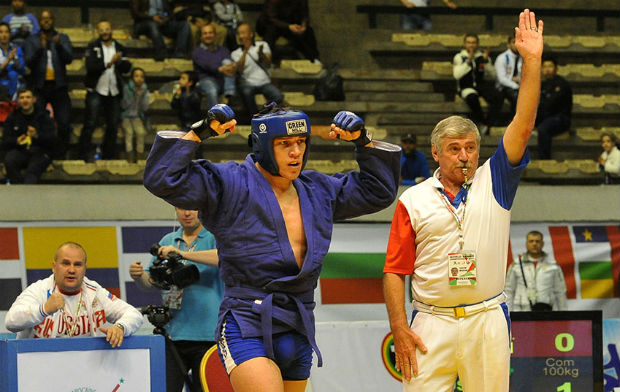 "Fedor said to me before the trip to the World Cup: "We need a win, and most importantly, not to get hurt." Because right now we are preparing for the big night of martial arts in Japan, which will be held on December the 31st and we should be in our best shape before the match. Fedor tells us that at the World and European Cups we have to go out and just, roughly speaking, "rip up" our opponents: to win beautifully and finish the fight early, because we are the representatives of Russia and we can't do it in another way."