World Sambo Championship among Masters in Ashdod: emotions, impressions and opinions from participants in the first day of competition
Competitions
24 October 2015
Sergei Grishin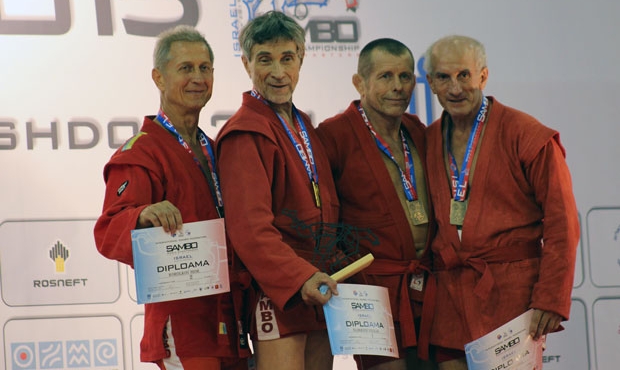 The first day of the World Sambo Championship among Masters started yesterday in Ashdod. Sambo wrestlers in age categories up to 54, 59, 65 and over 65 years competed for medals in the Israeli championship. You can find the names of all the medal winners on our website and also see their happy faces and the throws that helped them win. In this article we want to share the emotions, experiences and opinions on the master sports celebration in Israel from some of its participants.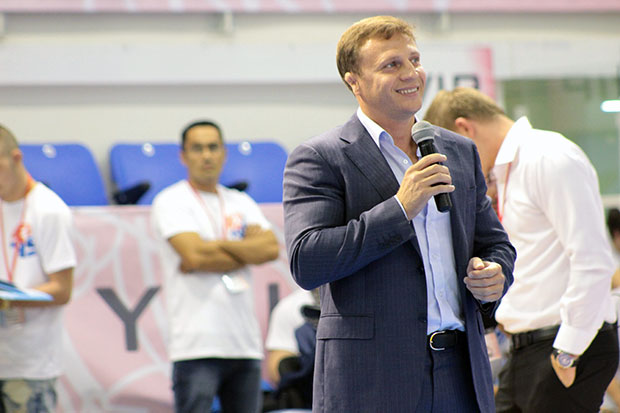 Konstantin Razvozov (Israel) – 2-time European runner-up in judo, and member of the Israeli government: "There are no former athletes"
In his welcoming speech to participants and visitors at the opening ceremony of the tournament, Konstantin Razvozov, a great athlete in the past and now a member of the Israeli government, remarked: "I've always said that there are no former athletes, and today's intense and spectacular fights are proof of this. I'm very glad that Israel has made such a strong start in sambo at this time. I'm sure it will give a powerful incentive to promote sambo in our country, and Israel will continue to aim not only for medals in major competitions with the performance of its sambo wrestlers, but also for strong sambo starts."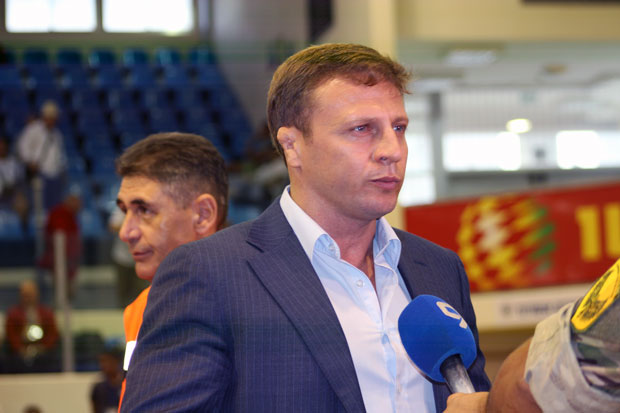 Konstantin expanded on his idea in an interview for the FIAS website: "I'm involved in politics now. How is that? Sport was one arena, and now I've just replaced the kimono with a formal suit. We, meaning athletes, adapt quickly, know how to reach our goals, and are used to hard work. I'm convinced that athletes can easily adapt to any area of life, whether it's politics or business, because we all have the skills to achieve and endure." Razvozov had this to say about sambo: "I started my journey in sports while I was still in Russia. Like many others, I started it as a sambo wrestler. Of course, sambo gave me a lot, and made an enormous contribution to my judo career. You see, a lot of the holds are related to judo, and of course sambo gave me a good technical background. A while back, sambo was on the rise in Israel, and then was a period of stagnation. Fortunately, we're now seeing an expansion of this martial art in our country. In my opinion, today Israel is throwing a challenge, in a good sense, to modern sambo, and with today's championship, our country has shown that it's ready to host major sambo competitions. My visit here today is a sign of support, and it's a pleasure to watch the fights. The great organization and the number of countries participating are also gratifying. I'll never forget about sambo, and I'll help as much as I can."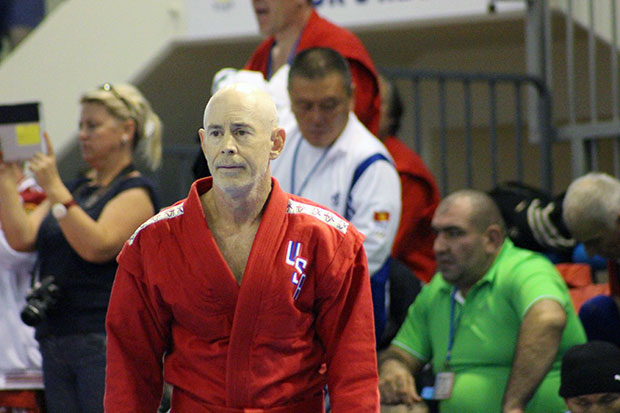 Sandy North (USA) – gold medalist in the weight category up to 68 kg (60 – 64 years): "Sambo is a sport of good people and good friends"
"This is a very special championship for me, and this medal is also very important and very special. I started on my path in 1993 at the Maccabiah Games, where I competed in judo. A lot of time has passed since then, and today's gold medal in Sambo is the result of a long, but very exciting and interesting journey. I started my studies of martial arts with judo, training in New Jersey with a Japanese sensei. Then a Russian judo coach plunged me into this beautiful sport – sambo – and I began competing in sambo. So I've been involved in sambo for many years now, and it's been a great experience for me. This sport has given me a lot of friends and memories, and I learned a lot of new and interesting things when sambo came into my life.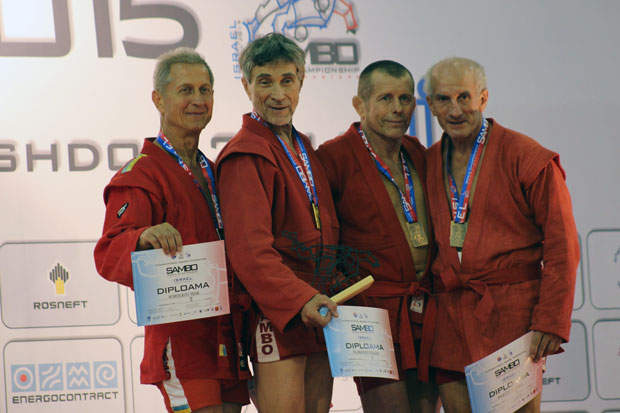 Aleksey Klimanov (Russia) – gold medalist in the weight category up to 68 kg (over 65 years): "These people are the real Knights of Sport"
"We usually celebrate the champions and winners, but that's actually not quite right. I think people who have lived to this age (I mean my age group) and kept their physical health and fitness are the true Knights of Sport. These are people who have devoted themselves to sports. You don't need a campaign for a healthy lifestyle and sports; just look at what they're doing here, how they live, and how they're fighting here. It's too bad that master starts are sometimes overlooked and are considered second-rate competitions, but I think that's small-minded. I think that for young people, for kids, and for the younger generation, master sports are the best example and the best promotion. These people are the gold reserves of a nation, the whole world and humanity. There are no nationalities and no divisions here. Yes, we fight and struggle, but... when the fights have ended, we feel so much warmth, so much affection and love. Here we're all men, warriors – strong, sometimes tough – but at the end of the competition, everyone is smiling and merged in this friendship and unity, you must get your hankies at the ready."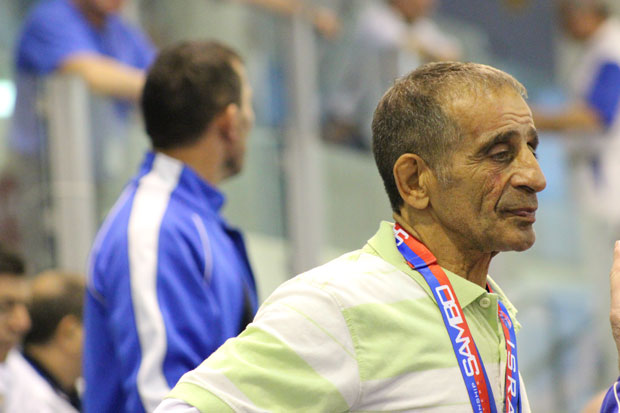 Mikhail Bondar (Israel) – gold medalist in the 62 kg weight category (60 – 64 years): "It all comes from above, but all of this is great work"
"First of all, as a believer I think it all comes from above, that everything is given to us from on high. But of course you have to train. For example, I swim, run, and do four types of fighting: judo, sambo and classical and freestyle wrestling. I don't ignore combat sambo and mixed martial arts either. I'm 63 years old, and shortly before this tournament, I had some very serious injuries, so the three months before the start were very difficult. Today's victory is an incredible event, and I'll continue to train and compete whenever I can."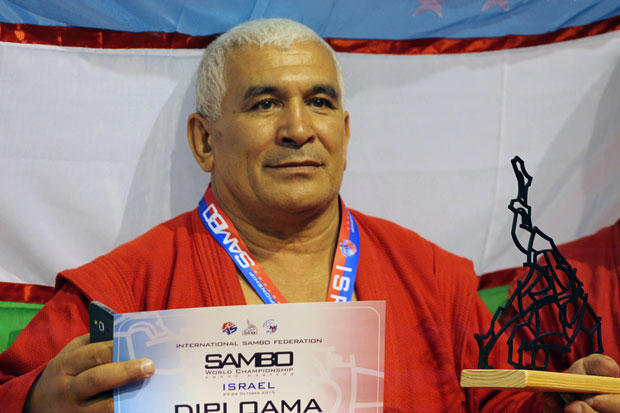 Bakhtiyar Turaev (Uzbekistan) – gold medalist in the 100+ kg weight category (50 – 59 years): "This is my first start in sambo. It's close to our national wrestling style, and that was my advantage"
In the final against Georgios Andreadis, a multiple world champion among masters from Greece, Bakhtiyar demonstrated phenomenal technique and won an early victory. The Uzbek Hercules weighing nearly 150 kg displayed incredible and diverse techniques. Turaev's arsenal included hip throws, foot sweeps and pickup throws under one leg. After the award, the champion said: "This is actually is my first start in sambo. Before that I fought only in kurash, our national wrestling style, and performed at weddings and on our national holidays. Frankly, the emotions are overwhelming, and I think today's victory will give me even more motivation and charge for sambo competitions."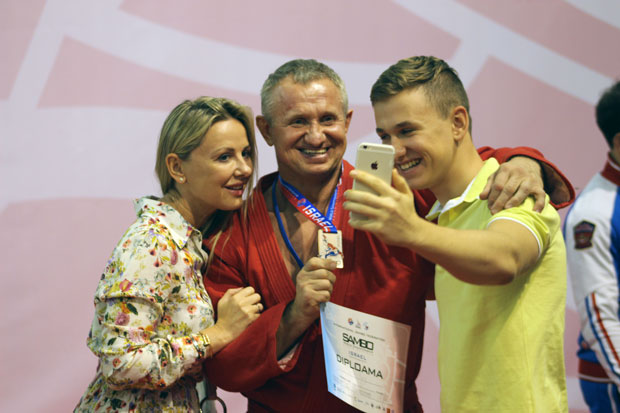 Natalia Presnova (Russia) – wife of Yuri Presnov, bronze medalist in the 90 kg weight category (50 – 54 years) – best selfie of the tournament
"I always try to go with my husband and support him at the master starts. Emotions are going wild today, and I'm very happy to be here and to experience it all with my husband and son. Last year we were all together at a similar start in Greece, when Yuri won a gold. This year we have a bronze, and analysis of the fight is still ahead. We'll work and aim for new heights. Next year, I hope our family selfie from the World Championship among Masters will be a winner's one."