Pan American SAMBO Championship in Panama: the names of all the tournament champions are named
Competitions
17 June 2013
Sergei Grishin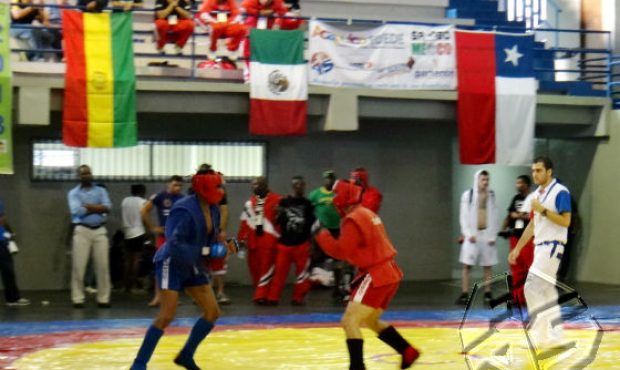 In this report you'll find out why the President of the Panamian SAMBO Federation wears an unusual ring on his hand, and what the champion from Venezuela has discovered in life thanks to SAMBO, and whose face it is necessary to remember for all SAMBO fans, and what hairstyles are trendy among SAMBO fans in Colombia now.
Let's start our today's report from the laughing "sketch". Everyone familiar with the President of the Panamian SAMBO Federation Cesar Chu, noticed an impressive gold ring on his hand. We came to him and learned about Cesar's "secret". He said: "The thing is that I am the "dragon" according to horoscope, thus my finger-ring depicts a dragon, but I also use it as a seal". Our logical question: "Does it mean that now we'll see a seal in the form of a dragon on the documents of the Pan American SAMBO Federation?" Cesar replied laughing: "No, this is only for personal documents…".
But our next interview with today's champion from Venezuela Maria Guedez, who has won the "gold" in the weight category of 48 kg, also suddenly turned out to be on personal theme. To a question implying gaining of certain traits, as: "Mary, what have you gained thanks to SAMBO?" the SAMBO athlete from Venezuela replied with a smile: "In SAMBO I found love – a young man, with whom we have already been together for 2 years. He is a member of our national team, fights in weight category of 52 kg. We plan to perform at the Universiade in Kazan. A month left, now we'll train hard, prepare".
As for SAMBO athletes from Trinidad and Tobago, they apparently trained hard before these competitions and prepared for the championship in Panama thoroughly. Judge for yourself, they have 10 medals of the 2013 Pan-American Championship under their belt. Today, we managed to communicate with the champion of the country who won the "gold" in the weight category of 62 kg in Combat SAMBO Joash Walkins. He said: "Remember my face, I plan to win the gold medal of the World Championship in St. Petersburg. Last year in Minsk I looked sick, it was my first major international SAMBO competitions, at that time I knew little SAMBO rules yet. I have been training in SAMBO for just 2 years, found out about this combat sport after the seminars held in our country by Andrey Moshanov. And I dedicate the today's victory to my "second father" – the President of SAMBO Federation of Trinidad and Tobago Jason Fraser. He is a jewel of a man, loves SAMBO all heartedly and does his best for us."
As far as the Colombian SAMBO athlete Anderson Timenos is concerned, who won the "bronze" in weight category of 68 kg in Sports SAMBO, he did his hair individually up – a mohawk with a shaved name of his country and a few lightnings on his head – for the combat sport and his country specially for the Championship. When asked about the history of this unusual haircut Anderson replied: "I think up something for each start. My country is in my heart, so I captured the word "Columbia" on my head, and today my bronze medal is for my Columbia. I am happy with the result".
At the awarding ceremony one and all the athletes and coaches were happy. Flags, smiles, medals, commemorative photos – everything seemed to be as usual, but there was something unusual, something peculiar to Pan America at the Panamanian awarding ceremony – namely, ease, joy, and spontaneity, for which we all, who had just come to Panama, immediately fell in love with the continent.
Besides Pan America "attracts" because everyone who was in the Gimnasio Beto Remon gym today, truly loves SAMBO and, as many of them say, "SAMBO is in our hearts". Let SAMBO dwell within our hearts, as it deserves it.
Natalia Yukhareva
www.sambo.sport