The Results of the Pan American Sambo Championship in Trinidad and Tobago
Competitions
6 October 2014
Sergei Grishin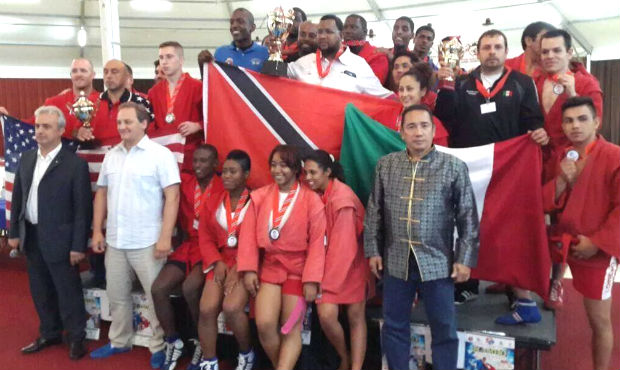 Pan American Sambo Championship in Trinidad and Tobago finished the season of continental competitions this weekend. A week ago, African Championship took place in Cameroon, the best sambo athletes of Asia were discovered in June in Uzbekistan, while European sambo athletes summed up the results of the continental competition in May in Romania. In the beginning of October, Pan American sambo athletes took the initiative.
Continental Pan American Sambo Championship was hosted by the University sports complex of Port of Spain, the capital of Trinidad and Tobago. The championship gathered 70 sportsmen from 10 countries: the USA, Canada, Costa Rica, Trinidad and Tobago, Peru, Jamaica, Mexico, Guatemala, Guyana and Panama.
Sambo athletes of Costa Rica participated in such a high profile competition for the first time, and their debut was quite a success. They took golden and silver memorable medals. It was a historical event for the national team of Guatemala, too; this country's sambo athlete won a golden medal of the continental championship for the first time. Its lucky owner, Juan Jose Morales, overcame his opponents in sports sambo in 57 kg weight class.
Due to various reasons, several strong continental teams could not take part in the Championship, among which are the national teams of Venezuela, Columbia and Argentina that hopefully would approve themselves at World Sambo Championship in Narita.
The team scoring was headed by the host team of the continental championship, they have 10 golden, 6 silver, and 4 bronze medals. The US team occupies the second line of the final team score-sheet with 5 golden medals and 1 silver medal. The national team of Mexico took the bronze award: this team has 2 golden, 2 silver, and 3 bronze medals.
The Results of the Pan American Sambo Championship in Trinidad and Tobago:
Women
kg.48
ZERON Avila Magali                       MEXICO
kg.52
ZERON AVILA Magali                     MEXICO
TAJBOY Milvia Celeste                  GUATEMALA
SEETAHAL Sara                                TRINIDAD AND TOBAGO
kg.56
MEJA CRUZ Laddy Edcil                                PERU
kg.68
JOSEPH Shanuelle                          TRINIDAD AND TOBAGO
kg.72
DAVIS Maria Elena                         TRINIDAD AND TOBAGO
Open category
MEJA CRUZ Laddy Edcil                                PERU
JOSEPH Shanuelle                          TRINIDAD AND TOBAGO
DAVIS Maria Elena                         TRINIDAD AND TOBAGO
Men
kg.52
PARIA Renado Anteaus                               TRINIDAD AND TOBAGO
kg.57
MORALES Juan Josè                      GUATEMALA
 GUERRA VIGIL Roderick             PANAMA
PARIA Renado Anteuas                               TRINIDAD AND TOBAGO
kg.62
DEWER Hakem                                TRINIDAD AND TOBAGO
CHAQUILINO Nixon Nander      PANAMA
kg.68 
MORAN Daniel Sheridan             USA
BOURNE Jeffery                             TRINIDAD AND TOBAGO
CHAVEZ ALIAGA Jhonny              PERU
kg.74
SZULINSKI Wojciech                      USA
MURILLO SALAZAR Miguel         COSTA RICA
QUIAGUA REYES Jonatan            MEXICO
kg.82
CORDOBA CALDERON Jesus Javier         COSTA RICA
MARTINEZ ROSAS Jesus                              MEXICO
CHAVARRIA RANGEL Virgilio      PANAMA
kg.90
COLNEY Trevis                                 USA
BROWN Damion                             TRINIDAD AND TOBAGO
GARCIA MARTINEZ IGNACIO    MEXICO
kg.100
CLARK Robert James                     USA
FREDERICK Lynroy                          TRINIDAD AND TOBAGO
kg. +100
CARRABON Trevor                         TRINIDAD AND TOBAGO
CLARK Robert James                     USA
Combat Sambo
kg.52
SEON Adhar                                      TRINIDAD AND TOBAGO
kg.57
SEON Adhar                                      TRINIDAD AND TOBAGO
MADRID RODRIGUEZ Noel         PANAMA
kg.62
BOURNE Jeffery                             TRINIDAD AND TOBAGO
SARCO PENA Nixon                     PANAMA
kg.68
JOASH WALKINS Timoty              TRINIDAD
 IGNATIUS Paul Benedect           GUYANA
 MERCARDER CORTES Gabriel   MEXICO
kg.74
SZULINSKI Wojciech                      USA
BICKHARRY Domingo                    TRINIDAD AND TOBAGO
ADE Christopher                             CANADA
kg.82
GAMBOA MOSQUERA Carlos    PANAMA
 IEBANEZ IEBANEZ Efredhit        MEXICO
COLTHRUST Rudo                           TRINIDAD AND TOBAGO
kg.90
COLQUHOUN Mattiew                JAMAICA
 BROWN Damion                            TRINIDAD AND TOBAGO
kg.100
BELLE Jason                                       TRINIDAD AND TOBAGO
GAULE Levar                                    JAMAICA