Ukrainian SAMBO Championships Took Place on the Black Sea Coast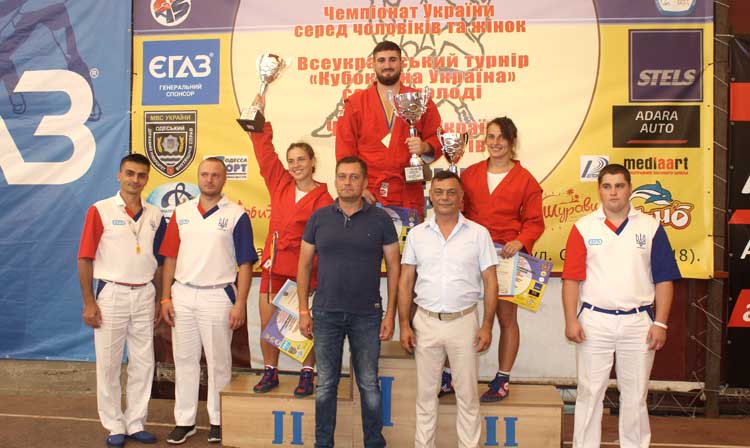 The Ukrainian Championships among men, women and in Combat SAMBO continued the "SAMBO marathon" in the resort village of Karolino-Bugaz, which is located in the Odessa region on the Black Sea coast. The national championships among adults took up the baton of the country's Youth and Junior SAMBO Cup and brought together more than 350 athletes who represented 21 regions. Sambists competed for 30 sets of awards in individual types of the program, based on the results of which the winners of the team rating were determined.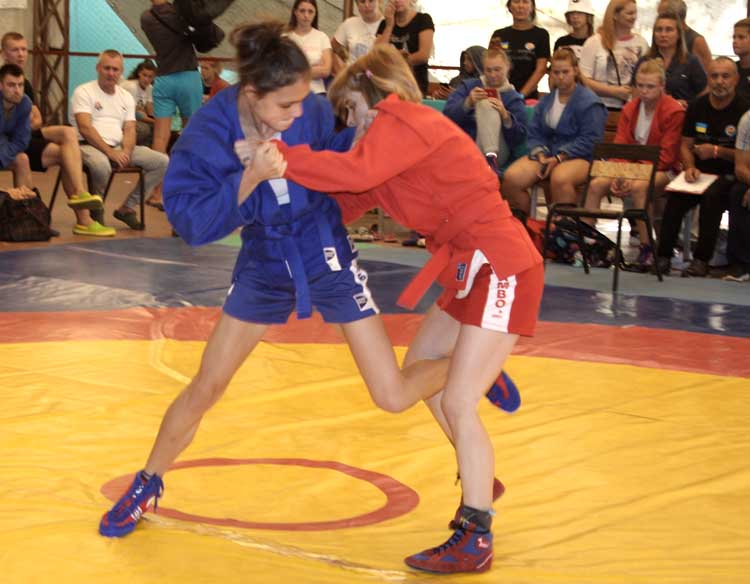 – These competitions were distinguished by a high level of competition, multiple medalists of the World and European Championships fought on the mat. This is not surprising, because the main goal of the tournament is to select candidates for the national team of the country to perform at the next international starts – world and continental forums. Together with experienced masters, the youth, which is the closest reserve of the national team, fought for the awards of the adult championships. This is how it is better to ensure the continuity of generations, – Mikhail Rudenko, the head coach of the Ukrainian national SAMBO team, said.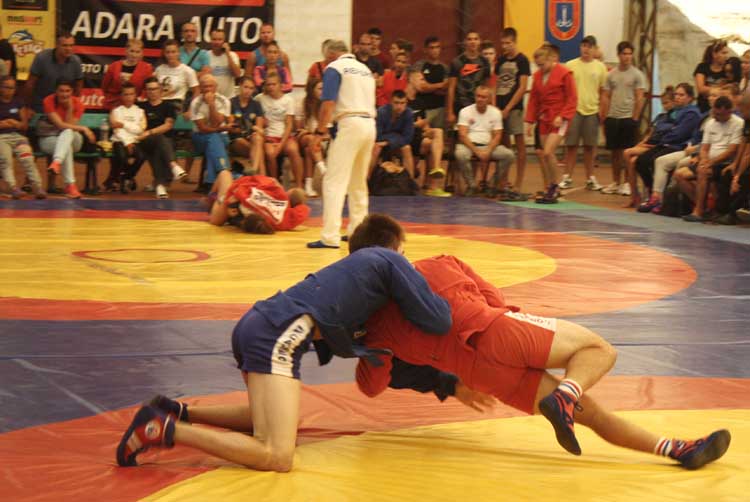 Results of the 2020 Ukrainian SAMBO Championships
Team rank
1. Kiyev
2. Odessa region
3. Kharkiv region
Women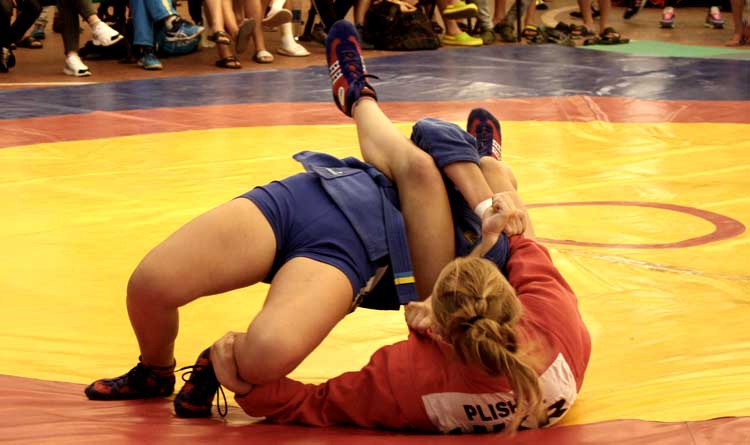 44 kg
1. Anna TANTSYURA (Dnipropetrovsk region)
2. Antonina YUROVA (Vinnytsia region)
3. Elizaveta DIDORENKO (Sumy region)
3. Anna BIDNYUK (Volyn region)
48 kg
1. Ekaterina PIROG (Dnipropetrovsk region)
2. Anastasiya BEZOTOSNAYA (Kharkiv region)
3. Yuliya ZASULSKAYA (Sumy region)
3. Alina PASHCHUK (Volyn region)
52 kg
1. Mariya BUYOK (Ivano-Frankivsk region)
2. Darya BOBRIKOVA (Ivano-Frankivsk region)
3. Alla BEGEBA (Ivano-Frankivsk region)
3. Sofiya BORDINSKIKH (Dnipropetrovsk region)
56 kg
1. Kristina BONDAR (Odessa region)
2. Snezhana PLISH (Ivano-Frankivsk region)
3. Emiliya KAMERON (Zhytomyr region)
3. Snezhana KUZNETSOVA (Kharkiv region)
60 kg
1. Valeriya BIRYUCHENKO (Zhytomyr region)
2. Maryana SENKO (Kharkiv region)
3. Mariya KUNEVICH (Ivano-Frankivsk region)
3. Milana YATIMOVA (Kharkiv region)
64 kg
1. Anastasiya SHEVCHENKO (Kharkiv region)
2. Ulyana KLYAPKA (Ivano-Frankivsk region)
3. Yuliya GREBENOZHKO (Chernihiv region)
3. Ekaterina KHOMYAK (Zhytomyr region)
68 kg
1. Margarita PTUSHKA (Luhansk region)
2. Ekaterina SKORAYA (Dnipropetrovsk region)
3. Anna OKHRIMENKO (Sumy region)
3. Vlada TOROPTSEVA (Cherkasskaya oblast')
72 kg
1. Nataliya SMAL (Chernihiv region)
2. Valeriya ZAKHAREVICH (Dnipropetrovsk region)
3. Veronika KRATYUK (Zhytomyr region)
80 kg
1. Galina KOVALSKAYA (Ivano-Frankivsk region)
2. Nataliya KHOLOD (Rivne region)
3. Anna ANTONOVA (Odessa region)
3. Miroslava TSIGOLKO (Volyn region)
+80 kg
1. Vasilina KIRICHENKO (Lviv region)
2. Ekaterina CHOVGUN (Dnipropetrovsk region)
3. Elizaveta MORENKO (Donetsk region)
3. Solome AKHALAYA (Kiev)
Men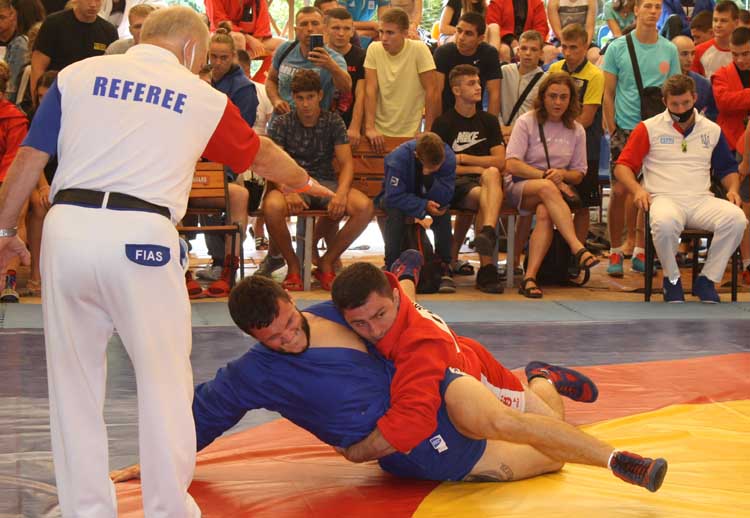 48 kg
1. Artem GORBAN (Kiev)
2. Roman OGNIVETS (Volyn region)
3. Ivan KUZMIN (Vinnytsia region)
3. Igor CHERNYAK (Vinnytsia region)
52 kg
1. Grachik OSIPYAN (Kharkiv region)
2. Denis PLEKHANOV (Donetsk region)
3. Dmitriy ZHEBCHUK (Kiev)
3. Vitaliy DOBRYANSKIY (Zhytomyr region)
57 kg
1. Andrey LAYSHCHUK (Ivano-Frankivsk region)
2. Yuriy YAREMCHUK (Ivano-Frankivsk region)
3. Ivan OKHRIMCHUK (Kiev)
3. Pavel ZVERKO (Vinnytsia region)
62 kg
1. Konstantin NOTKIN (Chernihiv region)
2. Ivan PILIPYAK (Ivano-Frankivsk region)
3. Anatoliy KULIBABA (Vinnytsia region)
3. Nikolay KULIBABA (Vinnytsia region)
68 kg
1. Roman TRUSH (Kharkiv region)
2. Kirill MELNICHENKO (Kharkiv region)
3. Maksim STANILOGA (Kiev)
3. Dmitriy YEVDOSHENKO (Kiev)
74 kg
1. Artur SARKISYAN (Donetsk region)
2. Sergey NAUMOV (Odessa region)
3. Vladislav DIDENKO (Vinnytsia region)
3. Andrey ARSENOV (Kharkiv region)
82 kg
1. Dmitriy STETSENKO (Donetsk region)
2. Mikhail SVIDRAK (Ivano-Frankivsk region)
3. Andrey DYACHENKO (Odessa region)
3. Artur YEFREMOV (Cherkasy region)
90 kg
1. Nazariy MARKULCHAK (Ivano-Frankivsk region)
2. Konstantin PAVLISHIN (Ivano-Frankivsk region)
3. Evgeniy PANICH ((Kherson region)
3. Vitaliy YOROV (Odessa region)
100 kg
1. Andrey BALABAN (Cherkasy region)
2. Aleksey MOISEYEV (Kiev)
3. Vladislav LEBEDINSKIY (Donetsk region)
3. Evgeniy ZHEKALOV (Dnipropetrovsk region)
+100 kg
1. Boris BELOUS (Odessa region)
2. Andrey SPIRIDONOV (Lviv region)
3. Aleksey KUCHERENKO (Lviv region)
3. Ilya GUSHULEY (Chernovetsk region)
Combat SAMBO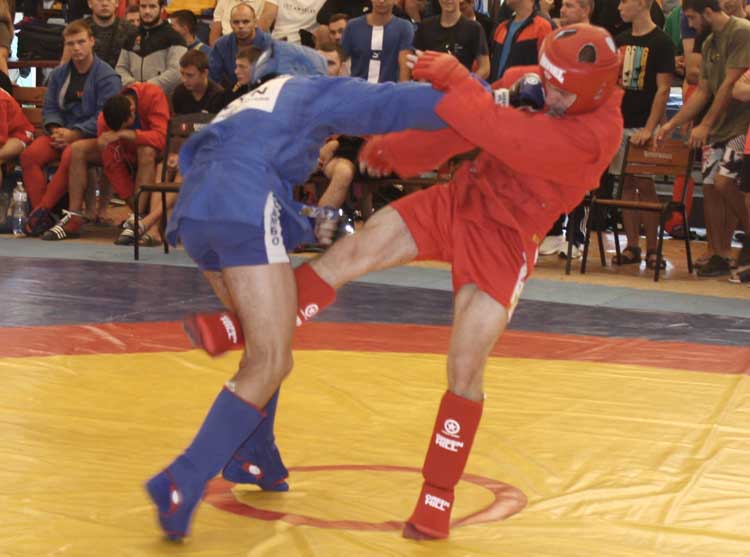 48 kg
1. Vladimir CHERNYY (Kiev)
2. Ivan KUZMIN (Vinnytsia region)
3. Ivan KUTSEL (Rivne region)
3. Denis LEBED (Dnipropetrovsk region)
52 kg
1. Denis ARTYMCHUK (Odessa region)
2. Artem KIRICHENKO (Kiev)
3. Bogdan SMOLYAK (Vinnytsia region)
3. Anton PALAMARCHUK (Vinnytsia region)
57 kg
1. Bogdan BABENKO (Rivne region)
2. Vladislav KOKHNENKO (Odessa region)
3. Andrey MARMYL (Zhytomyr region)
3. Zakhar LYULIN (Donetsk region)
62 kg
1. Aleksandr VOROPAYEV (Odessa region)
2. Vladislav BOVA (Kiev)
3. Dmitriy CHEREDNICHENKO (Zhytomyr region)
3. Alikhan DURDIYEV (Odessa region)
68 kg
1. Andrey KUCHERENKO (Kiev)
2. Maksim DUDYAK (Rivne region)
3. Bachuki BAGISHVILI (Kharkiv region)
3. Karen ARZUMONYAN (Kiev)
74 kg
1. Vladislav RUDNEV (Donetsk region)
2. Vitaliy KRASNOZHON (Mykolaiv region)
3. Dmitriy VLASYUK (Kherson region)
3. Vasiliy IVONYAK (Odessa region)
82 kg
1. Vadim BURCHAK (Rivne region)
2. Ivan GOLYACHENKO (Kiev)
3. Bogdan KALYSH (Kiev)
3. Maksim SHEREMET (Odessa region)
90 kg
1. Petr DAVYDENKO (Vinnytsia region)
2. Aleksandr DUKHNEVICH (Kharkiv region)
3. Maksim PROKOPENKO (Odessa region)
3. Ilya LUPINOV (Kiev)
100 kg
1. Evgeniy ZHEKALOV (Dnipropetrovsk region)
2. Danila BELOUSOV (Kiev)
3. Bogdan GNIDKO (Kiev)
3. Egor KRYNIN (Kiev)
+100 kg
1. Razmik TONOYAN (Kiev)
2. Aleksey GLUSHCHENKO (Kiev)
3. Roman GOROSHKEVICH (Volyn region)