Strong debut of SAMBO in Nicaragua
Competitions
13 March 2013
Sergei Grishin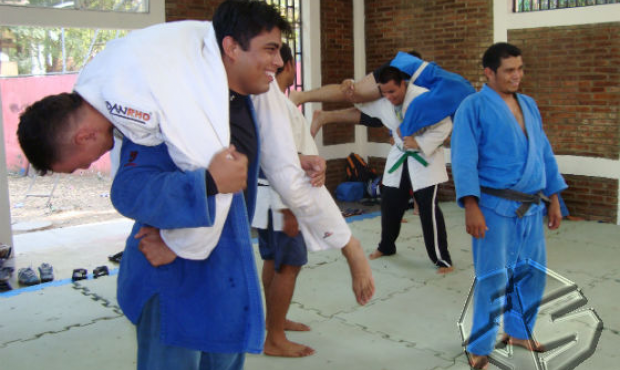 The Republic of Nicaragua is the largest country in Central America. It is located between Costa-Rica and Honduras and it was discovered by the Europeans in 1502 during the 4th voyage of Christopher Columbus. The capital of Nicaragua is Managua. This city is known for the fact that it suffered from various acts of God such as terrible floods, destructive earthquakes and catastrophic fires at various times through its history.
No acts of God were reported during visit of Tigran Karganyan, coach of the FIAS Development Department, to Managua. There was only an explosion of interest among the Nicaraguans to a new for them type of combat, to SAMBO.
At the end of February the concentration of people which are interested in SAMBO per square meter skyrocketed in Managua. That's when several seminars for coaches and sportsmen - future SAMBO admirers were held by Tigran. We say "future admirers" because today they are still representatives of allied combats, such as judo, taekwondo, karate, jujitsu, krav-maga and Mixed Martial Arts (ММА). But all the slightest doubts about their retraining into sambists receded themselves after the seminars.
Let's try to understand it ourselves and to explain it to you - why.
It is commonly known that one transit from the state of untraining to the state of certain training through gaining certain knowledge, abilities and skills. Tigran Karganyan was guided by this fact. He started with knowledge, with a presentation of the history of SAMBO to be more precise. He told about the rules of SAMBO competitions and methods for trainings arrangement. Then the turn of abilities came. Spotting technique and base technical actions in position and at the mat where offered for the attention of future SAMBO admirers. Now it depends only on the sportsmen whether the obtained abilities will transform into skills or not. Now only one thing is clear, i.e. they have a desire to become sambists, and numerous repetitions of the obtained abilities in standard and changing situations will help them to improve what has already been learnt. The foundation for this has already been laid in Nicaragua. And those interested and enthusiastic faces of the attendees of the seminar which are looking at us from the photo from Nicaragua are a prerequisite for this.
There is always a place for official events at such seminars. Nicaragua did not become an exception as Tigran Karganyan managed to hold a number of meetings with heads of various public and sports organisations with respect to development of SAMBO. The circle of the officials with who he managed to talk about SAMBO speaks for itself. For example, Frank Silva, Member of the Executive Committee of the National Olympic Committee, President of the National Judo Federation, Gustavo Arguello, Director of the Department of Sports Disciplines in the Nicaragua Sports Institute (IND) and Roger Uriarte, Vice-Rector of the Central-American University (UCA) were one of them.
"We will always support activities related to this sport as we used to support, for example, taekwondo when it was just originating", commented Roger Uriarte on his introduction to SAMBO. Gustavo Arguello points out, "I am sure that as soon as the Managua Sambo Association is granted a legal status it will be included in the State Balance right away".
These are the plans though near-term ones. SAMBO is currently included in sports programmes of two universities in Managua: Universidad Centroamericana and Universidad Nacional Autónoma de Nicaragua. Next points on the map of the Nicaraguan SAMBO are Sandino, Carazo, Esteli, Corinto and Granada. These are the cities were SAMBO is planned to be actively developed and practiced in the near future.
Summarising everything above let's express confidence that such a strong debut of SAMBO in Nicaragua is a prerequisite for an approaching creation of a powerful National Federation in the country which will show its bright and dangerous for the leaders of modern SAMBO sportsmen at the World Championship-2014.
Natalia Yukhareva
www.sambo.sport