CHILDREN of African Great Lakes region practice SAMBO
Competitions
8 August 2012
Sergei Grishin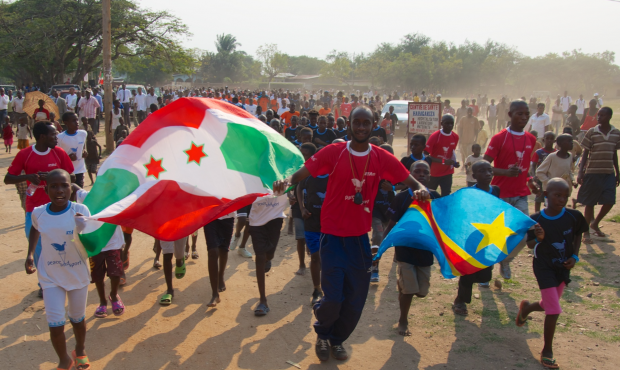 In the beginning of July, III Friendship Games took place in the African Great Lakes region. Within these two July days sport was put at the service of peace. Through the universal human values that sport conveys – tolerance, respect and nobleness– the Friendship Games in the African Great Lakes region encouraged harmony and national unity of young people from Burundi, the Democratic Republic of Congo (DRC) and Rwanda.
This is the first time when SAMBO was presented into this 2-day sport event of peace and harmony. This event is the culmination of an extensive peace-making programme held by Peace and Sport. This organisation uses sports as a tool to promote stability, peace and harmony in different parts of the globe.
Following years of civil wars and genocide the African Great Lakes region with the hardships of its disunity, economic instability and refugee problem is in great need of such projects. Gathering 300 young people from 9 to 15 years old this year the event took place at Gihanga, a district in the Bubanza province of Burundi that has very recently been engulfed in a civil war.
"It was noticeable that there was practically no adult male population attending the event, we were typically working with a cohort of small children and teenagers, males over 60 and shocking number of women. That proves that this region suffered a lot from hardships of ethnic and war conflicts. We could see it with our own eyes", says Mikhail Kasatov, FIAS representative.
This year the 2-day sports event included ten sports disciplines. Competitions took place among girls and young men in athletics, football, karate, judo, volleyball and table tennis. Alongside demonstration of SAMBO competition, young people were introduced to netball (female sport discipline, a form of basketball) rugby and goalball (a sport included into the programme of the Paralympic Games) this year.
The International SAMBO Federation was represented at the Games at a 2-day permanent sports platform showing Pavel and Mikhail Kasatov and Viktor Kuznetsov - a presentation FIAS group – who gave non-stop master classes in SAMBO.
The Kongo language, or Kikongo, is the language spoken by the people living in the Democratic Republic of the Congo who took part in this sports event. This language is mother tongue for 7 million people, and another 2 million people know it as their second language. Namely in this language the word "SAMBO" (JHAMBO) means "good morning" that evoked much enthusiasm among the participants of the event and immediately inspired them with trust and propensity to FIAS representatives.
The children were delighted watching spectacular techniques and elements of combat and sport SAMBO. And they really tried to experience what they saw in practice. In their efforts they were supported with the easy, available and interesting master classes held by FIAS representatives. Anyone willing, and there were a lot of them, could experience SAMBO, take training in some self defense basics, learn basic techniques of this martial art.
"We could not help but notice how physically gifted the children of this region are. They were eager to repeat – and they were rather successful – all the technics and complex acrobatic elements shown»,- says Viktor Kuznetsov.
"At the event we had meetings with the heads of the sports authorities of Rwanda, the Democratic Republic of Congo and Burundi that resulted in their agreement to the development and promotion of SAMBO in these countries. Certainly, it will take a lot of efforts and time to implement SAMBO in this region but the first step to achieve this goal has already been taken", explains Andrey Moshanov, Head of the FIAS Development Department, comments about the event.
Rwanda is one of the countries of the Commonwealth and Great Britain has made a lot of efforts organising peace-making missions in this country. The Commonwealth SAMBO Association and its President, Lord Simon Reading in particular, actively participates in the development of SAMBO in African Member States of the Commonwealth of Nations. Lord Simon Reading, famous for his participation in peace-making missions in Afghanistan and Pakistan, supported participation of FIAS in the Friendship Games. For the Commonwealth SAMBO Association, FIAS participation in this forum of sports and peace resulted in negotiations of Lord Simon Reading with Rwanda NOC on the future recognition of SAMBO.
For FIAS, which is seeking to join the International Olympic Committee, every Federation recognized by the National Olympic Committee is of utmost interest. That explains the value and importance of such meetings and negotiations for International Sambo Federationthey can really make SAMBO move closer to the Olympic dream.
The next Friendship Games will take place at Ecuador and Colombia border. Participating in such events, FIAS brings not only peace and harmony to these regions, but also contributes to the development and promotion of SAMBO in the territories where such forums take place. Therefore, we are confident that SAMBO will have an extra impulse for development in the nearest future but this time in Colombia and Ecuador.
FIAS Press Office