Diplomatic Sambo Tournament in Vienna
Competitions
23 December 2014
Sergei Grishin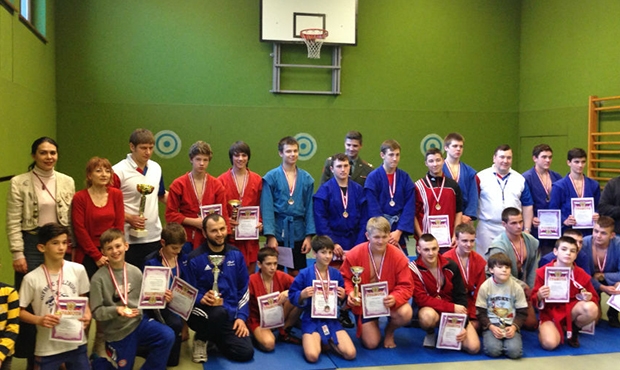 The Second Open School Sambo Competition at the Russian Embassy in Austria was held on December 20 in Vienna. The competition was attended by more than fifty athletes from Austria, Russia, Moldova, Slovakia and Germany. The tournament was dedicated to the 60th anniversary of the establishment of the school in Vienna.
Both experienced athletes and those who are just breaking the ground in sambo came onto the sambo mat. They were united by the desire to win and show the best of their strength and skills. It's worth noting that not only the champions and winners in the individual and team classification, but also the winners in individual categories got their prizes.
The cup "For Adherence to Sambo Traditions" was awarded to Albert Max Neubauer, representative of Austria, for regular participation in the competitions held in Austria.
The cup "For Will to Win" was awarded to Nikolay Engalychev, representative of the SAMBO-WIEN club, who won two fights in the dying seconds.
The cup "For Best Technique" was awarded to Vitaliy Kropotin, representative of Germany, who also became the winner in the heaviest weight category.
The awarding ceremony was held by Colonel Yuriy Kulikov, representative of the Russian Embassy in Austria, Associate Assistant Army Attaché. It was pleasant that his son became the winner in one of the weight categories.
Final results:
Youth men
19 kg (2009 -2010 d.g.)
1. Gusev Mikhail, 2009 (Russia)
2. Jarosch Jaroslav, 2009 (Russia)
3. Strizhov Danila, 2010 (Russia)
21 kg (2007 -2008 d.g.)
1. Schumov Mark, 2007 (Russia)
2. Poddubnij Matvei, 2008 (Russia)
3. Ponomarev Artem, 2008 (Russia)
23 kg (2007 -2009 d.g.)
1. Kulikov  Lev, 2007 (Russia)
2. Volodin Stas, 2007 (Russia)
25 kg (2008 -2009 d.g.)
1. Sukhanov Danila, 2008 (Russia)
2. Ukolov Ivan, 2009 (Russia)
3. Saláta  Félix-Eduard, 2009 (Slovakia)
30 kg (2006 -2007 d.g.)
1. Akimov Andrei, 2007 (Russia)
2. Zolotov Ivan, 2006 (Russia)
30 kg (2005 d.g.)
1. Dadaev Magomed Ali, 2005 (Austria)
2. Abdurahmanow Jahja, 2005 (Austria)
3. Сhirkov Fedor, 2005, (Russia)
38 kg (2004 -2005 d.g.)
1. Inshapiev Mukhammad, 2005 (Austria)
2. Vasilenko Ivan, 2005 (Russia)
3. Rebrov Nikita, 2005 (Russia)
55 kg (2003 d.g.)
1. Benko Damien, 2003 (Slovakia)
38 kg (2003 d.g.)
1. Kotyian Daniel, 2003 (Slovakia)
2. Neubauer Albert-Max, 2003 (Austria)
3. Richter Konstantin, 2003 (Germany)
38 kg (2001 -2002 d.g.)
1. Isaev Ibragim, 2002 (Austria)
2. Karich Viktor, 2002 (Germany)
3. Bibulatov Ansar, 2001 (Austria)
3. Schevelev Andrei, 2002 (Russia)
45 kg (2000 -2001 d.g.)
1. Yusupov Magomed Salah, 2001 (Austria)
2. Kachan Dmitri, 2001 (Russia)
80 kg (2000 -2001 d.g.)
1. Justus Denis, 2001 (Germany)
2. Haag Stenley, 2000 (Germany)
3. Aliseichik Ivan, 2000(Russia)
65 kg (1999-2002 d.g.)
1. Baliсa Ilie-Iulian, 1999 (Moldova)
2. Khoroschev Nikolai, 2002 (Russia)
3. Voithofer Nikita, 1999 (Russia)
3. Duchoň Patrik, 1998 (Slovakia)
65 kg (1997-1998 d.g.)
1. Sergeev Eugen, 1998 (Germany)
2. Engalichev Nikolai, 1998 (Russia)
3. Karvay Dániel, 1997 (Slovakia)
4. Lieskovský Marek, 1997 (Slovakia)
87 kg (1997-1999 d.g.)
1. Kropotin Vitali, 1997 (Germany)
2. Friedensohn Kai, 1997 (Germany)
3. Virág Igor, 1997 (Slovakia)
3. Gugliš Gabor, 1999 (Slovakia)
Youth women
25 kg (2007-2009 d.g.)
1. Ukolova Marusja, 2009 (Russia)
2. Schirkovsky Alisa, 2007 (Russia)
25 kg (2005-2006 d.g.)
1. Vasilenko Arina, 2005 (Russia)
2. Sitnikova Maria, 2005 (Russia)
55 kg (2005-2006 d.g.)
1. Tsyganova Darija, 2005 (Russia)
2. Kachan Irina, 2006 (Russia)
3. Belkina Tatijana, 2005 (Russia)
Club team classification
1. SAMBO-WIEN (Austria)
2. Salzburg-Olimpic (Austria)
3. SV SAMBO Bad Kissingen (Germany)