"This medal is comparable to an Olympic one for me"
Competitions
15 November 2015
Sergei Grishin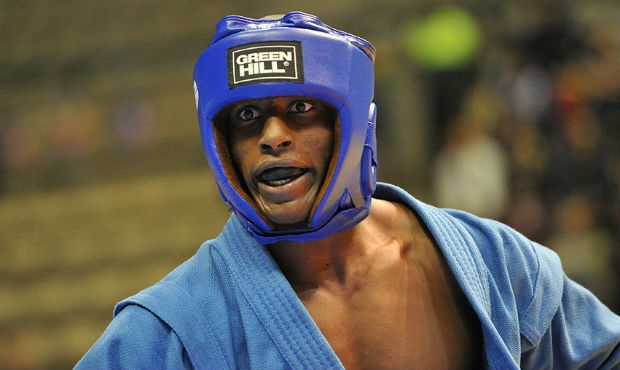 Emotions and experiences of participants during the second day of the World Sambo Championship 2015 in Casablanca, Morocco in their interview at the FIAS's site. The official sponsor of the World Sambo Championship in Morocco in 2015 is JSC "Togliattiazot".
A gold medal in Morocco in the weight category of up to 57 kg is the third at the world sambo championships for the Georgian athlete Vakhtang Chidrashvili.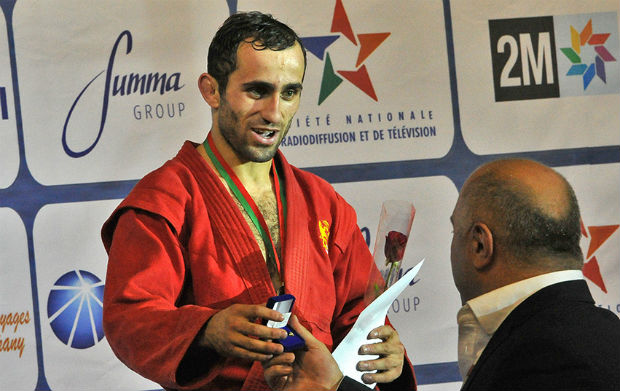 "It is very difficult to express my feelings in words. I have become a three-time world champion in sambo and I wish that each sambo athlete could experience such emotions. Our coach Dzhando Muzashvili said he believed in my victory and expected me to win the gold. He became the first three-time world champion from Georgia, and I'm the second. I think at home a great holiday awaits us!"- said Vakhtang.
Maria Buiok from Ukraine became the winner in the weight category of up to 52 kg for women. She told us not only about her impressions of the victory, but also shared some secrets about her personal life.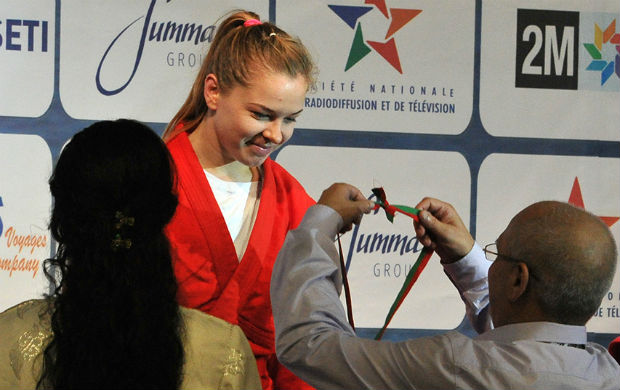 "First of all I'll show the gold medal of the world championship to the coach and my mother and all the family and friends. They know my love for sambo, and I believe it to be a very good sport for girls. It helps to keep in shape and be confident. Besides, it does not deprive us of femininity: outside the carpet I, like every girl, love to walk in high heels and dresses. I love to receive flowers, especially roses. My boyfriend is also an athlete in freestyle wrestling. We met at a competition where we performed together and have been going out since".
Veselin Ivanov spilled out his emotions after a hard fight in the weight category of up to 62 kg in combat sambo.
"I dedicate this victory to my wife, daughter, my parents and all our friends. This medal means a lot to me. The whole world should know Bulgaria and that very strong people live in our country! "- said the champion from Bulgaria.
His opponent in the final, though not able to win the gold, still made a fantastic breakthrough for his country. Joash Walkins representing Trinidad and Tobago, was incredibly happy.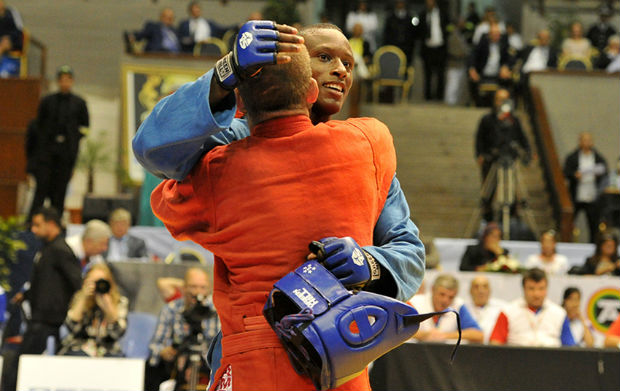 "This medal is comparable to an Olympic one for me. I am the first athlete from Trinidad and Tobago, as well as from all over the Caribbean, to win the world championship medal in sambo. - said Joash Walkins. - Finally my dream of four years has come true. Four years ago I started training in sambo. Many thanks to my manager and at the same time president of the Sambo Association of Trinidad and Tobago Jason Fraser. When we met four years ago, he said: "Joash, I see you have a lot of talent. I want to once triumphantly raise your hand at the World Sambo Championship." The curious part is that it was immediately after my defeat in a fight in kickboxing. Together, we dreamed of a gold medal, but today we already have a silver one. I'm happy! I love my manager Jason Fraser, I love all my teammates. In Trinidad and Tobago the celebration of my medal has already started, and I know that the guys will be celebrating all night. They watched the competition live. When I come home, the celebration will continue on an even greater scale. This medal is very important for us, for the whole of Trinidad and Tobago!"
A Russian athlete Anna Shcherbakova confidently won the final in the weight category of up to 64 kg. After her victory the athlete performed an impromptu dance on the carpet.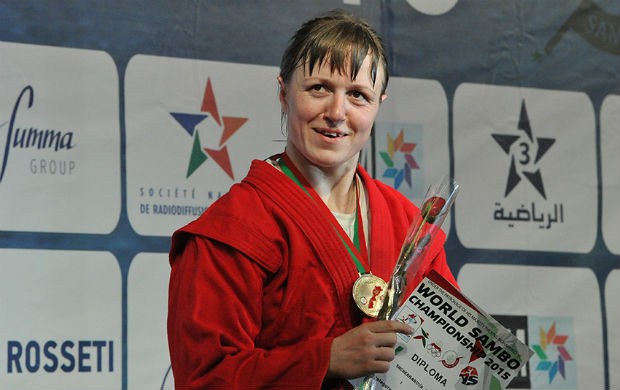 "Today, I lost a bet to a teammate Natalia Kuznetsova, – she confessed in an interview. - she said: if you win the championship, you'll have to dance. So I had to keep my word. As for the fight, I tried to fight with caution. After all, this is the rival I lost to at the European Games in Baku. But coach's advices helped and everything worked out. Luck was also on my side."
A Russian sambo fighter Azamat Sidakov has also won the first gold in his career. At the end of the final round in the weight category of up to 64 kg against Emil Gasimov from Azerbaijan he was able to even the meeting out though earlier he was losing by a score of 1: 4. Still, after the final whistle, the scoreboard showed 9:4.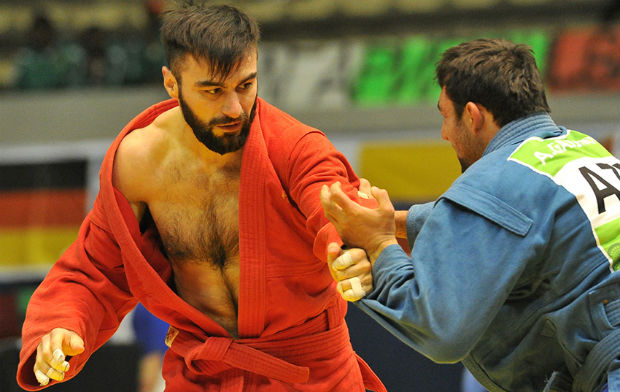 "This is what's great about our sport. The unpredictable moments such as today's one - said Sidakov after the performance. - For a second there I thought: "I'm in the final, do I really have to lose? How can that be?" I was saved by the fact that this idea came to my head only for a split second and I didn't allow it to possess me and re-focused the struggle. I think that there is an element of luck in my winning the gold also. And I'm generally happy that I was able to get the first gold medal in such a beautiful way."
A Russian Alexey Ivanov briskly stepped out of the carpet after the final fight in the weight category of up to 80 kg. He finished his fight ahead of schedule and it seemed to have been very easy.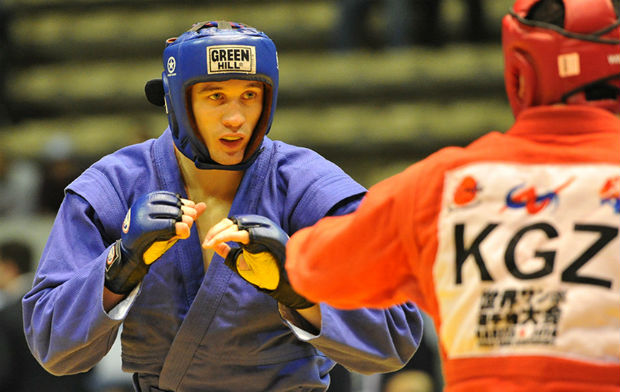 "Not bad - two holds worth four points, - said the athlete after the fight. - Frankly, the final was not difficult; I had much more to worry about getting to it. But in general I seriously psyche myself up before each fight. I knew that the broadcast of my fight was watched by family, father. It is very important for me".
A Belarusian Svetlana Timoshenko was stood up on the carpet. Her rival in the weight category of up to 80 kg from Bulgaria Maria Oryashkova injured herself before the finals and was not able to participate in the fight. After the allotted time, according to the rules on waiting for the opponent, the referee raised the hand of the winner from Belarus.
"Of course, I am pleased that I won the gold medal, but I would like to have gotten it in a fight. There has been no final match, so we can say that this championship was for me one of the easiest. Whatever it was, I brought the first gold to the team of Belarus. I hope it will inspire my teammates to feats. However, all is well in our team, everyone knows their job and systematically prepares for their fights,"- Svetlana said in an interview.
A Georgian sambo wrestler Davit Loriashvili barely managed to catch his breath after a final with a Russian Dmitry Eliseev in the weight category of up to 100 kg. A difficult fight came to an end with a victory with a score of 2:1 and brought the championship to the representative of Georgia.
"I know my opponent in the final quite well. The last time I lost to him. I am very happy that now I managed to win. I was well prepared, I came here to become a champion. And I did it! Georgia is waiting for us to celebrate. My family expects me. First of all, I'm fighting for my family and for my country,"- said Davit Loriashvili.
A Russian Kirill Sidelnikov looked disappointed despite his fifth gold at a World Cup. In the heavyweight category of over 100 kg he was stronger than the representative of Korea Sangsu Lee.
"I am dissatisfied with myself in today's final. I should have won over the Korean rival with more confidence. This can't be called an apparent victory, - said the sambist. - Victories are different, and this is not as pleasing to me as the previous four. Besides, I hurt my foot a bit at the beginning of the fight. Now I can't step on it."
Contrary to the champion, the winner of the silver in combat sambo, a Korean Sangsu Lee looked really happy.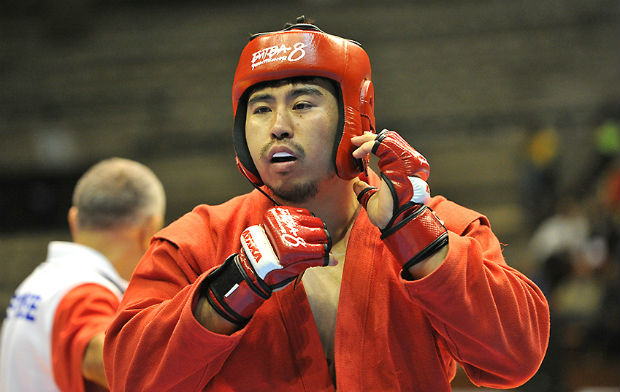 "The previous highest achievement of the Korean team was a bronze at the World Sambo Championship. Today I managed to get a silver for the team. What does this medal mean to me? In short, three things: happiness, sadness at the same time, and the result of an effort. I've been doing sambo for 10 years and I practiced judo before that. For me, sambo is not only a fun sport, but also an opportunity to meet with a variety of people from different countries and to learn new techniques of martial arts. I want to thank the president of the Korean Federation of Sambo Kum Jong-Moon, for his contribution to the development of sambo in our country. Without him, the Korean Sambo would not develop, and I would not be at this championship, "- said Sangsu Lee.