2013 SAMBO World Cup Stage for prizes of the President of the Republic of Kazakhstan
Competitions
18 January 2013
Sergei Grishin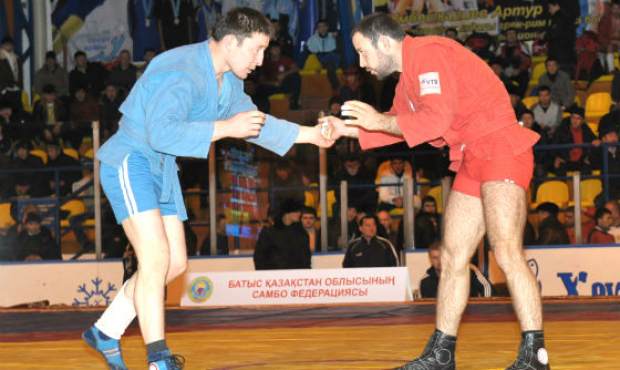 On 26 January in Kazakhstan the SAMBO wrestlers' sports year commences with the SAMBO World Cup Stage for prizes of the President of the Republic of Kazakhstan Nursultan Nazarbayev. This is the first stage out of seven SAMBO World Cup Stages which will be held in 2013 under the aegis of the FIAS.
However only 4 stages will be qualified for the World Cup, namely the stage in Kazakhstan, А. Kharlampiev Memorial Competition in Russia, А. Astakhov Memorial Competition in Venezuela, and African Open Championship.
Thus, International SAMBO Federation's initiative to hold four main stages of the World Cup on four continents will be implemented in 2013. As it was last year, the participants will fight not only for the World Cup's medals but for the money prize. The money prize will remain the same as in 2012: gold medal - $3,000, silver medal – $1,500, and $750 for the bronze medal.
The first SAMBO World Cup Stage 2013 will take place in the Ice Palace of Uralsk, a city located in the European part of western Kazakhstan with the population of app. 250 thousand.
It will be Uralsk where sportsmen can start winning scores which will be qualified for the World Cup and will help to achieve a prestigious title of the best sportsman of 2013.
More than 200 sportsmen from 15 countries of the world participated in similar competitions in 2012. Then the national team of Kazakhstan, the host team, won the first team place and took the maximal number of medals (7 gold, 10 silver, and 22 bronze medals). The national team of Russia took the second place, and the third place was won by Georgia.
This year, which is an anniversary year for SAMBO as in 2013 75th SAMBO anniversary will be celebrated, the organisers of the World Cup expect sportsmen from 17 countries of the world. Beside traditional SAMBO countries, teams from Pakistan, Iraq, Nepal, and Indonesia are expected.
Men and women will fight for medals in sport SAMBO and combat SAMBO wrestlers will fight in three weight categories: 62, 68, and 82 kg. As organisers explained, these three categories of the combat SAMBO have been chosen because SAMBO wrestlers from Kazakhstan are the strongest in these categories and have the best chances to win the gold medal.
Kazakhstan has good traditions and strong experienced team not only in combat SAMBO. It should be noted that the Kazakh team won 11 medals (1 gold, 3 silver, and 7 bronze accordingly) and sensationally took the 3rd team place in the 2012 World Championship.
The start of the year is the period when not all sportsmen manage to be in top competition form and achieve perfect combination of physical and moral strength. That is why we should surely expect some surprises and sensations in Uralsk, or maybe we will witness appearance of new SAMBO sporting heroes.
Natalia Yukhareva,
www.sambo.sport