Favorites and debutants will meet at the African SAMBO Championships in Cairo
Competitions
23 July 2021
Aleksandr Solomahin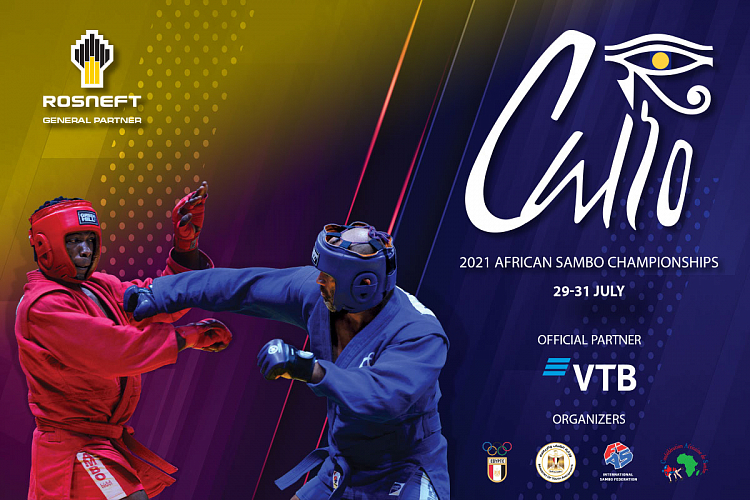 The African SAMBO Championshipы will be held in the capital of Egypt – Cairo from July 29 to 31. Competitions will be held in Sports SAMBO (men and women), Combat SAMBO (men), and Beach SAMBO (men and women). The general partner of the continental championship is Rosneft oil company, the official partner is VTB Bank.
Participants
The organizers received applications for participation from 15 countries of the continent: Angola, Burkina Faso, Cameroon, CAR, Cote d'Ivoire, Democratic Republic of Congo, Egypt, Guinea, Mali, Mauritania, Morocco, Niger, Republic of Congo, Togo, Tunisia. Sambists from these countries will compete for medals according to the new international SAMBO rules, which began to operate on January 1 of this year. It is worth noting the debutants from the list of countries: for the first time, athletes from Burkina Faso, the Democratic Republic of Congo and Togo will take part in the African SAMBO Championships. The scoring of the tournament points will be made in accordance with the requirements of the International Olympic Committee, when the team classification is formed according to the "quality" of the won medals.
Peculiarities
In addition to the newcomers from among the participants, the debut of the host country of the competition should also be noted. For the first time, Egypt received the right to host the African SAMBO Championships and took responsibility for organizing the competition. The local federation is supported by the country's Ministry of Youth and Sports. This primarily concerns visa support for participants, as well as assistance with other technical issues. Minister Ashraf Sobhi is personally monitoring the preparations for the tournament. It is also interesting that the African championships will be the first major international SAMBO tournament to be held after FIAS received permanent recognition from the IOC. And, of course, the Egyptian national team will compete for places on the podium with the main favorites of the continental tournament – the teams of Cameroon and Morocco.
Arena and security measures
The African SAMBO Championships will be held in one of the halls of the Cairo International Stadium. This is a whole complex of sports facilities, which occupies a huge territory and has all the necessary amenities. To prevent the spread of COVID-19, the tournament will be held in the so-called "Sanitary Bubble". For this, the organizers decided to accommodate all participants in one hotel. The hotel management already has experience of such work, including with sports teams, and offered good conditions for separating the competitors from the rest of the guests.
Live Stream
A live broadcast of the African SAMBO Championships 2021 is scheduled on the FIAS website. Fans will be able to see all the bouts of the continental tournament online on the live stream page.
Schedule of the online broadcast of the African SAMBO Championships 2021 in Cairo (Egypt)
Thursday 29 July
12:00* - Preliminary bouts
Women: 59 kg, 72 kg
Men: 58 kg, 71 kg, 88 kg, +98 kg
Combat SAMBO: 64 kg, 79 kg, 98 kg
18:00 - Opening ceremony. Final fights. Award ceremony
Friday July 30th
10:00 - Preliminary bouts
Women: 65 kg
Men: 64 kg, 79 kg, 98 kg
Combat Sambo: 58 kg, 71 kg, 88 kg, +98 kg
16:30 - Final fights. Award ceremony
Saturday 31 July
10:00 - Beach Sambo
Women: 59 kg, 72 kg, +72 kg
Men: 58 kg, 71 kg, 88 kg, +88 kg
*Schedule based on Cairo time zone (UTC +2)