Maxwell DJANTOU NANA: "I want Cameroon's anthem to be played at all international competitions"
Personalities
3 August 2021
Anton Orlov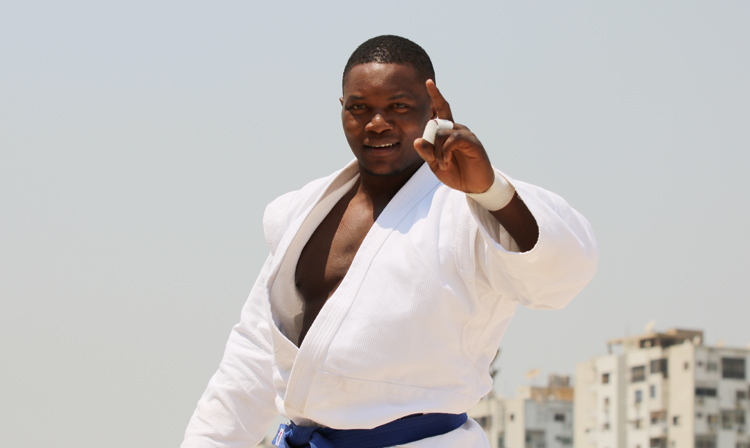 Cameroon sambist Maxwell DJANTOU NANA won two gold medals at the African SAMBO Championships in Cairo. He became a champion in the +98 kg weight category in Combat SAMBO, as well as in the +88 kg weight category in Beach SAMBO. In an interview for the FIAS website, the Cameroonian told where the fight turned out to be more difficult – in Combat SAMBO or on the beach, when a new world champion from Cameroon appears, and how long Cameroonian sambists will feel themselves like national heroes.
In the final fight in Combat SAMBO, your opponent from Egypt was noticeably inferior to you in size – height and weight. At the same time, in a number of moments at the beginning of the fight, he managed to catch you by surprise due to his higher speed and just short stature. At least it seemed so from the outside...
– For me, the difference in size is not an indicator of technical skill or the level of an athlete's training, I evaluate other indicators, I carefully prepare for each fight. On the eve of the final, I was able to watch the previous fight between my opponent from Egypt and an athlete from Niger. Even then I drew attention to the fact that he moves quickly, delivers quick and very unpleasant blows. I was ready for this. At the beginning of our fight on the mat, he did manage to carry out a successful attack on his legs, for which he received two points. Nevertheless, I had a plan for the fight, I followed it. This helped me win.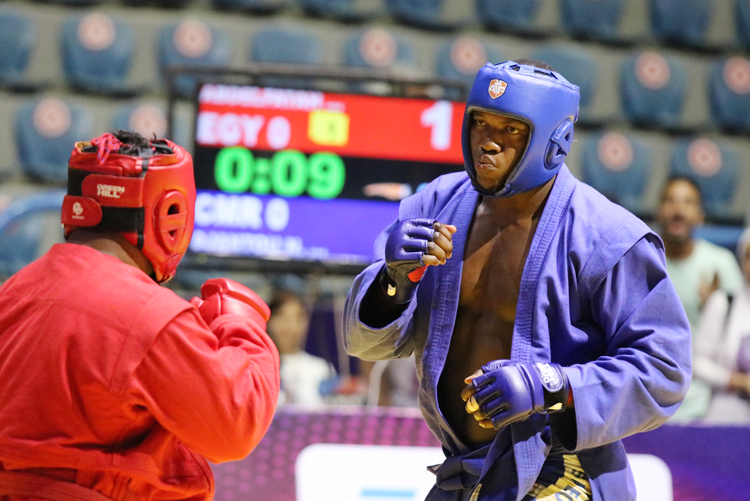 You fought in Combat SAMBO, and the next day in Beach SAMBO. Which medal was harder to win?
– I think the medal in Beach SAMBO turned out to be more difficult for me, since the conditions were difficult: there was a strong heat, there was a scorching sun, the sand literally burned my feet. In this case, my opponent had an advantage, since he could move faster due to the lower weight. It was physically harder for me, I made sure that my breathing did not go astray, I tried not to waste energy and force the athlete from Burkina Faso to make a mistake.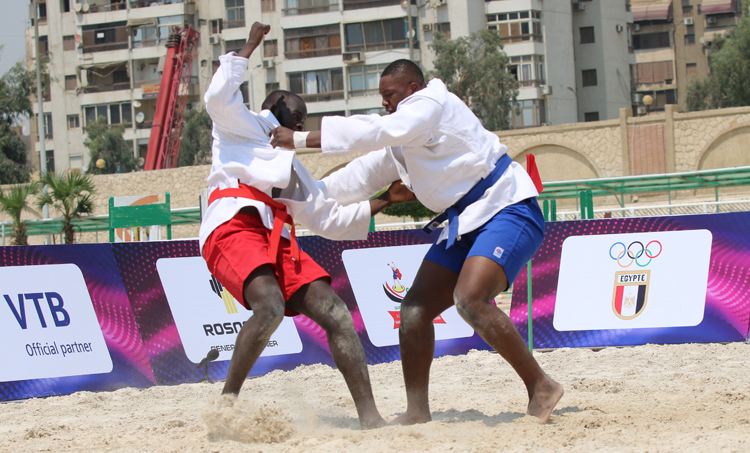 The Morocco national team became the winner in the team competition. What, in your opinion, prevents the Cameroon national team from being at the top of the podium?
– A significant role was played by the fact that we had fewer athletes in our team than the Moroccan and Egyptian teams, which brought almost full teams. By the way, nine athletes from Cameroon took part in Sport and Combat SAMBO competitions, eight of them won medals. We hope that in the future we will still be able to take the first place when we can bring more athletes. We are consistently showing good results and demonstrating progress, and, of course, we count on government support.
Last year, an athlete from Cameroon became the first ever World Champion in Combat SAMBO from the African continent. In your opinion, should we expect a new World Champion in Sport SAMBO from Cameroon in the near future?
– I think this will happen in the near future, as development is underway, the level of professional skill is growing, we train, not sparing ourselves. Therefore, I am sure that in the near future we will have new champions, and not only in Sport (women's or men's) SAMBO, but also in Combat SAMBO.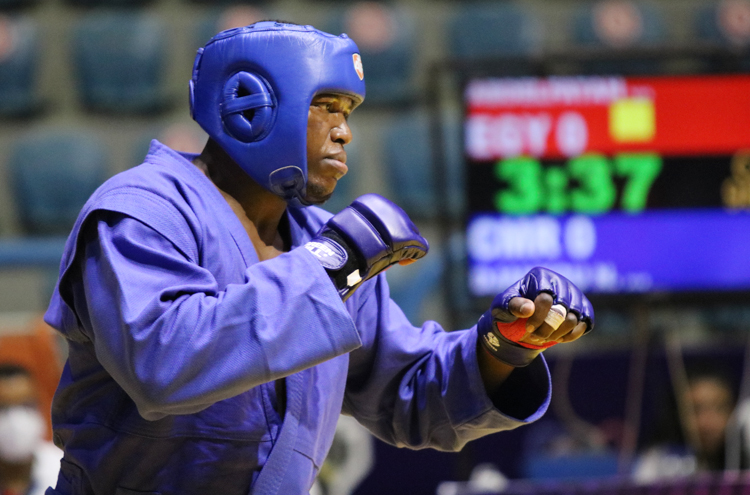 In 2019 you became the silver medalist of the World Championships in Korea, in 2020 – the bronze medal in Serbia. Are you now ready for maximum results?
– In November in Tashkent (Uzbekistan) I will definitely try to become the first, but before I will strive to win gold at the World Beach SAMBO Championships in Larnaca (Cyprus), if I can go there. I want to prove that the basis of Sport SAMBO is not alien to me either. Therefore, first Cyprus, then Uzbekistan.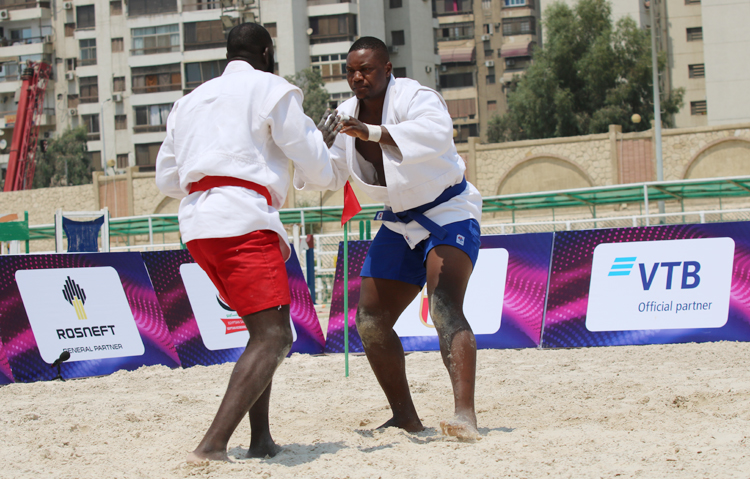 That is, you did the work on your mistakes, did you understand what exactly was not enough then to win?
– The training process is a whole system, including work on mistakes. Of course, I analyzed my shortcomings and continue to do so at the present time. And even if the fights at the continental championship did not give me any particular trouble, nevertheless the process of analysis and work on the technique continues. I think that by November I will be able to get in optimal shape to win the main international tournament.
The Cameroon team differs from others in that it always cheers very loudly and noisily for its athletes. Does it happen only in the arena or at home in Cameroon are you celebrating success as brightly and grandly?
– At competitions this is an obligatory part of our participation, since during the fight on the mat, the support of teammates gives strength, often opens a second wind. Probably, in my voice you can hear that I have already ripped it off (laughs). To be honest, we are glad that we have such a strong team spirit. Our team is not only those athletes who were able to come to Cairo, but also our teammates, coaches, family, relatives, loved ones and friends who stayed at home. It is thanks to them that we are now here at these competitions. So when we get back to Cameroon it might be there will not be some noisy party, but it will definitely be a mass of bright, unforgettable emotions, meetings, numerous photo sessions with medals and, of course, the general joy of victory. Perhaps this is the main celebration of our success.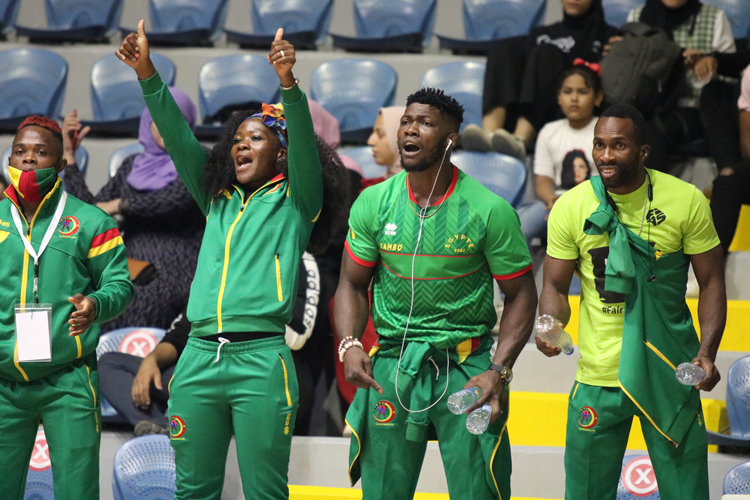 That is, the celebration will begin at the airport of the Cameroon capital?
– Yes, of course, we will be met at the airport – friends, fans, television. There will be songs, dances, hugs…
And for several days you will feel like national heroes?
– We will feel like national heroes, perhaps even more than a few days (laughs). I can say that even now I am sometimes recognized on the streets by people who remember my success at the World Championships in Korea and I am asked to be photographed. This is what motivates us to move on. We want the Cameroon flag to fly at all international competitions and our national anthem to be played as often as possible. This is what teaches us to never give up and go forward to new successes with our heads held high, to be an example for the younger generation.