Fedor Emelianenko Dined With The Winner Of "Your Road To Championships" Prize Drawing Event
Personalities
8 December 2017
Aleksandr Solomahin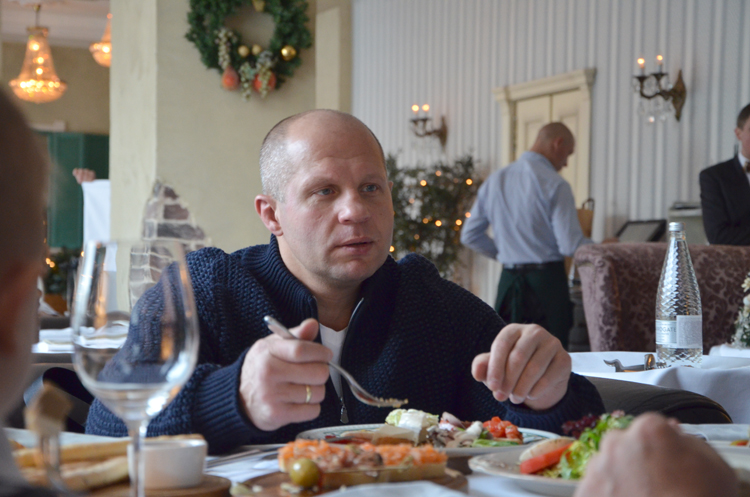 "Your Road To Championships" Prize Drawing Event bankrolled by the Rosneft Oil Company in cooperation with FIAS was staged at the World SAMBO Championships in Sochi. Vladimir Maksimovitch Shevchuk had become the winner of the first grand prize, a dinner with Fedor Emelianenko. On December 7, he and his family came to a Moscow restaurant, to meet the world most famous sambist in person.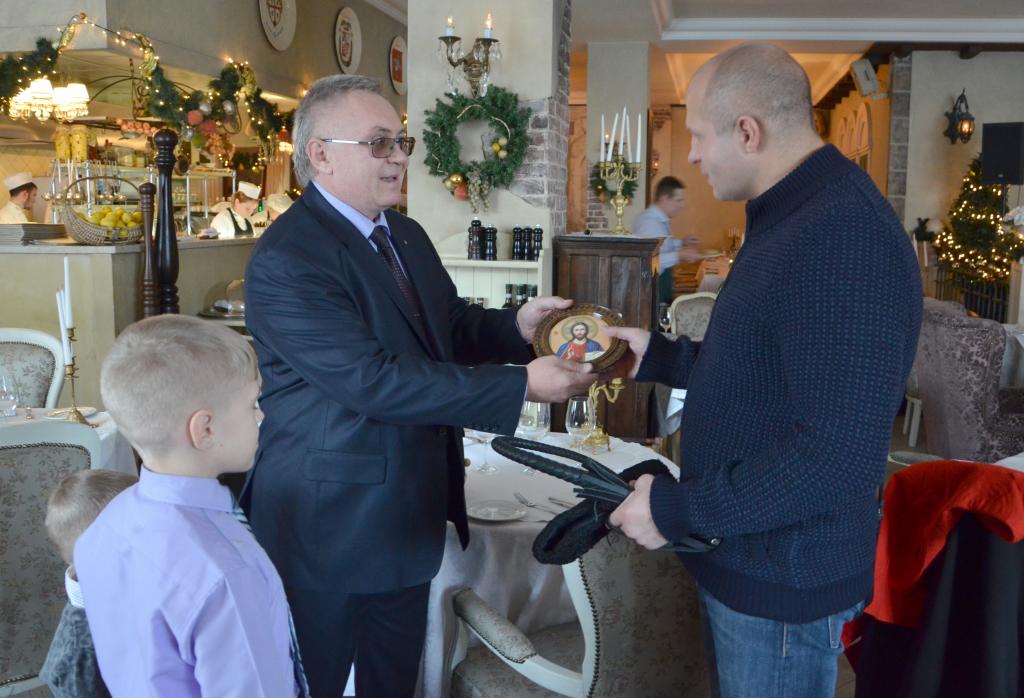 Their meeting started with presents: a papakha, a Cossack whip, an icon, and other memorabilia that Vladimir Shevchuk had brought as presents for Fedor Emelianenko. To reciprocate, Fedor Vladimirovitch presented his guests with sambist souvenirs including the FIAS charms and SAMBO Tiger Cubs which filled the children with joy. By the way, according to the prize winner himself, it was his desire to make his son happy that impelled him to take part in "Your Road To Championships" event.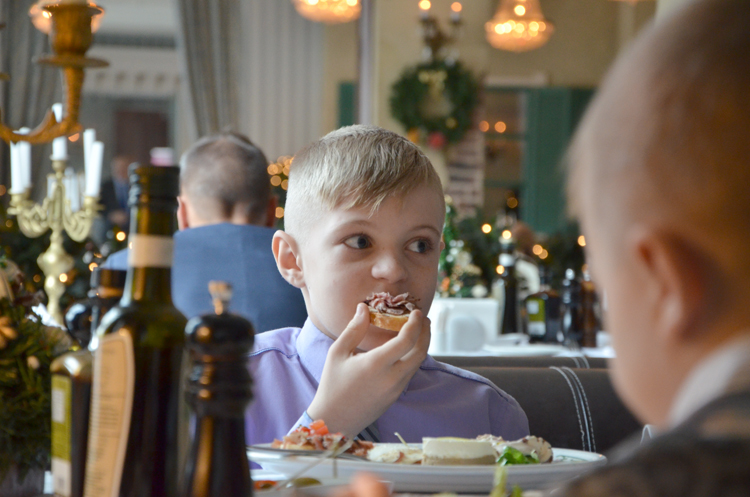 'Maksim`s been into SAMBO and judo since he was 5 years old yet I felt like he still was not quite self-assured. And when I saw that the second grand prize was a SAMBO jacket with Fedor Emelianenko's autograph I thought: had my son such a charm it would lend him some assurance. So I decided to try my luck and applied for participation in the drawing. And I want to thank the organizers of the event for this honest and open lottery!' said Vladimir Shevchuk. 'It was clear that the whole country was watching the World SAMBO Championships in Sochi. And when my family name was announced, some guys that we'd been working together long before, began to call me and send congratulations. It was so gratifying that the whole country was celebrating it with me.'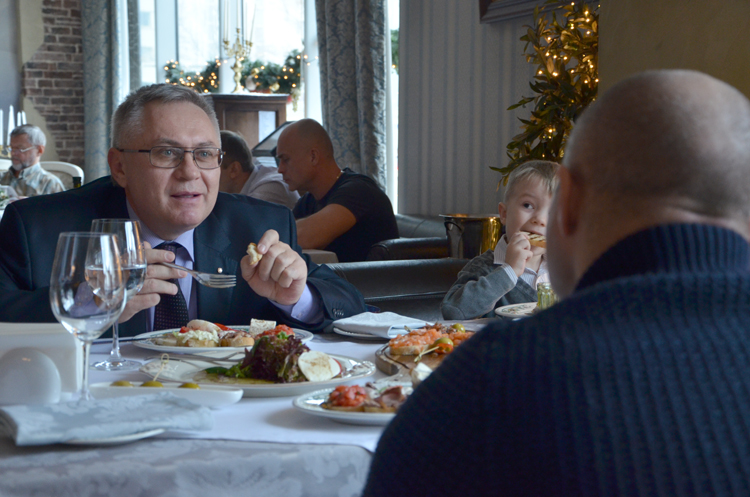 Eventually, this motivational charge was shared between all three sons, Maksim, Gleb, and the youngest one, Saveliy, who, to be blunt, was peacefully sleeping in his pram for half a dinner, under his mother's guard.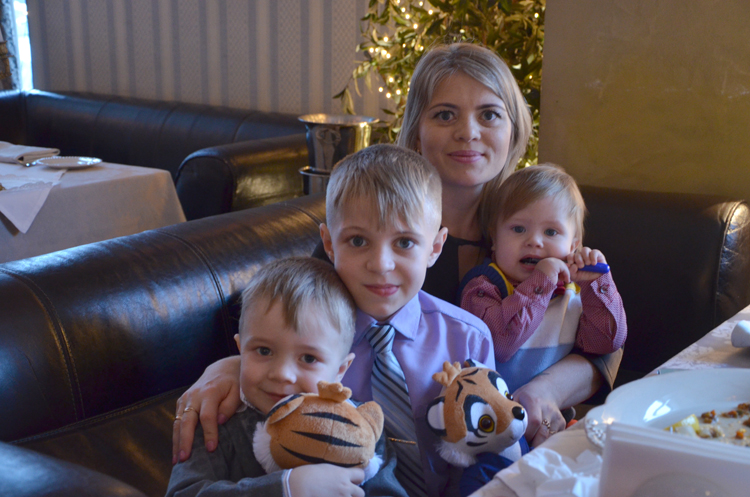 «Owning to the fact that Fedor Vladimirovitch has recently got a child he's very attached to, the contact with my kids went off very positively. We've discussed this issue with him. You know, being an Interior Ministry's officer, I'd spent a great deal of my time at work. Eventually, my elder children grew up, and I barely saw them in their tender age. And that's what Fedor Vladimirovitch said, too, when his elder kids were growing up it passed absolutely unnoticed to him. And when it happens right before your eyes, it's worth a lot. And of course he was happy to hold my kids in his arms, especially the youngest one, Saveliy, at his first birthday party today, on the 7th of December,' says Vladimir Shevchuk.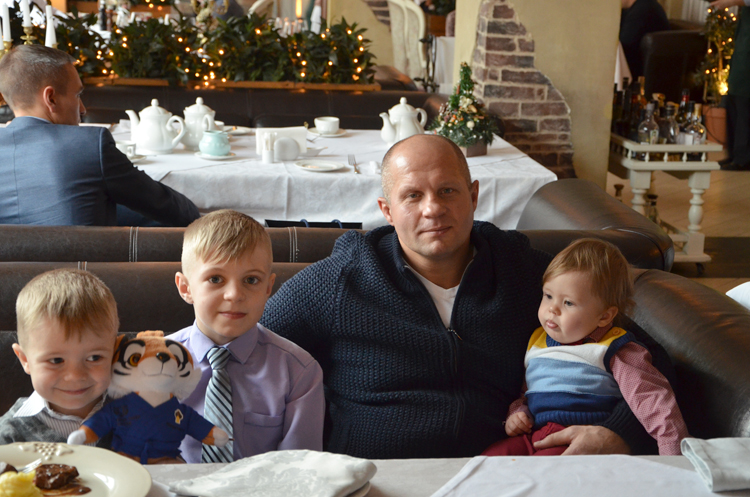 Following the dinner that lasted for a few hours in very warm and friendly atmosphere its main participants shared their impressions with the FIAS website. The word is given to Vladimir Shevchuk: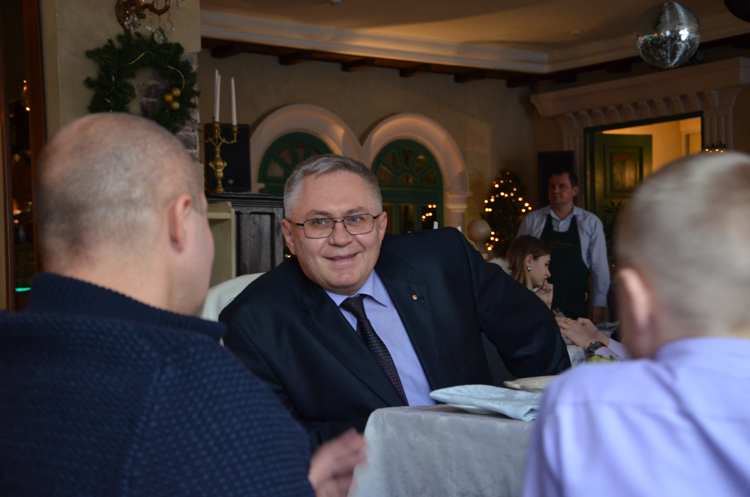 – Up until now we've only seen Fedor Emelianenko on TV. Little wonder I envisaged him as a combat machine of a sort, a machine that destroys its opponents. Our meeting has left me with the best possible impressions, though – Fedor turned out to be a simple, good man who loves his family, his little ones, and, of course, his wife. We've spent a wonderful time together.
– What did you discuss?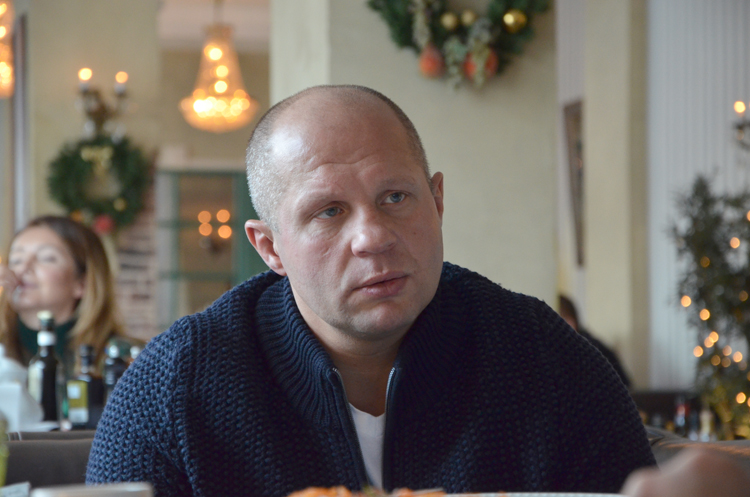 – Quite a lot, actually, things like development of SAMBO on the whole. The lack of coaches, especially for kids, is a big issue, you know. Basically, they are all enthusiasts who really care for children, who wish their pupils to achieve something better in the sports.
– Did you manage to find an answer to the question that worries you most?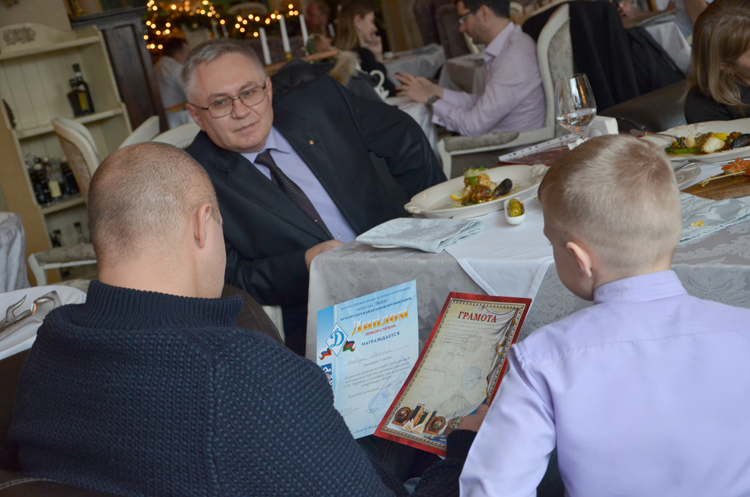 – My son Maksim who has already won a fairly decent number of medals was haunted by such a question for long. A champion like Fedor Emelianenko must have an enormous number of medals and cups. Where does he store them all? Fedor Vladimirovitch explained that he had given his awards to a sports school. There, young athletes could see them at any time and get additional motivation for their training. My Maksim used to think that Fedor had a special room where he keeps all his medals.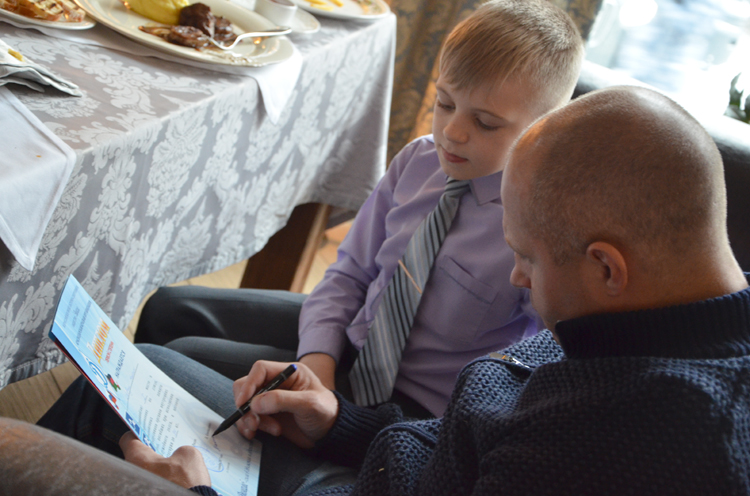 – In the course of the dinner kids addressed Emelianenko as 'Uncle Fedya', and how did you call each other?
– At first we addressed each other rather formally, by name and patronymic: Fedor Vladimirovitch and Vladimir Maksimovitch. But then we dismissed all those royal terms during our heart-to-heart talk and started calling each other just Fedor and Vladimir. Besides, there's no big age gap between us, you know. So I think it's quite apposite, when you share a table and chat with someone.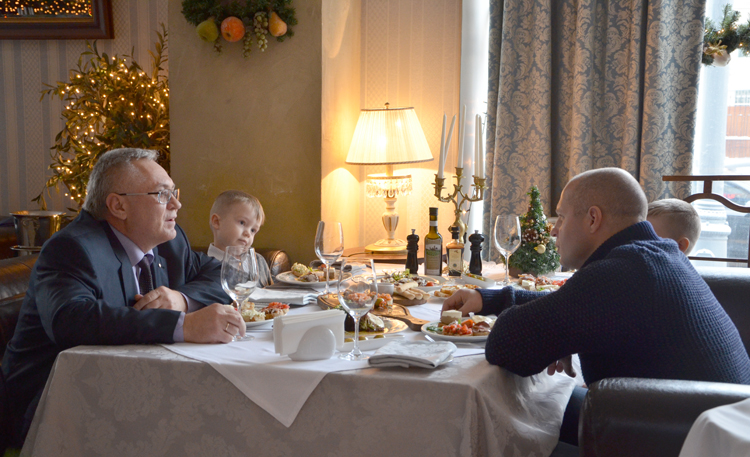 Fedor Emelianenko was also found in very good spirits following the meeting with the Shevchuk family:
– The dinner went off splendidly, my thanks to FIAS and Vladimir Maksimovitch, the prize winner, who proved to be a very interesting personality and agreeable companion. It`s good to know that Vladimir Maksimovitch is not only interested in sports but also implants this love of sports to his sons since the earliest possible age. He's got three of them. The eldest son, Maksim, is 10, and he`s been into SAMBO and judo for five years, the middle one, Gleb, is only 5, and he's been training for a year. As for the youngest one, Saveliy, who's turned just one year old today, it's still early to say, yet by the looks of it, he would follow in his brothers' footsteps as well. SAMBO runs in their family.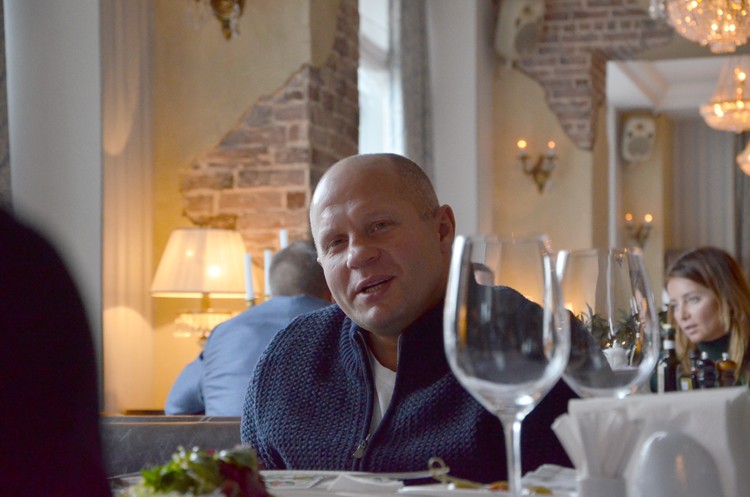 – How did you find this Rosneft-sponsored event whereby the prize winner and his family could have met and relished the company of their idol in informal atmosphere?
– Well, I had a good time. I was glad to talk with Vladimir Maksimovitch who shared his life experience and told me a lot of interesting stories. And of course he's got lovely kids who gave me a lot of positive emotions.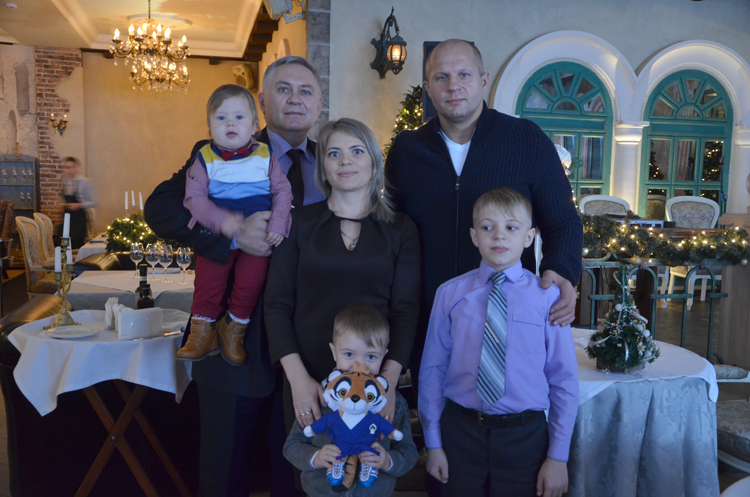 – What is SAMBO for you?
– SAMBO is a sport by courtesy of which I succeeded. SAMBO is an integral part of my life and, of course, my favorite sport.
– The whole world knows Fedor Emelianenko. Who, in your opinion, will be the next world-known sambist?
– I'm Russian myself, and therefore I root for Russia, for our guys. They are pretty well-known, and show good results in both SAMBO and MMA tournaments. Certainly I hope SAMBO enters the Olympic family, so that our guys would become household names around the world and glorify Russia, and not only in SAMBO but in every kind of martial arts. I believe that with such head of the International SAMBO Federation as Vasily Borisovitch Shestakov it is real.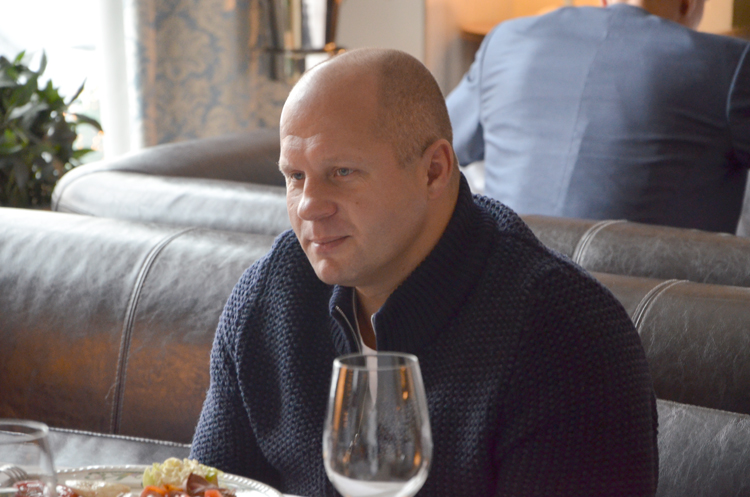 – Where will you celebrate Christmas?
– My family usually celebrates Christmas in a church. Perhaps, this year it will be in Stary Oskol, Belgorod Oblast.