FIAS at the 14th Council of Europe Conference of Ministers responsible for Sport
Official
29 November 2016
Sergei Grishin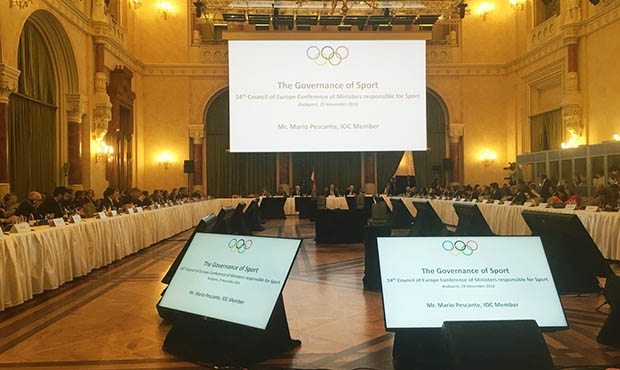 FIAS as a member of the Consultative Committee of the Enlarge Agreement on Sport of the Council of Europe (EPAS) attend the meeting of the Ministers of Sports that was held from 28 to 30 November in Budapest.
The opening ceremony started with the speeches of the Hungarian Minister of Human Capacities, Zoltán Balog, the deputy Secretary General of the Council of Europe, Gabriella Battaini Dragoni, the European Commissioner for Education, Culture, Youth and Sport, Tibor Navracsics, the International Olympic Committee representative to the United Nations, Mario Pescante.
The ministers or the representatives of the Ministers of 42 European countries attended the meeting, five non-members states having observer status with the parliamentary assembly of the Council of Europe (Canada, Japan, Mexico, New Zealand and United States of America) and more than twenty-five sport organisations met with three main topics on the agenda:
- Fight against doping.
- Match-fixing.
- Good governance.