Final in the 48 kg weight class at the Pan American SAMBO Championships in Asunción: Maria Guedez' winning throw and painful hold
Personalities
28 August 2016
Sergei Grishin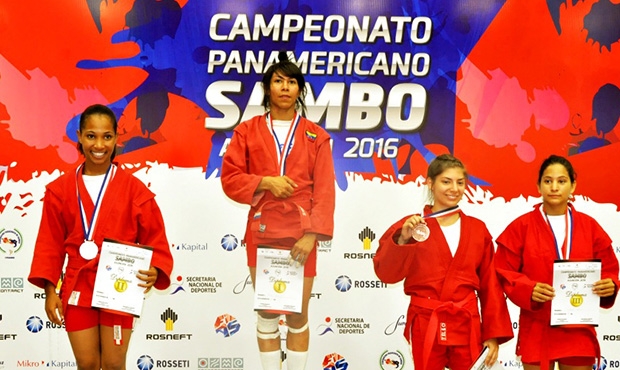 On the way to the final, the current world champion in the 48 kg weight class, Venezuelan Maria Guedez, was swift and invincible, achieving both her victories before the final on the mat. Maria won the first fight with a painful leg lock, and the semifinal with a painful leg lock – knee lever.
Maria's opponent in the final was Julia Citerio Villa from the Dominican Republic. In the first round of the fight, we saw the "best" back from the knees for 4 points from Maria Guedez: 
And then, when there were less than two minutes left before the end of the fight, Guedez performed a sudden and winning painful leglock:
In a brief interview after the award ceremony, Maria said: "Of course, it's much more difficult to fight in Europe, even when I was just training there, it was a lot more difficult. That's where the real level of SAMBO is, a high level. It's a lot easier for me to fight here, so to speak, and these starts are kind of like training for me. Of course, I realize they already know me and have studied my fighting style, so that's why I'm preparing new techniques and new versions of holds. I'm training specially for this year's world championship in Bulgaria.
What's changed in my life after winning a world championship? I met a lot of people, and a lot of people got to know me. You have to understand that for years I was always third in the world championship, so a gold medal meant real joy and happiness for me. And of course, it was really important for my country. 
There really was a lot of groundwork in my fight today, but that was part of my plan – not to reveal my new techniques and hold off until the championship in Bulgaria. How am I going to train for the world championship? If there aren't any starts, maybe I'll start a couple of times at the regional level just to keep myself up. I'll train at home, like I did last year.
I didn't see anything of Paraguay. I hardly left the hotel, because I was concentrating on the competitions. The level of the Pan American Championship has improved quite a lot, and competition has increased along with it. There are a lot of strong new women in my weight class now. Today's gold medal is more valuable to me."