Interview with the FIAS acting General Secretary Roberto Ferraris
Competitions
16 April 2013
Sergei Grishin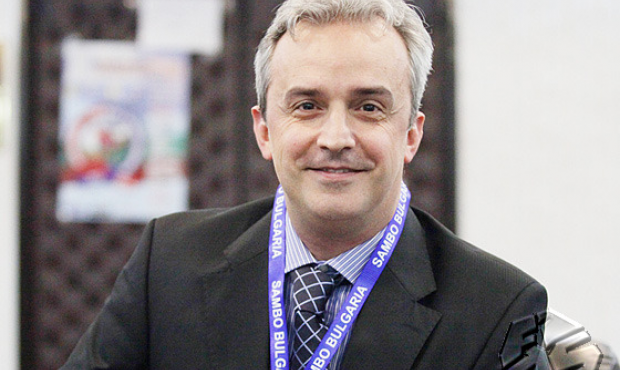 Roberto Ferraris, "I have never seen such an ideal situation for development of SAMBO before today"
European SAMBO Championship among juniors and youth that ended last weekend in Cyprus became a harbinger of the next major international tournament of the Old World. The Italian city of Crema will have a privilege to receive "adult" European SAMBO Championship on May 17-21. Starting a conversation on this topic with the President of the Italian Sambo Federation Roberto Ferraris, we ended our conversation with the FIAS acting Secretary General Roberto Ferraris who shared his vision of the situation taking place in SAMBO global community.
- At what stage is the preparation for European SAMBO Championship?
- We have practically finished all the preparations and organization of the tournament. European Championship will be held in the Italian city of Crema located near Milan. Everything is ready for the tournament: hotels, transportation, halls. I would like to point out that we are supported by the National Olympic Committee and administration of Crema and province of Cremona. We have a good team in the organizing committee – they are people who have already gained certain experience in organization of a similar SAMBO tournament held in Italy 4 years ago. That is why I do believe everything will be at a decent level. I would also like to emphasize the support received from the International and European SAMBO Federations. FIAS, in particular, provided us with sambo competition mats soon to be laid out in the hall. The European Federation, in its turn, will be responsible for all the prizes and awards to be given to the winners and medalists of the continental forum.
- What were the reasons for choosing Crema as a place of tournament?
- I am going to take you back in time and let you see the evolution of the history. In 2009 the European SAMBO Championship was held in Milan. At that time the city was chosen by the European Union as a European capital of sport. Milan hosted a series of competitions in many different sports, including only two martial arts tournaments. They were the World Boxing Championship and European SAMBO Championship. Today the city of Crema has a similar situation being designated as a European city of sport. Every year EU chooses a capital of sport and 12-15 cities of sport which host a series of many different tournaments. Cremona province administration approached me with a proposal to organize in one of the cities a major SAMBO tournament. Moreover I personally deal with development of our beloved combat sport particularly in this area of Italy. 3 years ago I opened a new SAMBO training school where I provide training and practicing by myself. There are a lot of good prospects for development of this sport, people in this area are highly interested in this combat sport. Moreover, SAMBO gets good support from the press. Crema's excellent sports hall and all the other infrastructure necessary for the championship are of no small significance.
- Now let us skip from discussing organizational matters to sports matters. Has the Italian team been formed yet and how do they prepare for the competition?
- In December we had a national SAMBO championship that also became 2013 European Championship qualifying tournament. It was then when we formed the core of the Italian national team. Our athletes will participate in sport SAMBO competitions in all weight categories excluding 52 kg weight class for men. It is difficult to find strong guys in this weight category that is why I prefer to take no one rather than take someone just in case. Only those ready and able to show the result. Every athlete must compete in the tournament matching his or her class. I believe it is wrong to take an untrained athlete to participate in international high-level tournaments. It is better to give them an opportunity to take part in three-five lower level competitions. Because they may be shocked at a major tournament. In addition, it is dangerous in terms of injuries, and in the end we risk losing such an athlete. That is why I am taking a good team where every sambist has the power to compete for a medal. But we take part only in sport SAMBO. Combat SAMBO is quickly gaining its pace in our country but for the time being our athletes are not strong enough to show good results. It should also be said that today we are working to train a new generation of our team – we have spent the past two years raising our young athletes. They have a special training program, they participate in various tournaments and have already gained some success. Our girls won two gold medals and a silver medal at the Youth World Championship in Bulgaria. This young group includes five girls and three boys in total.
- I'm sure you place wagers on these guys at Kazan Universiade-2013, didn't you?...
- Yes, our young team is also preparing for the Universiade. In any case, we have already identified the strongest SAMBO athletes and since some of them are also students, we have submitted an application for their participation in Kazan Universiade. At Student Games the Italian national team will be represented by 5 girls and 1 male athlete. By the way, I am sure that the European Championship in Italy will be held at a very high and representative sports level. At FIAS Executive Committee's meeting it was decided that every Continental Championship will be a selection tournament to qualify for SportAccord World Combat Games to be held in October in St. Petersburg. The Games will feature 15 martial arts and combat sports certainly including Sambo. Competitions in our sport will be held only in 6 weight categories: 57 kg and 68 kg - for women, 68 kg and 100 kg – for men, 74 kg and 100 kg - in combat SAMBO. Obviously it will be rather difficult to get to the tournament and it is another reason to believe that the European Championship will be very strong.
- You have mentioned FIAS Executive Committee's meeting at which you were nominated Acting Secretary General of the International Federation of Sambo. Could you share your personal opinion about the last events?
- I think over at least a year there were a lot of misunderstandings and there was a lot of misinformation out there about the work of FIAS and development of SAMBO throughout the world. Therefore I would like to express my personal opinion. Since 1986, when I took part in an international competition for the first time, and since 1985, when I faced the reality of the international SAMBO for the first time, I have witnessed a lot of different situations both in SAMBO and FIAS. They were both moments of development and moments of various problems. But before today I have never seen such an ideal situation for development of SAMBO when Vasily Shestakov became the FIAS President. He gives a very good impetus to development of SAMBO and creates for FIAS a superb image of a serious organization which the International Federation of SAMBO has always lacked before. It is very frustrating, however, to see and read some bad things from time to time occurring from outside. It is difficult to understand why such situations happen. I see it with my own eyes how the present FIAS Executive Committee headed by FIAS President Vasily Shestakov helps all federations, including the smallest ones, to develop SAMBO. I see the support provided by FIAS for organization of competitions. I see that the largest multi-sport organizations, such as SportAccord look and bestow us with respect. This has never happened before. These are the facts. On the other hand, there are some people who do not want to work hard for development of SAMBO in the right way, and it is these people who create a bad impression of the whole SAMBO family. That is why after numerous cases of such misinformation and subversive activities by some people and after a long time of patience, there finally was a conscious decision made. According to the sports rules and regulations of international organizations such as FIAS the Executive Committee suspended the work of several members of the Executive Committee. There was an automatic decision made to appoint the person to perform functions of an acting Secretary General. I was nominated to this position, but the candidate for the position of the Secretary General will be approved at FIAS Congress' meeting. For the time being, someone has to do this job. I hope that in a few months we will be able to collect all the information about SAMBO we have not been receiving for years. I'm sorry that we got into this situation with the suspension of some of the Executive Committee members. But it is impossible to continue this way that is why FIAS Executive Committee made the right decision to the benefit of SAMBO.
- Do you have an action plan?
- I would like to talk personally with the heads of all the national federations. I am going to tell every friend of SAMBO about the situation. I will do my best in the future to maintain contact with every federation that is a member of FIAS, on every continent. It is very important to follow the same way to develop SAMBO. That is the reason I would like to know what they think, what they know or do not know. It is necessary to understand the real situation and the real perception of the situation by these people. I am sure we all love SAMBO and work for the benefit of SAMBO. It would be foolish to lose time required for development of SAMBO on various internal problems that drag us back.
Interviewed by Alexander Solomakhin
www.sambo.sport