FIAS History
Competitions
2 August 2012
Sergei Grishin
SAMBO is a spectacular and dynamic sport. It unites power of body, courage of spirit and bravery of character. But just like any other sport, SAMBO needs support. Particularly for its development, a non-government non-commercial public organisation FIAS was created. Those for whom SAMBO is life, air and love were and continue to be among its originators.
Born in the USSR, having absorbed the art of wrestling from many countries, SAMBO could not stay within the borders of one state. The opportunities of this martial art are so great that it quickly attracted athletes from all over the world. Thus, in 1950 – 1960, SAMBO won recognition in Bulgaria, Mongolia, Japan and other countries.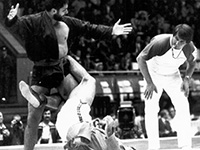 In 1966, the most significant event happened to the world of SAMBO. An authoritative organisation FILA (The International Federation of Associated Wrestling Styles) officially ascribed a status of a new international wrestling to this sport. Afterwards, SAMBO is rapidly developing further: in 1972, Riga (Latvia) hosts the first open European Championship; in 1973, the first World Championship takes place in Teheran (Iran); in 1981, representatives of the fair sex joined SAMBO family at the first Women's World Championship in Madrid (Spain).
The sport community needed a strong link that would unite SAMBO supporters on various levels and in various countries. In 1984, outstanding SAMBO practitioners decided to establish International Amateur Sambo Wrestling Federation (FIAS) (FIAS - FédérationInternationale Amateur de SAMBO). Thus, on June 13, 1984, the Constituent General Assembly took place in the capital of Spain. Delegates from 56 countries met in Madrid. They elected Fernando Compte first President (he was the one to initiate the Federation creation). From that day on, such concepts as "SAMBO international development" and "FIAS" are tightly bound forever.
On September 14, 1984, the Federation registered its Articles of Association pursuant to which all international official SAMBO competitions are held under the auspices of FIAS.
1985 – FIAS becomes a full-fledged member of a large international organisation AGFIS (General Association of International Sports Federations). Now it is called SportAccord. The same year SAMBO was included into the programme of II World Games (London, Great Britain).
1993 – SAMBO was included into the programme of IV World Games (the Hague, the Netherlands).
2006 – FIAS adopts the World Anti-Doping Code of WADA (World Anti-Doping Agency).
2007 – SAMBO International Federation has been a member of TAFISA (Association For International Sport for All) and takes part in the World Games (competition in the non-Olympic sports).
2010 – FIAS takes active part in the First SportAccord Combat Games. The same year, the Federation opens a headquarters in Lausanne – world Olympic capital (the city where IOC residence and other sports federations are located).
2011 – the Federation and AIPS (International Sports Press Association) sign Partnership Agreement.
2012 – FIAS conducts rebranding. The modern logo and new official web site   are developed. Now the FIAS official web site is www.sambo.sport.
Looking into the future
FIAS plays a great part in SAMBO propaganda as an international sport. Thanks to its vigorous activity SAMBO was included into the programme of competitions of Universiade-2013 in Kazan for the first time. Moreover, at the initiative of FIAS President V. Shestakov, supported by the Government of the Russian Federation, SportAccord governing body decided to conduct Second World Combat Games in Saint-Petersburg (Russia) in October 2013.