IX World Games started in Cali, Columbia
Кaleidoscope
26 July 2013
Sergei Grishin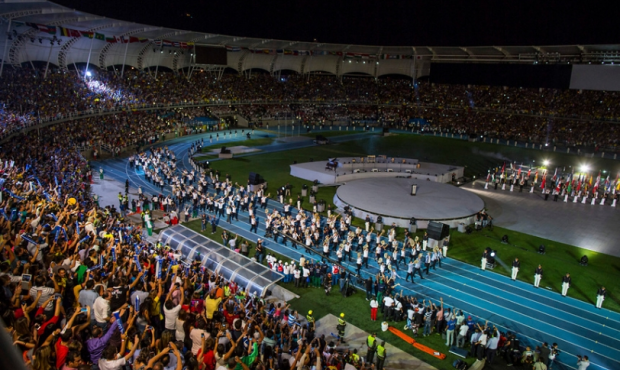 The opening ceremony of the IX World Games 2013 was held on July 25 in Cali, Columbia. A show of technology, lights, art, sports and culture took place at the Pascual Guerrero stadium. More than 40 thousand spectators viewed the performance sitting on the stands, and millions of TV viewers observed the opening ceremony on air. Probably there were a lot of SAMBO fans among them as this type of martial art has been included into the Games programme in the form of the presentation kind of sports as it was earlier reported on the FIAS web page. For further information on SAMBO presentation at the IX World Games follow next publications on our web page. Today we propose you to become a part of the opening ceremony.
400 dancers, 68 musicians and 40 acrobats became the center of the well-staged show. The most emotional moment was the delegation parade. Sportsmen from 107 countries bearing flags walked along the central stadium of Cali. The President of the International Olympic Committee Jacques Rogge and the President of the International World Games Association (IWGA) Ron Froehlich welcomed the delegates. The address of the President of Columbia Juan Manuel Santos was planned to start the opening ceremony, however the Head of the state could not come to Cali because of health problems. The Vice-President Angelo Garzon announced the Games officially opened.
The official list of participants includes 3,495 sportsmen from 107 countries of the world, who will compete in 31 kinds of sports. Beside SAMBO, the presentation programme includes futzal and kudo. Let us remind that the World Games are international complex competitions in kinds of sports not included into the programme of the Olympic Games. They have been held since 1981 every 4 years. Since 2001 they have been held under the patronage of the International Olympic Committee (IOC).