A new President of the Venezuelan SAMBO Federation was elected
Federations
26 August 2013
Sergei Grishin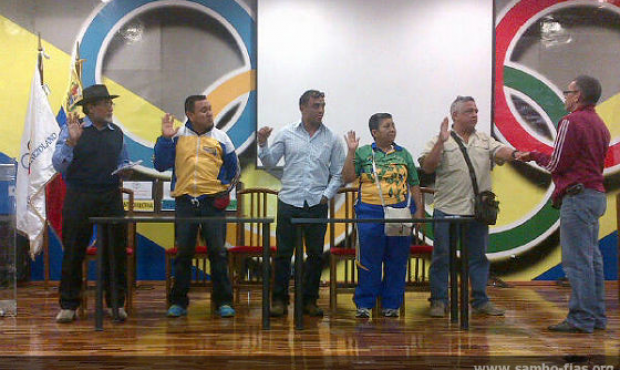 In Venezuela, presidential elections of the National SAMBO Federation took place. According to the results of the voting, which took place on August 21, Cesar Arteaga became a new head of the local SAMBO. He managed to be one jump ahead of his rival, Jessy Diaz – the second candidate for the post. Viktor Pirela, former head of the Venezuelan SAMBO Federation became Vice-President of the organisation.
The presidential elections were held during the meeting of the federation members, which was held at the National Olympic Committee of the country. Representatives of 18 Venezuelan states, who determined a new future of the national SAMBO, participated in the voting. Cesar Arteaga, who has headed the federation, is familiar with the sport in all its forms well. He is a former world champion in wrestling, has a work experience in the structure of Sumo Federation, and was Chief Referee at the 2013 Pan-American Championship, taken place in Panama. Now he has to approve himself in his new role.
– First of all I will try to do everything possible to raise and strengthen position of the Venezuelan SAMBO at the international tournaments – I mean the World Cup and Championship, as well as multi-sport competitions. In addition, I plan to review some aspects of the internal operation of our federation, – said Cesar Arteaga in the exclusive interview to the FIAS website. – I'm going to get with development of school and student, as well as military and police SAMBO very closely. In addition, we have an idea to run a series of workshops and training courses to train Venezuelan judges and coaches.
In addition to the President and Vice-President, Louis Adriaanse as Secretary General of the Federation and Eleanor Rojas – as Treasurer were elected. Louis Adriaanse, by the way, is also not a novice in the sport, he is a multiple winner of the World Cup Stages, as well as the winner of the World SAMBO Championship. Thus, team of the new President know their business, and that means new achievements of the Venezuelan SAMBO is not far off.
Remind, today the Venezuelan SAMBO athletes are recognised leaders in the Pan-American SAMBO and regularly win the continental tournament in the team overall. They also compete with the founders of the combat sport – the Russians head-to-head, annually forcing a bitter struggle up them at the A. Astakhov Memorial World Cup Stage. In addition, at the 2013 Universiade, debut for SAMBO, the Venezuelan team won a silver medal, haven't only slightly reached for the "gold" of the World Student Games.
Alexander Solomakhin
www.sambo.sport