How the Belarusian SAMBO athletes know how to wrestle from a kneeling position
Competitions
11 May 2013
Sergei Grishin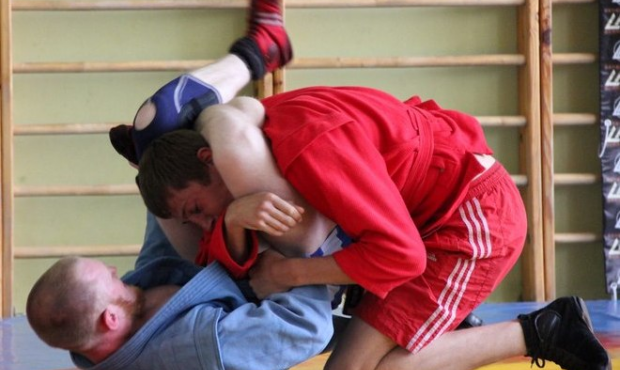 A lot of experts consider that mat wrestling is one of the key skills for SAMBO athletes today. Athletes who find it difficult to wrestle from a kneeling position are unlikely to be able to count on a great success at major competitions. You can learn it at trainings, but you do not always have an opportunity to practice it at the competitions. The Belarusians decided to remedy this state of affairs having organized the country's first SAMBO tournament in the section "mat wrestling" – "Submission League Championship" in early May.
Specially for the FIAS website Vakhtang Sokhadze the Combat SAMBO Federation and Mixed Martial Arts Chairman told us about these events:
"The idea of the tournament did not come out of nowhere. One of the most important components of the modern combat sports is wrestling from a kneeling position – mat wrestling. In due time in Belarus there was a very good school of mat wrestling, which is currently unjustly forgotten or lost. Such famous masters as Magomed Ramazanov, Mikhail Baranov, Vladimir Yaprintsev and many others scored the majority of their victories wrestling from a kneeling position.
It is a fairly large section in Combat SAMBO. Today it is obvious that one can win by means of mat wrestling – to finish ahead duel meets with minimal losses, and do it really beautiful. Based on the above, we have had enough reasons to hold the Submission Tournament.
I saw some rules of the competitions in Russia – certain regions hold such tournaments, which are called "King of Mat Wrestling". Further on, we made a symbiosis. We took Sports SAMBO as a basis and also added some nuances of judo, grappling and Brazilian jiu-jitsu.
There were simulated situations that arise during duel meets. Of course, the guys were fighting without strikes to have time to think, to fix holds – and to apply them in a competitive format of Combat SAMBO in the future. Even if such tournaments will not acquire a wide format in the future there still will be benefit from them. Athletes will feel comfortable wrestling from a kneeling position at the competitions.
Statistics shows that 80% of the duel meets in the mixed format end up in mat wrestling. A lot of guys from Combat SAMBO are familiar with MMA, so mat wrestling for them – is simply a necessity. As Oleg Taktarov the famous fighter puts it: "If you want to perform at the international competitions, you should also wrestle from a kneeling position on the international level".
Specialists and coaches of the Soviet SAMBO School, repeated Champions of the Soviet Union were present at our competitions. In fact they said that they hadn't seen anything new. Of course, the format of the competitions is another, but the holds – are still the ones they used before. We want all the SAMBO athletes feel comfortable while wrestling from a kneeling position. You can see rather often when SAMBO athletes literally run away from the kneeling position at the competitions. I think that holding such tournaments will correct this situation.
I'd like to say not in a shy way that the tournament hasn't nearly finished, when people came to us and asked when the next tournament would take place. We are planning to organize such events four times a year. After all, as to the format of Combat SAMBO, it's impossible to participate in tournaments each month. This sport is hard enough, not to mention the moral and psychological stress. And the Submission for a change – is a very good mid-starts option, which also allows you to reinforce some skills and gain confidence in yourselves".
Prepared by Alexander Solomakhin
www.sambo.sport