Chinese mat manufacturers want to hold a sambo tournament under their brand
Official
2 September 2014
Sergei Grishin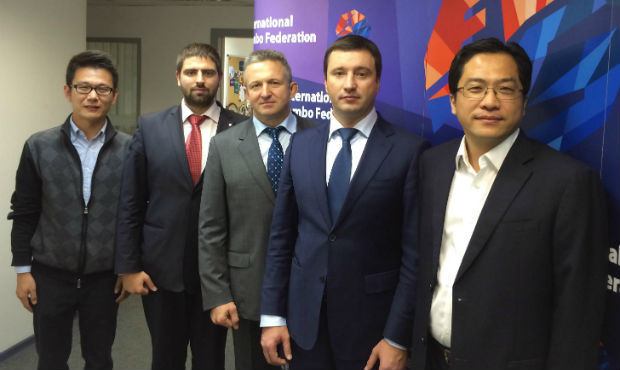 Recently, International Sambo Federation's Moscow office has held a meeting between FIAS President's Administration and Taishan Sports' representatives. Chinese manufacturer of wrestling mats has been one of the leading FIAS partners for already a year and the company supplies its products to many countries and continents. At the meeting, the partners discussed many topics including both routine issues and ambitious plans all the way up to holding a large international sambo tournament in China under Taishan Sports brand.
As mentioned above, the International Sambo Federation has been cooperating with Taishan Sports for a year. However, sambo athletes had started to wrestle on the mats produced by this company some time earlier. Sambo tournament at the SportAccord World Combat Games I in Beijing took place on this company's mats. Both participants and audience at the tournament could estimate their workmanship. The specialists did the same by paying due respect to Chinese manufacturer's skills.
However, not only FIAS chose Taishan Sports as its leading partner in mat production. International Judo Federation (IJF) and International Federation of Associated Wrestling Styles (FILA) also closely cooperate with this Chinese company ordering floorings for their combat sports. Soccer and field hockey professionals are familiar with Taishan Sports as well: The company produces synthetic fields for these sports. Moreover, different training and fitness equipment of this Chinese brand also enjoys wide popularity.
"Successful partnership between FIAS and Taishan Sports is determined by many factors among which I would like to emphasize mat quality and competent logistics that delivers mats to different regions not only in Asia but throughout the world. Aside from commercial collaboration, today we talk about Chinese brand's willingness and possibilities to promote sambo throughout the world. It pleases us that our partners think about it and come out with their own ideas for increasing sambo awareness," FIAS Sports Director Sergey Tabakov comments on the results of the meeting.
It is worth mentioning that Taishan Sports' CEO Harrison Liu and his Deputy Will Bian arrived at Moscow's meeting from Chelyabinsk where they had attended the Judo World Championship. According to the managers of the Chinese enterprise, they always try to follow the largest events concerning the sports, which they are closely cooperating with and try to maintain close contact with the leading specialists. It is likely that Taishan Sports' representatives could be found at the front rows at Sambo World Championship in Japan as well.