Colombia: official affairs, they're also athletic ones, they're also family ones
Кaleidoscope
17 March 2013
Sergei Grishin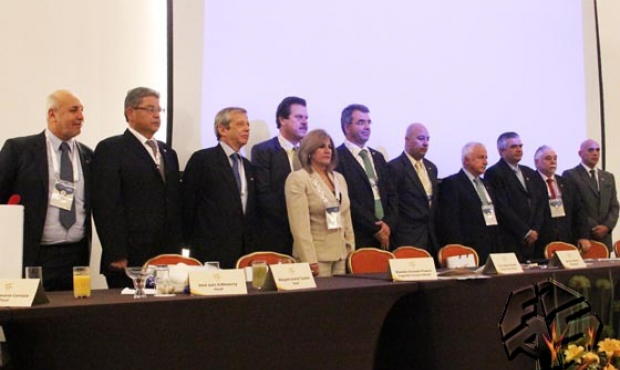 In September last year in Cali under auspices of the Columbian SAMBO Federation President, who headed the Organizing Committee of the Pan-American Championship, Mr. Omar Lopera Tamayo the Continental Championship was held. Then it assembled about a hundred athletes from 12 Pan-American countries. The home team performed successfully at home, having won 4 gold and 10 silver medals. They took the second place in the final team rankings and yielded the championship to the absolute favorites – SAMBO athletes from Venezuela.
However the news that recently has come to FIAS office from Colombia is not of sports nature. In Colombia, as well as in a series of other countries, it is the time to elect a new management of the National Olympic Committee. It is elected, as far as we were informed, for 4 years – till 2017 respectively. Elections of the management of the chief sports organ of the country were held on March 11 in Bogota at the 77th General Assembly.
The Olympic Committee President, General Secretary and Vice-President were elected at the Assembly by 88 delegates from the national sports federations. Along with the representatives of jiu-jitsu, bridge and rugby as guests, Bogota was also attended by the representatives of SAMBO – management of the local Federation of the sport.
It is worth mentioning that sometimes sports affairs intersect with family ones. It is proved by the fact that in Colombia the only woman in the country, a member of the Board of Directors of the National Olympic Committee, became the wife of the Columbian SAMBO Federation President Miriam Leonor Suarez again.
We are sure that the Columbian SAMBO Federation President Mr. Omar Lopera Tamayo won't need coat tails in the Columbian Olympic Committee. His acting and cohesive team work of the Federation will logically lead them to SAMBO recognition by the Olympic Committee of the country. FIAS web-site editorial, for its part, is waiting for the following news of just such character from Colombia, and we are happy to share it with all SAMBO fans of the world.
Natalia Yukhareva
www.sambo.sport