Team Sambo Tournament at Asian Beach Games in Phuket
Competitions
13 November 2014
Sergei Grishin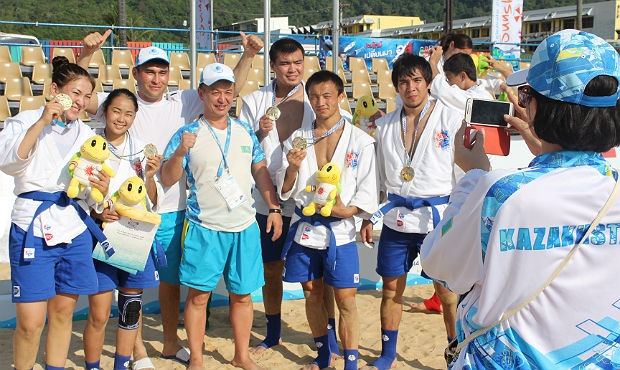 The second day of the Sambo Tournament at Asian Beach Games determined the names of the team tournament's winners and medalists. Bronze medals were awarded to Mongolia and Uzbekistan teams, and Kazakhstan team was stronger than the athletes from Turkmenistan with score 3:2. Read our today's report on "wall-to-wall" Sambo Tournament at the beach.
12 national teams participated in the Team Sambo Tournament at Asian Beach Games. The teams were mixed, 2 girls (52 and 72 kg) and 3 men (68, 82 and 100 kg) in each. The teams from Turkmenistan and Mongolia faced each other during the first semi-final. Kazakhstan and Uzbekistan teams met during the second semi-final. The teams from Uzbekistan and Mongolia lost semi-finals and took the third step of the victory podium of the Team Sambo Tournament at Asian Beach Games.
In the final game between Turkmen and Kazakhstani athletes during the first match, Bagdat Sharylgassov from Kazakhstan ensured a leading position to its team through an amazing hold. Then the weaker sex got down to business. A Turkmen athlete Gulbabam Babamuratova evened the score by her perfectly mastered best throw over the back from the knees.
In the 82 kg weight category, Yerzhan Kabdelov put the Kazakhstan team on top due to throw over the back from his knees. Now sambo athletes from Turkmenistan had a chance to get gold medals only by winning the following two games.
Nasiba Surkiyeva was the first to accomplish this task. However, Zera Bektaskyzy's side hold destroyed the award-winning plans of the Kazakhstan team.
During the final match, Nurali Yalkapov from Turkmenistan defeated his Kazakhstani opponent with a side fall-over after a throw over his back with a hold from under his hand. This match was not crucial for Turkmen team; Kazakhstan team got their gold medals.
Asylbek Kokenov, the winner's coach, commented on the victory of his protégées, "We did not prepare for this tournament on purpose, we were short of time. But we had a secret so to say. We chose "explosive" sportsmen, charged for one attack, strong and powerful, for this tournament. It seems that we were right. Our country's sports administration was here to support us, they told us before the final, 'What we wait from you is nothing else but a gold medal', and I am glad that we did not fail. Our sambo debut in the program of the Games is historical, it's our first "gold" and we are much honored."
Alamzhon Mullaev, the head of the Sambo Union of Asia, described sambo in the program of Asian Beach Games, "Yesterday we communicated with the representatives of the Olympic Council of Asia, they were excited about sambo contest: everyone liked the tournament because of its spectacular and expressive fight. It's interesting though that the medals of the sambo tournament were awarded to athletes from 12 countries while 15 national teams participated. According to the statistics for these Games, only 3 to 5 countries get medals in some sports. Our vast "medal" geography is our great advantage against the background of other sports in this component. The following tournament will be held in Vietnam in 2016. I communicated with coaches, judges and presidents of national Sambo Federations a lot. Everyone liked the format, sportsmen and judges' uniform and rules. Please note that there were no injuries, no judgment incidents, which evidenced that the format and rules of the tournament were technically very well structured. It's amazing, I don't know what can be improved or changed for beach sambo competition in Vietnam."
The President of FIAS Vasily Shestakov summarized the results of the sambo tournament within the framework of Asian Beach Games, "It's definitely a success of sambo; we enhance our involvement in the world sports movement. This tournament was very interesting and spectacular. I would like to point that here, in Thailand, the medals were awarded to sambo athletes from Lebanon and Nepal. These countries almost never win international competitions. Of course, they got their first medals at these Asian Games. And obviously this tournament and medals are an additional opportunity and impetus for development of our combat in their countries. I would like to draw your attention to our specialists' catch: beach sambo rules are very simple and easy to understand. In my opinion, it's a strong and unconditional advantage of beach sambo that could be observed during these days for the first time in history." 
The results of the Beach Sambo Team Tournament in the program of Asian Beach Games 2014
Phuket (Thailand), November 13, 2014
1. Kazakhstan
2. Turkmenistan
3. Mongolia and Uzbekistan
[Photogallery] Beach Sambo at the Asian Beach Games 2014 in Phuket (Thailand) — day 2