The Sambo World Cup for the Prices of the President of the Republic of Kazakhstan N. Nazarbayev: Referees Are Ready
Competitions
23 January 2015
Sergei Grishin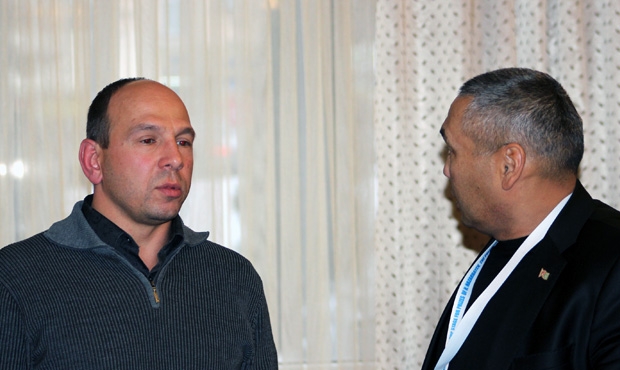 Tomorrow will be the first day of the Sambo World Cup for the Prices of the President of the Republic of Kazakhstan N. Nazarbayev. On January, 24th combo sambo athletes in weight categories: 68 and 90 kg, women: 48, 56, 54, 72 and +80 kg and representatives of sports sambo in the weight categories: 52, 62, 74, 90 and + 100 kg, will measure strength on the mats of the Baluan Sholak Sports Palace. Sportsmen from 21 countries will participate in the tournament. Among them are Russia, Lithuania, Kazakhstan, the USA, Turkmenistan, Romania, Bulgaria, Uzbekistan, Germany, Turkey, Belarus, Korea, Armenia, Azerbaijan, Kyrgyzstan, Italy, Tajikistan, Serbia, Slovenia, Georgia and Moldova. A seminar for referees had been held for two days before the event. It was aimed at optimizing the referees work with due regard to changes of sambo rules that came to force in 2015. Read all the details in today's report from Kazakhstan.
The seminar for referees was held in Almaty on January, 21st and January, 22nd. Around 30 referees (predominantly from Asia) were trained under the supervision of Aleksey Lebedev, an internationally certified referee and a coach of a famous Russian sambo school Sambo-70. Many of them were from Kazakhstan. Each day sambo referees studied for 4 hours to honestly and faultlessly provide sambo athletes with scores, comments and warnings.
The seminar was aimed at a theoretical and practical (on the mat) studying of all the details of new pilot rules that came to force in January 2015 and raising awareness of local Kazakh referees. At the end of the seminar all referees took an exam comprising both theoretical questions and video case studies. Unfortunately eight referees failed the exam. 
We asked Aleksey Lebedev about all the details and talks about new rules that arose during the seminar: "No doubt, changes are necessary as a sport should progress and become more dynamic and exciting. As usual, there are those who are "for" and "against" new rules. And it's really important to differentiate between emotions (which are unconstructive) and a real analysis of the situation. There are discussions, or I would say we see expressive reactions. Some of the changes are unexpected. For example, changes in combat sambo. Two knockdowns received by an athlete in one wrestle automatically lead to the athlete's disqualification from a tournament. Additionally, a sportsman is disqualified after a head kick knockout but can go on fighting after a knockdown to other parts of the body.
Rules' changes that apply to sambo athletes before the beginning of a competition concern the weighing procedure. According to new rules, a sportsman can enter upon weigh scales only once during an official weighing. Previously a sportsman had a chance to "fit" weight and get another try".
Aleksey goes on talking: «Of course, there are discussions around many things, like a gap in scores, time of consolation combats, an activity cancellation, rolls from a par terre position. And it's ok. We've got enough tournaments this year, and they will help us to see all pros and cons of the approved changes. We have time for a careful and detailed analysis to decide whether to accept changes or skip them. Or we may see that an additional fine tuning is needed. It will be a year of a "shakedown run" when we 'll understand what's really needed after living with these changes for some time".
The first step to this understanding will start tomorrow at 10 a.m. local time, and finals will begin at 4:30 p.m. Please note that a video recording of all finals will be available on the official FIAS website a few hours after the end of competitions.