Albert Astakhov Memorial Sambo World Cup Stage Tournament: competition begins
Competitions
4 July 2014
Sergei Grishin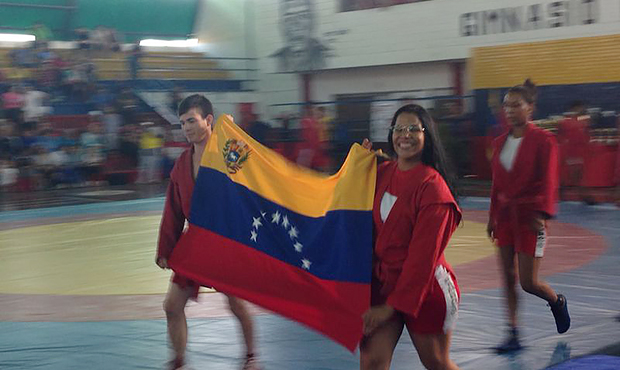 The first day of competition at the Albert Astakhov Memorial Sambo World Cup tournament began with a formal opening ceremony in which, as usual, there were official speeches, a minute's silence in honour of the teacher and demonstration performances by a lively dance group. There was also that which distinguishes the Pan-American stage from all the other World Cup stage tournaments…
To deafening applause from the spectators and shouts of approval from the stands, Luis Adrianza, General Secretary of the Venezuelan Sambo Federation, called up onto the stage all the competitors who had contributed to the development of Sambo wrestling in the country and on the continent. The applause and words of thanks were a response to those who bring glory to the flag of Venezuela in the world of Sambo every day through their work, sweat, tears, commitment and sacrifice.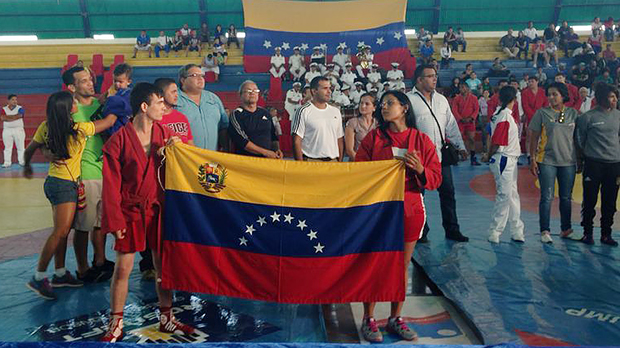 After the event's opening ceremony, Sambo itself took pride of place in the Fenelon Diaz hall in the form of the competition finalists, who were thirsting for beautiful victories and convincing proof of their Sambo expertise. Read about the most brilliant moments and most important words by the tournament champions in our report today from Venezuela.
Maria Guedez (Venezuela) – 48kg weight category
In her bout against Elena Bondareva (Russia) – multiple world champion and Universiade winner – Maria opened the match by selflessly and skilfully defending herself against a knee lever that the Russian attempted, did two over-the-back throws from the knee, each rated at 1 point, attacked aggressively throughout the match and in the end won confidently.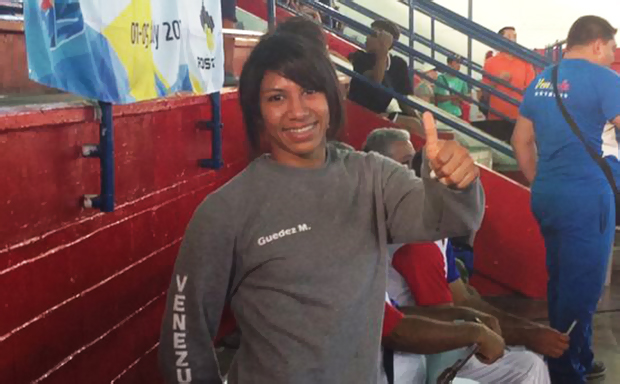 "I trained and trained and repeated to myself, 'Lena Bondareva, Lena Bondareva'. The thing was that before this I had lost to her four times, and now I won. Now I believe I can do anything and I can try for gold at the World Championships. That barrier, when you keep losing, is very difficult to overcome. I was helped by me coach, my team, my family, and of course my boyfriend, Matheuicx Castellanos. He watched lots of video recordings of Elena's bouts and analysed them, and it was this analysis that enabled us to develop the right wrestling tactics to use against her. I went into the bout extremely wound up, and that was our plan – an aggressive, uncompromising fight, and at a certain moment I felt that Elena hadn't been expecting such an onslaught from me. Today I'm very happy, and my tears are tears of happiness, but what can you say? I simply couldn't hold in my feelings of joy. It was so brilliant."
Bladimir Garsia (Venezuela) – 57kg weight category, combat Sambo
This Sambo wrestler delighted all the spectators in the final with his phenomenal and brilliant technique: two fine pick-up throws under one leg and a retention brought his points total to 12 and helped him to top position on the podium of honour.
"I like the mix of striking and throwing techniques in combat Sambo. But today it somehow turned out that the sports Sambo technique predominated. I usually fight intuitively, according to the situation: I feel what I need to do at any moment. That's the way it was today – the fight was underway, but not the blows that usually bring me victory. What's more, the night before I didn't feel I would win, I didn't think I'd go so far. Now I'm going to keep working, so that I can progress even farther."
Luis Cantillo (Venezuela) – 52kg weight category, sports Sambo  
He won in a bout against an experienced rival – Matheuicx Castellanos, a member of the Venezuelan national team, medallist in the Pan-American Championships, and competitor in the 2013 World Championships and the Universiade in Kazan. His weapons in the final were: a good-quality front leg-show throw from the knee, an elegant breaking balance and then an overhead throw with a lift by calf that secured his win. And all this was combined with excellent physical and functional preparation.
"I had a two-year break due to my work and studies, when I wasn't doing Sambo. Now I've started to train again and today I'm happy with this win. I'm especially happy because I've previously lost to my opponent twice. Today it has been a very successful return to Sambo for me. I trained hard to win, and I think it was only the work I've done that brought me today's victory, which I would like to dedicate to God, my mum, my family and our team, and also to everyone here today. What next? My dream is to get to the World Championships in Japan."
Geiker Ferrer (Venezuela) – 74kg weight category, sports Sambo 
Secured victory in the final against Russia's Pavel Lagvenkin.
"I'd like to say a huge thank-you to my coach Yeimer Lopez: he did a very good job in getting me in shape for this contest. The coach always says to me: "We don't want to be the best of the worst." We therefore move forward, of course, we make progress in our technique, and consequently our results improve. My aim for the future is to grow and develop, and to get results as high as those of my team-mate Maria Guedez. As for the present World Cup, for us it's an excellent chance to wrestle with the Russians, who are the trendsetters in modern Sambo, to see new techniques and to learn something."
Carlos Castillo (Venezuela) – 100kg weight category, combat Sambo
A hail of blows and throws with wild support from the stands, since he's from Punto Fijo, and his fans and team-mates had come to support him. The bout, which brought the day's competition to a close, was brilliant and emotional.
"I feel terrific now; my opponent today in the final had beaten me before. Of course, I trained a lot and won today. My son Maximilian and my coach helped me to overcome the barrier (and it's always there when you lose) and win. To be honest, I really wanted to make them happy. What annoyed me? My opponent's helmet, which was always coming undone, fell off. It was really inconvenient: it stopped me finishing the bout, and I really would have liked to win faster (smiles). Yes, my team was behind me, but to be honest I didn't hear them or see them. Only my coach's voice and prompts, which brought me to victory in the final. My son is going to take up Sambo, definitely, but sports Sambo. I think it's more elegant."
Results of the first day of the Sambo World Cup Memorial of Astakhov
Women
48 kg
Maria Guedez (Venezuela)
Elena Bondareva (Russia)
Maria Carassguel (Venezuela)
Fransis Rojas (Venezuela)
60 kg
Sofia Kabulova (Russia)
Svetlana Burtseva (Russia)
Anabel Colina (Venezuela)
Yagulin Lopez (Venezuela)
72 kg
Angelica Valera (Venezuela)
Osmary Rames (Venezuela)
Genesis Mirela (Venezuela)
Adelimar Medina (Venezuela)
Men
52 kg
Luis Cantillo (Venezuela)
Mathevix Castellano (Venezuela)
Alexander Pineda (Venezuela)
Emerson Galvis (Venezuela)
68 kg
Geiker Ferrer (Venezuela)
Lagvenkin Pavel (Russia)
David Camacaro (Venezuela)
Jose Gvanipa (Venezuela)
90 kg
Gorbal Alenconer (Venezuela)
Spiner Edvord (Venezuela)
Marcos Ramirez (Venezuela)
Alexander Fermin (Venezuela)
Combat Sambo
57 kg
Bladimir Garsia (Venezuela)
Gregon Contereras (Venezuela)
Ricardo Contreras (Venezuela)
Jesus Galeo (Venezuela)
74 kg
Jose Torrevilla (Venezuela)
Andres Ramirez (Venezuela)
Manuel Mena (Venezuela)
100 kg
Carlos Sanchez (Venezuela)
Fernando Brito (Venezuela)