Albert Astakhov Memorial Sambo World Cup Stage Tournament in Venezuela: more interviews, photos and results
Competitions
5 July 2014
Sergei Grishin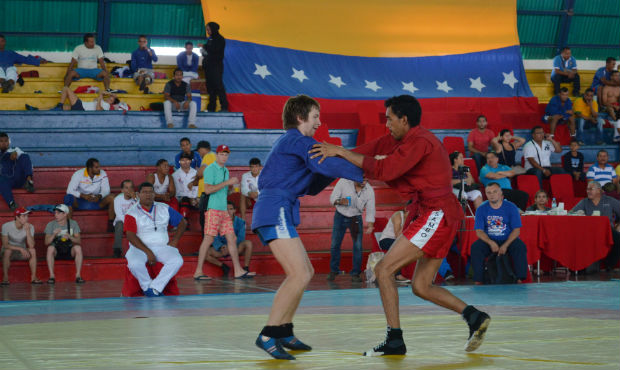 On the second day of competition at the Venezuelan World Cup tournament we bring you a kaleidoscope of quotes, interviews and photos from the Fenelon Diaz hall in Punto Fijo.
Dmitry Yeliseyev: Russia, 100kg, sports Sambo
"There were of course some mistakes in my performance today, but on the whole I'm pleased. The process started in the usual way – it was stuffy in the hall, and that's difficult to cope with, but on the other hand it doesn't take long to limber up: five minutes and you're already all wet and warm. As for the change of time zones, it was all just fine: we adapted quickly, and I'm not feeling the difference – we went to bed at eight in the evening, and it's no trouble to get up early in the morning. All my bouts here were fine. I fought through the first one, but then decided not to tempt fate by wrestling in a standing position, so I only had one objective – to win with a painful hold. And that's what happened. So basically I came here because that was my goal – I really want to win the World Cup this year. And here today I've added another win to my previous two. I'm getting closer to fulfilling my dream."
Luis Adrianza: Venezuela, General Secretary of the Venezuelan Sambo Federation
"Our Sambo team includes people who've won titles, for example Maria Guedez and Hendrimar Rodriguez, who are Pan-American champions and have won medals at many international events. It's the result of persistent work and training: we've kept going, working, doing our best. And today's victories by our competitors, including the bouts they've won against the Russians (the acknowledged leaders), are a clear confirmation that we're on the right track. Coming up ahead for us is the Pan-American championships in Trinidad and Tobago. Straight after the World Cup we'll continue our regular training, and we've got a preliminary selection planned for that event. We're flying into Trinidad and Tobago with a big team – six women and five men, for sports and combat Sambo. These are our elite, the best Sambo wrestlers in Venezuela. There have been some difficulties due to the internal problems in the country, and so we had some minor problems in preparing for this World Cup. Next year we're planning to hold the Cup in Caracas, which is more convenient from the logistical point of view. I'm sure we'll do everything at the highest organisational level."
Juan Villanueva, 90kg, combat Sambo
"I'm very pleased: this is my fifth Albert Astakhov Memorial Sambo championship. I was very focused and serious in the final, as in all the preceding bouts. I believe that in principle there are no easy finals. As a rule I always try to rate my opponents very highly, because to underrate them is to lose. This Cup is memorable for its atmosphere, which was created by my friends, the public, and my team mates. It's great that I've been able to give them pleasure with my wrestling. It's nice that we have the opportunity to observe the way the Russians wrestle, because we're always learning from them and trying to adopt their technique and some elements of their tactical wrestling.
Enri Jose Aseituno Rodriguez, Venezuela, official representative of the WADA in Venezuela
"This is the fourth time we've been working at the World Cup. We've heard about Sambo's big Olympic ambitions and know about them, and we very much hope Sambo wrestlers will achieve this goal. When we're working we get time to watch the competitions as well. We very much like this type of combat sport, the beautiful technique, and it's nice working with the Sambo people too. I used to work with the Federation's medical commission, and in fact one might say that my life has always been linked in one way or another with Sambo wrestling."
Indomi Davila, Venezuela, 52kg, combat Sambo
"My first sport was actually wushu. I've been competing in Sambo for two years now, and have fallen in love with it: the blow technique and the throws are inspiring. I can confidently say I don't want to go back to wushu. The final bout turned out well, and the main thing is that it was quick. That's what we'd been working on in our training sessions: to strike more precisely and to compete in such a way that the bouts turned out more rapid and gave better results. Thanks to the help I've had from the coach I've been working on this with, today I was able to achieve everything in practice, in the final of the World Cup."
Results of the first day of the Sambo World Cup Memorial of Astakhov
Women
52 kg
Luisagna Campos (Venezuela)
Geomenin Ortiz (Venezuela)
Gisuel Fuentez (Venezuela)
Dixie Bedoya (Venezuela)
56kg
Hendrymor Rodriguez (Venezuela)
Alieva Diana (Russia)
Maryelis Brito (Venezuela)
Baryara Ruiz (Venezuela)
64 kg
Goldberg Ekaterina (Russia)
Euscan Pereira (Venezuela)
Fiorella Infaute (Venezuela)
Ledimar Briceno (Venezuela)
68 kg
Tropina Rimma (Russia)
Yasini Castillo (Venezuela)
Elimar Cordova (Venezuela)
Mirleniz Barranco (Venezuela)
80 kg
Ofelia Barrios (Venezuela)
Gleuis Reyes (Venezuela)
Jessica Terau (Venezuela)
Ihoany Perez (Venezuela)
+80 kg
Androlys Tovar (Venezuela)
Yulliannis Orellana (Venezuela)
Yoendry Moreno (Venezuela)
Ninoska Sala s(Venezuela)
Men
57 kg
Tukitfatulif Ilya (Russia)
Jhoan Campos (Venezuela)
Gidual Marin (Venezuela)
Angelo Devide (Venezuela)
62 kg
Bogdasaryan Ruslan (Russia)
Slivin Alexandr (Russia)
Luis Campos (Venezuela)
Viktorov Roman (Russia)
74 kg
Sayfutdinov Yuriy (Russia)
Shaburov Alexandr (Russia)
Luis Virguez (Venezuela)
Ogaryshev Alexey (Russia)
82 kg
Ryabov Sergey (Russia)
Kiryukhin Sergey (Russia)
Juan Diax (Venezuela)
Luis Primera (Venezuela)
100 kg
Eliseev Dmitriy (Russia)
Manuel Moreno (Venezuela)
Arsina Subero (Venezuela)
Kolyar Alexey (Russia)
+100 kg
Ratko Konstantin (Russia)
Shiryaev Maxim (Russia)
Liber Colmenarez (Venezuela)
Juan Custro (Venezuela)
Combat Sambo
52 kg
Indomy Davila (Venezuela)
Omor Bermudez (Venezuela)
62 kg
Erwil Borges (Venezuela)
Jose Hernandez (Venezuela)
Juan Zaiala(Venezuela)
Juan Guanaquoto (Venezuela)
68 kg
Luis Aular (Venezuela)
Moises Herrera (Venezuela)
Carlo Molino (Venezuela)
Leonardo Enrique (Venezuela)
82 kg
Jhon Coicedo (Venezuela)
Alberto Jayuone (Venezuela)
Domingo Jeulido (Venezuela)
Oswaldo Bermudez (Venezuela)
90 kg
Juan Villanueva (Venezuela)
Eudis Colina (Venezuela)
Miguel Conolou (Venezuela)
Marlou Guellon (Venezuela)
+ 100 kg
Jose Echeuique (Venezuela)
Luis Auherrez (Venezuela)
[Photogallery] Sambo World Cup "Memorial of A.Astakhov" 2014 Punto Fijo, Venezuela