Russia's President Vladimir Putin SAMBO Cup: now in Japan
Competitions
14 November 2012
Sergei Grishin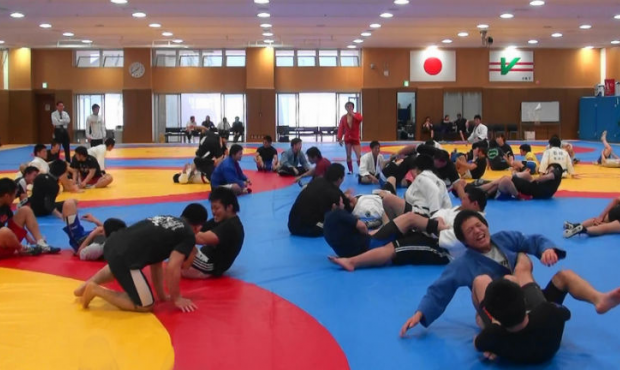 Next year, on February 02, 2013 the Japan Student SAMBO Championship will take place in the Land of the Rising Sun. Saitama, a city located in Saitama Prefecture on Honshu Island, will be the venue for student sambo competitions for the first time.
The Japan Student Championship will have a very honourable name – "Russia's President Vladimir Putin SAMBO Cup". The Russia's President gave his written consent to Mr. Yasuhiro Yamashita, an old friend of his. The legendary judoist has been demonstrating his love for SAMBO for a long time. He actively supports FIAS President Vasily Shestakov contributing to development of this kind of combat sport in the Land of the Rising Sun.
Thus, there will be two President's Cups for SAMBO – Russian (team) and Japanese (individual). This fact will surely facilitate the SAMBO development in the world as well as contribute to improvement of relations between two countries.
The student tournament will be held at the modern and spacious hall Saitama Kenritsu Budoukan. The cup bearing such a noble name will be the qualification stage for Japanese team to participate in the sambo competitions within the 2013 Universiade in Kazan. This is the February start that will determine the main participants of the team to take part in the competitions in Kazan. The roster may only be changed in a minor way in the course of the training camp.
Beside the Japan Sambo Federation, the Japan Student Judo Federation and Japan Student Wrestling Federation will act as the organizers of these competitions.
Member of the FIAS Executive Committee Mr. Nobuyuki Asai, assistant to Mr. Yasuhiro Yamashita, is appointed as Chairman of the Organizing Committee of the competitions.
Speaking about this kind of sports, sambo wrestlers often say that SAMBO is a family. Observing how friendship between Vladimir Putin and Yasuhiro Yamashita contributes to SAMBO development both in Japan and worldwide, one starts believing that these words are true.
Interestingly, when looking through reports on the FIAS website, one fact becomes convincing. Lately SAMBO has developed greatly in Asia and two most powerful sport countries - China and Japan - are becoming the countries where people start actively not only to practice but also enjoy SAMBO that is rather important.
Natalia Yukhareva, www.sambo.sport