Russian Combat Sambo Cup: Play of Shadows and Light Waiting for You
Competitions
20 September 2013
Sergei Grishin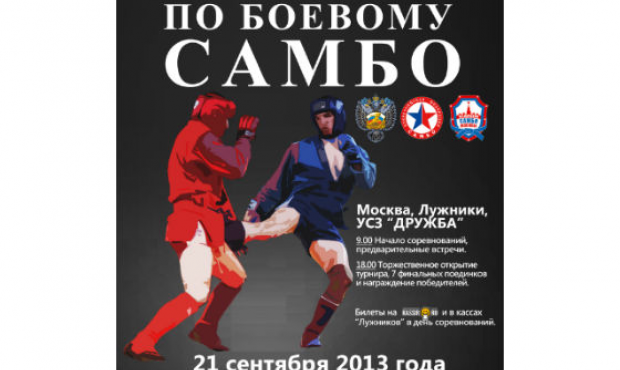 The first-ever Russian Combat Sambo Cup will take place tomorrow, September 21, at Druzhba Moscow Sports Complex. FIAS website will broadcast the live event online. On the eve of the start of the tournament it has become known that not only an exciting sporting event, but also a brilliant show in the best traditions of the fight style are waiting for the fans in the hall and computer audience.
The strongest SAMBO wrestlers from 46 regions of Russia will meet on the mats of the Moscow sports complex. Uncompromising fights will take place on the Olympic system where the winner takes all and the loser can only watch from the sidelines. About 150 sportsmen from the founding country of SAMBO are going to compete in seven weight classes.
– Sportsmen who had qualified for the championship of Russia in their national areas were invited to participate in the tournament. Russian Combat SAMBO Cup is held for the first time. It has become possible thanks to the initiative of the Moscow Sambo Federation that organised the event, – says Aleksandr Konakov, the Head Coach of the Russia national SAMBO team. – This will be the qualifying tournament for the Russia national team to perform at the World Cup in 2014. Starting next year, combat Sambo is planned to include in four credits of the World Cup.
According to the organizers, the tournament is expected to involve the world and European champions Bair Omoktuev and Kirill Sidelnikov, Murad Kerimov and Ruslan Gasankhanov, two-time European champion Sultan Aliyev, the world bronze medalist Mikhail Mokhnatkin, the European champions Sergey Razin, Sergey Filimonov, Andrey Budazhapov, Maksim Kuptsov, Adam Taldiev, Denis Goltsov, Maksim Futin and other popular SAMBO wrestlers.
– Despite the great number of well-known names, I must say that we have many promising young guys who are able to approve themselves and possibly become winners, – Alexander Konakov says. – As the coach of the national team, I consider this event as a stage of preparation for the World Cup. About half of the national team will play now. And their task is just to set the pace of the World Cup.
They plan to organize an atmosphere appropriate for such a major and symbolic event. The organizers from the Moscow Sambo Federation has not disclosed the details of the action, but promised "tasty" surprises - an exciting show programme, unusual appearance of the finalists, as well as the play of shadows and light.
Prepared by Alexander Solomakhin
www.sambo.sport