Best students gathered at Serbian Memorial S. Mikhailovich
Federations
17 September 2014
Sergei Grishin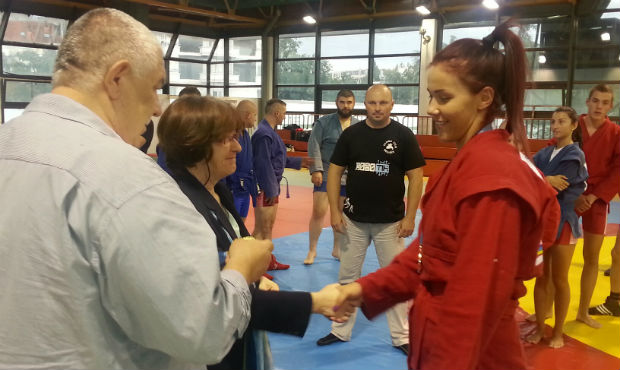 The main sports center of the city of Novi Sad, Serbia, became the venue of the international sambo tournament Memorial S. Mikhailovich. The competitions among mixed teams which included men and women were held on previous Saturday, September 13.
The national teams of Serbia (University of Novi Sad and University of Nis) and Croatia (University of Zagreb and University of Osijek) tried their strengths on the sambo mat. Following the interesting and exciting semi-finals, the teams of the University of Novi Sad and the University of Nis got into the final. The winner of the final and, therefore, of the whole tournament was the team of the University of Novi Sad.
The team was represented by the following athletes: 74 kg (m) – Miroslav Begovic; 56 kg (w) – Stefana Vojnovich; 82 kg (m) – Vukasin Kovacevic; 68 kg (w) – Ivana Jandric; 90 kg (m) – Dragan Begovic; +80 kg (f) – Milica Zabic, and +100 kg (m) – Vladimir Gajic.
It is symbolical that the medals to the champions and winners were awarded by Mrs. Snezana Mihajlovic, the wife of Svetozar Mihajlovic, the founder of sambo in Serbia. Besides the competitions, all the participants had a joint workout where they could share experience. The referee seminar was also held in Novi Sad.