Moroccan sambo athletes tried their strength
Competitions
13 April 2015
Sergei Grishin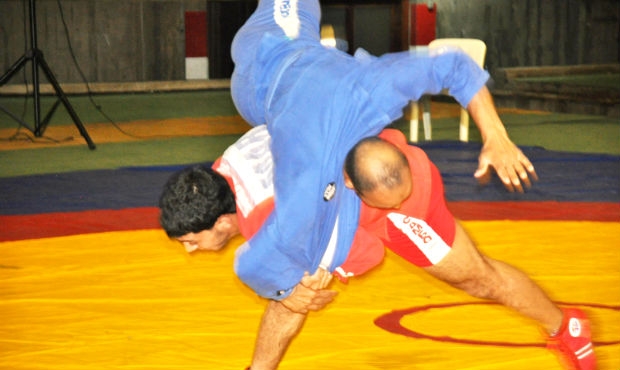 The Moroccan National Sports and Combat Sambo Championship was held in Casablanca on April 5, the day before the International Day of Sport for Development and Peace, and was dedicated to this event. The tournament was attended by over 240 athletes who arrived in the capital from all regions of the Kingdom to compete for medals and present an exciting show to the audience.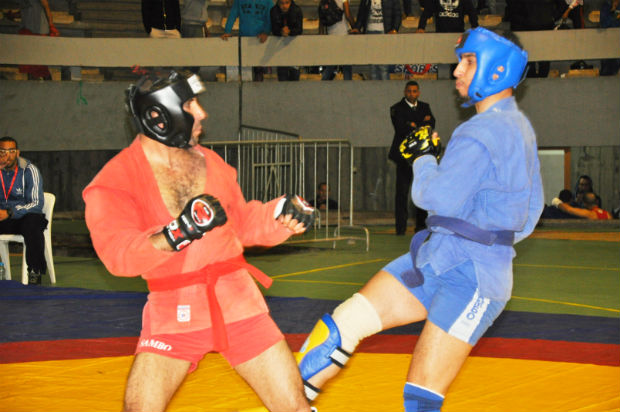 "It was a real sports holiday where sambo athletes demonstrated their excellent technique. We all could see substantial progress and growth of skills of our athletes; each of them put out all strength on the mat in order to win," Dalil Scully, President of the Royal Moroccan Federation of Sambo and Tai Jitsu, says. "We are also pleased with the continuous increase in the number of sambo followers in Morocco — we feel the ever-increasing inflow of new vigor in the clubs. It means that our federation will continue its work on management staff training, expansion and development of sambo disciplines at the national level."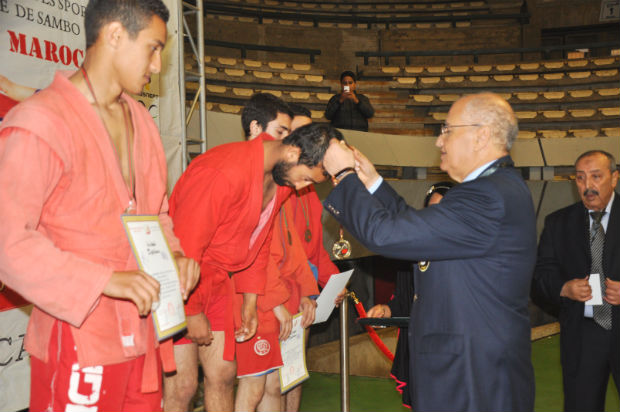 Dalil Scully congratulated all the athletes who took part in the national championship, and wished them even higher performance in continental and international competitions.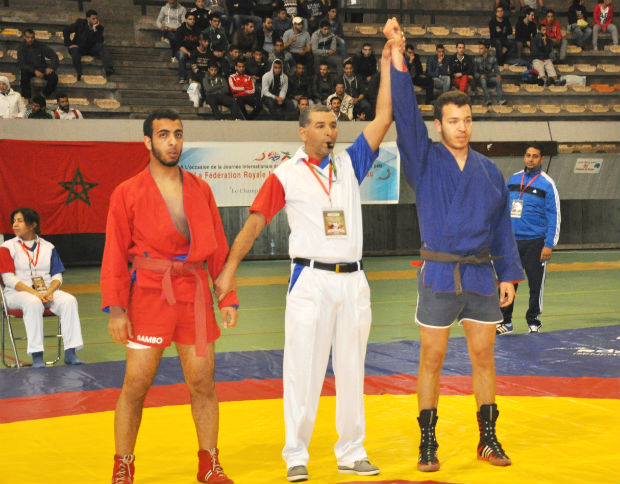 RESULTS OF THE NATIONAL SPORTS AND COMBAT SAMBO CHAMPIONSHIP (INDIVIDUAL COMPETITIONS) 
Sport Sambo
Men
-57 KG
1er : ZELMOUMI MOHAMED: C.M.M
2ème : JAAFAR AMINE : SANABIL EL MADINA
3ème : JABRANE BADR : SANABIL EL MADINA
3ème : MRABTI MOHAMED : SANABIL EL MADINA
-62 KG
1er: ASTOUR YOUSSEF : ABTAL SAADA
2ème : EL HAMDAOUI ZAKARIA : AL ICHRAQ
3ème : FATHI YASSINE : R.C.A
3ème : LAGHFIRI BOUCHAIB : SANABIL EL MADINA
-68 KG
1er: AIT LAMIME BADR :  AMJAD CENTRAL
2ème : ERRACHDI ABDELTIF : SANABIL EL MADINA
3ème : EL BAKKAL MOHAMED : SANABIL EL MADINA
3ème : EL MARSSAOUI HAMZA : C.M.M
-74KG
1er: MARMOUCHA ZOUHAIR : C.M.M
2ème : FEJR AMINE : AMJAD CENTRAL
3ème : SANBAR HAMZA : C.A.M.J
3ème :EL HANDOUNI AYOUB: K.A.C.M
-82 KG
1er: HATIMI YOUSSEF : K.A.C.M
2ème : MAHBOUB MOURAD: SANABIL EL MADINA
3ème : CHAKIRI EL HOUCINE : TOP GYM
-90 KG
1er: EL ASBA ZAKARIA : AMJAD CENTRAL
2ème : DARDEK NASSER : SANABIL EL MADINA
3ème : GAMBI OCTAV REGIS : R.C.A
3ème : MENDOURI REDOUANE : R.C.A
-100 KG
1er: HAMRITY LAHCEN : C.M.M
2ème: TALOUTI AYOUB: AMJAD CENTRAL.
JUNIORS (M)
-57 KG
1er : BOUHOU YASSINE : R.C.A
2ème : MABROUK ABDERRAZAK : C.M.M
3ème : FAFAH MOHAMED  : C.M.M
3ème : SARRAJ MOHAMED : C.M.M
-62 KG
1er: JAMALI AHMED : BATAL SALE
2ème : MLAHFI OUSSAMA : D.H.J
3ème : ISMAIL MEJDOUL : AMJAD CENTRAL
-68 KG
1er: EL MEHDI HADRI :  SANABIL EL MADINA
2ème: SALHI KHALID: ITRANE AL ATALS
-74KG
1er: YOUSSR MAROUANE : SANABIL EL MADINA
2ème : DAHE MOHAMED : C.A.M.J
3ème : MARMOUCHA AYMANE : C.M.M
3ème : EL BADOURI ZOUHAIR : AMJAD CENTRAL
-82 KG
1er: MANDOURI MOHAMED : C.M.M
2ème : JILALI SAHNOUN : D.H.J
Combat Sambo
-62 KG
1er: EL MANSOURY SOUFIANE : AL ICHRAK
2ème : RIH MUSTAPHA : AL ICHRAK
3ème : OUDAD AYOUB : SANABIL EL MADINA
3ème : IGUEZARANE MOHAMMED : AL ICHRAK
-68 KG
1er: GHANMI YAHYA : C.A.M.J
2ème : HADDOUCH YASSINE : AL ICHRAK
3ème : AIDY AYOUB : SANABIL EL MADINA
3ème : GORMA ZAKARIA : AL ICHRAQ
-74 KG
1er: BAIZ AYOUB : AL ICHRAK
2ème : BADR DIANI : SANABIL EL MADINA
3ème : EL BOUHALY MOUHCINE : CHARAKAN
3ème : MASBAH MUSTAPHA : TOP GYM
-82 KG
1er: HASSANI MOHAMED : AL ICHRAQ
2ème : BAKIR KHALID : AL ICHRAQ
3ème : REQUAS DRISS : AL ICHRAQ
3ème : FDEL HAMZA : CHARAKAN
-90 KG
1er: MAROUAN ZAIM : R.C.A
2ème : GUIMIMI AHMED : ATLANTIC
3ème : BANI ABDELHAMID : ATLANTIC
3ème : RAYADI YASSINE : R.C.A
-100 KG
1er: KARROUTI REDA : AL ICHRAQ
2ème : ANEJAR ALI : C.M.M
3ème : BELGMIRI MUSTAPHA : AL ICHRAQ
3ème : LAIMOUNI FARID : CHARAKAN