Maruan Oulhaj:'When I saw SAMBO by my own eyes, I understood it perfectly fit me'
Competitions
29 April 2013
Sergei Grishin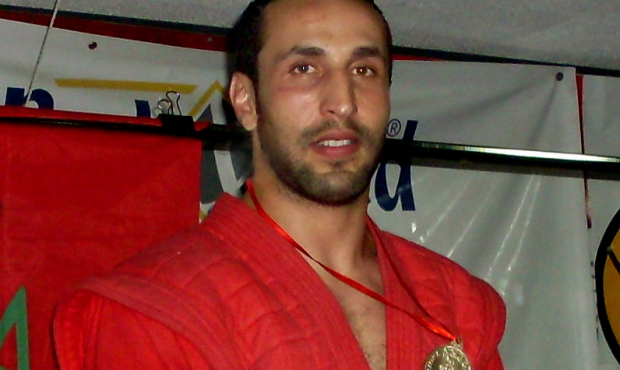 A few days are left before the start of the African SAMBO Championship, which will be held in Moroccan Casablanca. The tournament hosts are seeking not only to organize competitions at the highest level but also set out to compete for the greatest number of awards. And they have very weighty reasons to expect a breakthrough – the Moroccan SAMBO athletes are considered to be some of the strongest on the continent. In the FIAS website interview one of the Moroccan national team leaders Maruan Ulhazh told about the joints in the Moroccan SAMBO athletes armour, missed fight for the bronze medal, about the media hype on the Moroccan SAMBO and that people should walk and sing in the rain.
"SAMBO? What is it?"
– Maruan, you have recently performed at SAMBO World Cup Stage "A.Kharlampiev Memorial" in Moscow. Please tell us, what kind of goals did you set for this tournament? – The goal was simple – to achieve a good result, pass at least the first or second round. All the contestants were real masters of the international level. The Russians and Belarusians are especially impressive – they are incredibly strong. Although I have already won the Belarusian and Moldovan, but it has always been very difficult. This time I was going to do everything possible to go further.
– Have you remained satisfied with your performance as the result?
– No, not at all. I'm not satisfied at all because my very first fight ended by a painful leg lock. This is our problem. We work well in the position, but on the mat with painful holds... We are not working hard on these holds, we are not used to attack legs – this is the joint in our armour. My offender – the Romanian SAMBO athlete – won the "bronze" as the result. After the duel meet with me, he fought with the Japanese and also won by means of a painful leg lock.
– In what way were the evaluations for these competitions carried out? Why were it you who represented Morocco?
– It would be possible to hold the elimination competitions if the level of our athletes was approximately comparable. It sounds immodest, but in Morocco there is no one stronger than me in my weight category. I am the African champion and three-time winner of the Arab Championship. I have a rather high level, so I represented the country at the competitions.
– How many years have you been practicing SAMBO and why did you choose this combat sport?
– I used to practice judo in the past, continue practicing it even now (it is the 12th year already). Friends suggested that I try SAMBO. I asked then: "SAMBO? What is it?" But when I saw this combat sport "alive", I realized that it was perfect for me. There is a smack of judo, a smack of other martial arts in it. Also, I liked the SAMBO development prospect in the world and I was very interested in the sport. So I have been practicing SAMBO for 4 years already.
"I just didn't know that I would fight for the "bronze"
– Maruan, do you have plenty of kits, equipment for trainings, everything you need?
– We are short of kits, but when we come to the competitions to other countries, we buy kits for ourselves and for others. In general, we have people in Morocco who produce kits, but the quality is poor. They are suitable only for trainings and sparrings.
– By the way, how are things with sparring partners?
– In principle, there are enough people for sparrings, and their level – is a different matter. They are rather amateurs, so technically weaker including in terms of painful holds. I think I'm repeating myself, but it's really our problem.
– Are there a lot of athletes training with you in general?
– Yes, a lot, and every year more and more people come to go in for SAMBO. The majority come from other combat sports – from wrestling or judo. They learn about SAMBO somewhere, begin to go in for it and as a result, become more and more fascinated by this sport. There is a category of people who want to engage in combat SAMBO, but they are small in number quantity. In general SAMBO becomes more and more popular now. In the past people did not know about it, and having heard the word, asked: "What's it? Sumo? No? SAMBO? What does it mean? Unarmed self-defence? I wonder...". Now there are more those who know what SAMBO is, and it is becoming more and more famous. Also in Morocco all the major cities are included in the National Federation, so there are a lot of people who practice SAMBO.
– Tell us about your successes at competitions
– At the international level, I participated in the World Cup Stages "A. Kharlampiev Memorial" and Tournament for prizes of A. Aslahanov, as well as at the World Championships for several years. Plus, as I said above, I won at the African Championship, Arab Championship and the Moroccan Championship. With regard to the international competitions, the greatest achievement – is the passage of the first and second round. And at the last Tournament for prizes of A. Aslahanov I missed the fight for the 3rd place – just didn't know that I would fight for the "bronze". I had already gone to the locker room and changed clothes, when they came running up to me and said: "Maruan, they have announced that you have to fight, it says Morocco". I quickly got dressed and went, but...
– ...but you were not ready?
– Yes, it is. I could not concentrate. I had a good start, earned some points, but then... the end. I was all alone, there was no one with me, even a coach. And, of course, this case is very memorable for me. But it's not the most pleasant memory, I was very nervous then.
"I made the spectator a little bit toe the line"
– Maruan, you talked about the SAMBO popularity among athletes. What's about the media – are there articles about the sport in the newspapers, the competitions broadcasts on television?
– SAMBO competition are well covered by the media, they are always in the presence of journalists and TV channels. I would even say that in Morocco SAMBO, despite the fact that it is a relatively young sport, is more covered in the press than others, even the Olympic, sports.
– We talked about Morocco. But in general, do you know how popular SAMBO is in Africa?
– I don't have extensive information, but if you judge it by participation in various competitions, the most active countries I would call Morocco, Algeria, Tunisia, Cameroon, Niger, Mauritius and others. I'm afraid to miss someone.
– Why do you personally like SAMBO?
– Thanks to the SAMBO trainings, I train, meet new people – it's really interesting. It's not only the sport, but also everything that goes along with it: friends, trips, competitions – and I like it all.
– What are your sports plans for the future in terms of SAMBO?
– As long as I have the opportunity, I will practice this exciting combat sport. As far as plans for the more distant future, I would like to study the methodological part of SAMBO to be familiar with the sport from a theoretical point of view, and thus improve the level of SAMBO in Morocco and Africa. For this it is necessary to learn, to undertake an internship...
– And tell us whether there were negative aspects associated with SAMBO. Did you have to apply SAMBO in everyday life? In the street?
– No, in general it is a rarity. I know everyone in the city, and no one wants troubles from me (laughs). Everyone respects me and I respect everyone. Although there was one case... We played football and one of the spectators suddenly threw a glass at me. So I made the spectator a little bit toe the line (laughs). It just put me out of temper – you play, and then notice a glass flying at you... This is abnormal. "When it rains – it's wonderful"
– Now you are preparing for the African Championship. Are you planning to participate in the Universiade, World Championship or SportAccord World Combat Games?
– I don't know exactly yet, but I would prefer to take part in tournaments not of the highest level, I would say of the average one – to be able to carry out 2-3 fights and gradually improve my level. But, of course, like any SAMBO athlete, I would perform at the World Championship with great pleasure, which will take place in St. Petersburg.
– What do you do except SAMBO? In real life?
– Work...
– With figures?
– Yes, with figures... I work for a company that produces frozen foods. I can't say that this is my dream job, but I should indeed make a living. And at the same time I have a sport and I like it madly. Besides I like to travel. Especially with my friends. We often go somewhere, including various small cities.
– I'm sure you have a "spice" that you haven't told us yet...
– Well, there is one "spice" – probably, it will seem childish. I love walking in the rain, not when there is heavy rain, but when it is moderate. When it rains – it's wonderful. You can go and sing. I generally like rain – for example, when you're riding the bus, and it's raining outside the window at the moment.
Prepared by Sofia Ryazanova and Aleksandr Solomakhin