Eigminas Memorial Held in Vilnius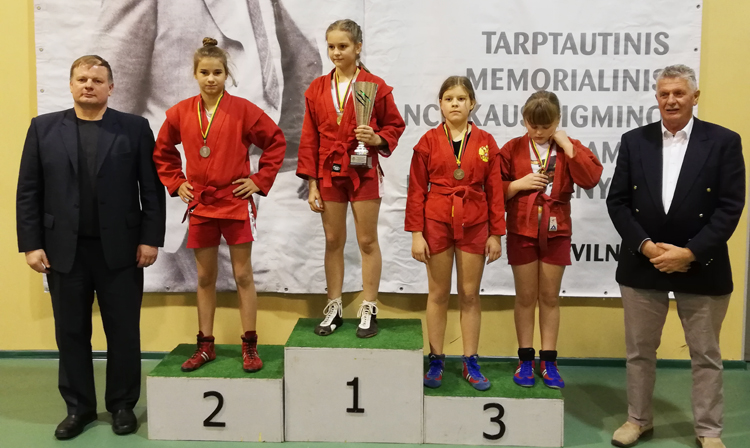 The capital of Lithuania has become the venue for the traditional International SAMBO tournament "Memorial of Pranciscus Eigminas". According to the organizers, about 150 sambists from 10 countries took part in the competitions that took place on December 14 in Vilnius. The victory in the team standings was celebrated by the hosts of the tournament – the Lithuanian team, the representatives of Belarus became the second, and the third place went to the Latvian sambists.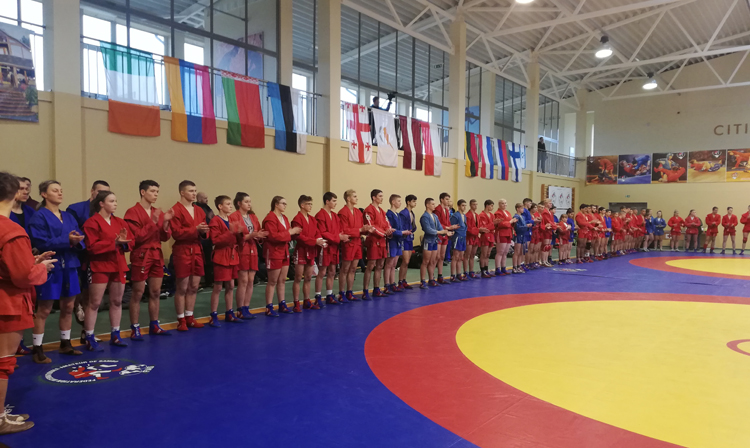 Also at the tournament, winners in individual nominations were determined. Lithuanian sambist Laura Linkute (64 kg among women) won the prize for the will to win. And the Russian Kurban Fargatov (+82 kg among men) received an award for the best technique.
Results of the 13th International SAMBO Tournament Eigminas Memorial.
Vilnius, Lithuania.
Women
48 kg
1. KERGALVE Victoria (LAT)
2. GOTTO Dovilė (LTU)
3. SAMOILENKO Ema (LTU)
3. KONDROTAITĖ Roberta (LTU)
56 kg
1. TANANA Mary (BLR)
2. KANAPATSKAYA Hanna (BLR)
3. RUTKAUSKAITĖ Auksė (LTU)
3. ZANDMAN Lindy (NED)
64 kg
1. SELEZNOVA Mary (LAT)
2. AUGUSTAITYTĖ Viktorija (LTU)
3. ČERNIAUSKAITĖ Vėja (LTU)
+64 kg
1. KHRUSHCHEV Valery (BLR)
2. LINKUTĖ Laura (LTU)
3. VAN ZAND Vera (NED)
3. SERAPINAITĖ Andrėja (LTU)
Men
48 kg
1. LUKJANCHYK Viktor (BLR)
2. KAGANOVIČIUS Emilijus (LTU)
3. ŠEŠTAKOVS Maksims (LAT)
3. IVANAUSKAS Tautvydas (LTU)
52 kg
1. SHIROYAN Emin (ARM)
2. JAKOVLEV Maksim (LTU)
3. VOICECHOVSKIJ Adam (LTU)
3. LOBINAS Jonas (LTU)
57 kg
1. PIATRUCHYK Vadim (BLR)
2. LUKOŠEVIČIUS Jokūbas (LTU)
3. ŽOLDASBEKOVAS Kaparas (LTU)
3. GOLOMAKO Artiom (BLR)
62 kg
1. KATINAS Povilas (LTU)
2. ARLACHOV Dmitrij (BLR)
3. JANUŠKA Danas (LTU)
3. KVADSINS Artiom (LAT)
68 kg
1. STUPKIN Boris (EST)
2. SASNAUSKAS Vilius (LTU)
3. STEPANYAN Aleksan (ARM)
3. LUKAŠOV Ivan (BLR)
74 kg
1. SOBOLEVSKI Edvardas (LTU)
2. LIZUNOVS Nikita (LAT)
3. BRINKHULS Lars (NED)
3. KUZMENKO Artiom (BLR)
82 kg
1. ZHUPIKOV Vladimir (BLR)
2. DUISENOV Timur (RUS)
3. BAIMATAU Artur (BLR)
3. DUINOVS Maksim (LAT)
+82 kg
1. FARGATOV Kurban (RUS)
2. BESMAN Mikita (BLR)
3. MELIČENKO Viačeslavs (LAT)
3. LIKMAVETS Maksim (BLR)
Cadets
Boys
+66 kg
1. LAURINAVIČIUS Titas (LTU)
2. KATKAUSKAS Modestas (LTU)
3. LAUŽADIS Nojus (LTU)
3. VIRŠILAS Vakaris (LTU)
Combat SAMBO
68 kg
1. VILIMAVIČIUS Alfredas (LTU)
2. FINE Alon (ISR)
3. SASNAUSKAS Vilius (LTU)
3. NEVEDOMSKIS Danielius (LTU)