"Memorial of Potapov" has become for sambists a preparatory stage for the I European Games in Baku
Competitions
27 May 2015
Sergei Grishin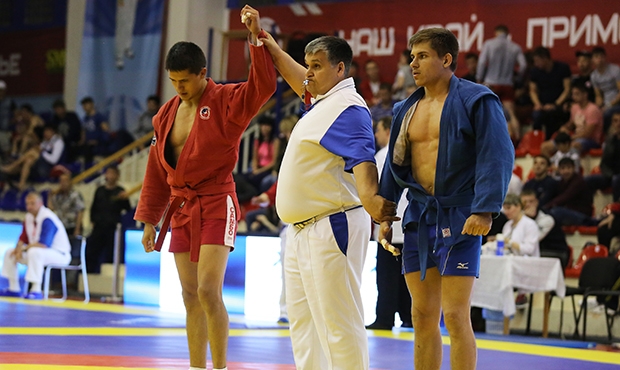 Sambo wrestlers from 15 countries took part in the jubilee XV International tournament "Memorial of Yuri Potapov" which was held on May 23-24 in Vladivostok. The bouts took place in front of crowded stands on the arena of the sports complex "Olympiets". This prestigious competition was attended by many famous athletes among who were some future members of the European Games in Baku.
Vladivostok wasn't an accidental choice for the venue of the tournament. This competition was dedicated to the memory of Yuri Potapov, the first president of the Federation of Sambo and Judo of the Primorsky Territory, vice-president of Russian Sambo Federation. Speaking at the opening ceremony of the tournament, the father of Yuri Potapov, Mefody Potapov, expressed deep gratitude to all the participants for coming and wished the athletes beautiful duels and fair competition.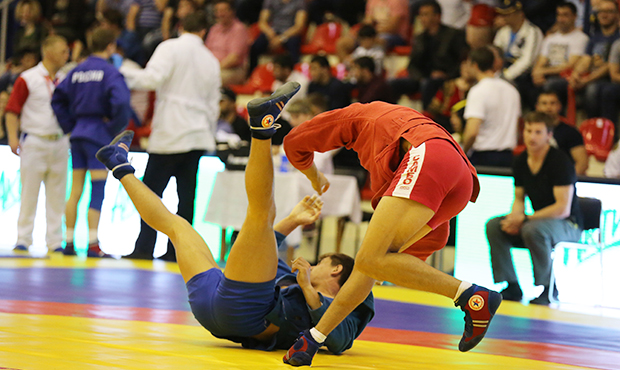 All 150 participants strictly followed the wishes expressed in his message. During the two days of competition they demonstrated an exciting and spectacular fight to the delight of fans. The tournament was attended by athletes from Armenia, Belarus, Bulgaria, Germany, Georgia, Kazakhstan, China, Kyrgyzstan, Moldova, Mongolia, Russia, Tajikistan, Uzbekistan, Ukraine and South Korea.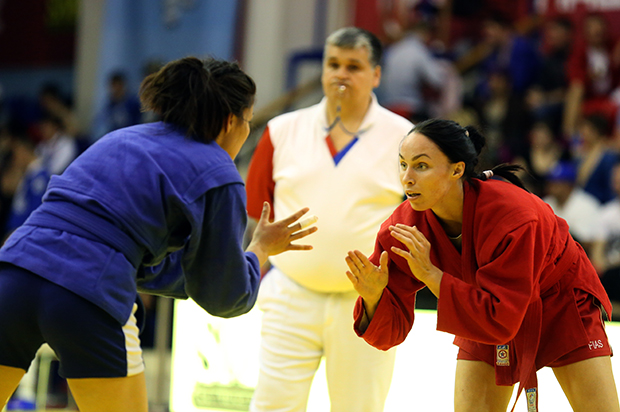 Competitions were held in nine weight categories among both men and women. Almost every title was disputed among athletes from the basic and junior national teams of Russia, the country that invented sambo. President of the Russian Sambo Federation Sergey Eliseev noted the high level of training and a good performance of women's team at the tournament: "For athletes this tournament is an important step in preparation for the European games in Baku. And judging by their performance I see a job well done."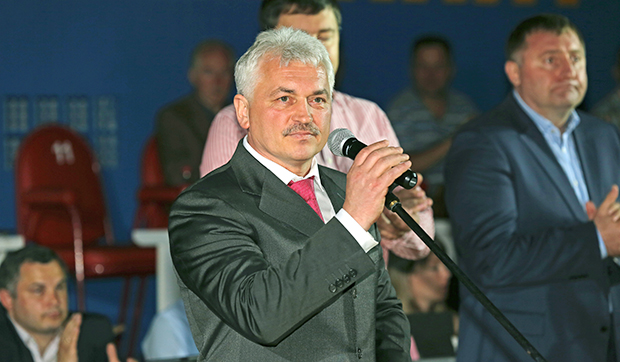 The spectators at the competition of course tried to support their athletes - representatives of the local sambo schools. This made it harder to determine their preferences in the final in the lightweight category of 48 kg among women. The last battle was between two pupils of the sports training center "Amazonka" of Vladivostok Polina Krupskaya and Anastasia Khramova. Polina had more experience and won the battle.
"The fight was with my teammate Anastasia Khramova and it ended with the score 1:0 in my favor. We know each other well. This start was necessary to find out what we need to work on. I would like to hear the coaching staff's opinion,"- commented Polina Krupskaya on the results of the fight.
For two days the athletes competed for 18 sets of medals. Most of them were won by Russian sambists.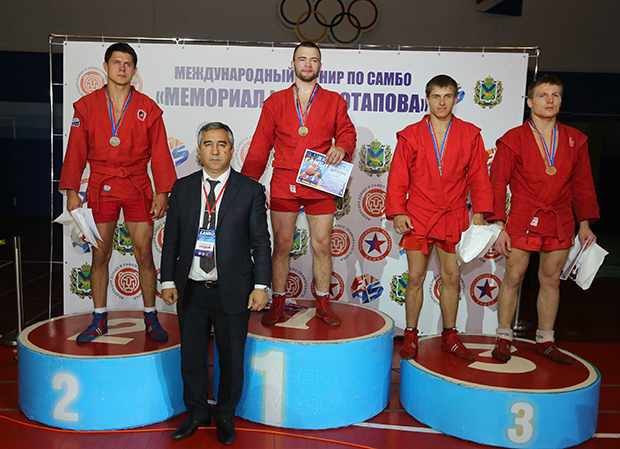 Winners of the International Sambo Tournament of "A" category "Memorial Yuri Potapov"
23-24 May, 2015
WOMEN
48 kg
1. Krupskaya Polina (Russia)
2. Khramova Anastasia (Russia)
3. Fisenko Xenia (Russia)
52 kg
1. Kharitonova Anna (Russia)
2. Vitsina Yulia (Russia)
3. Kuvatova Regina (Russia)
3. Tartykova Nadezhda (Russia)
56 ​​kg
1. Valova Anastasia (Russia)
2. Vitsina Olga (Russia)
3. Lyashuga Irina (Ukraine)
3. Trusova Alexandra (Russia)
60 kg
1. Burtseva Svetlana (Russia)
2. Mitina Olga (Russia)
3. Lukyanchuk Oksana (Russia)
3. Gordeeva Violetta (Russia)
64 kg
1. RiAyko (Russia)
2. Zotova Maria (Russia)
3. Chukina Tatiana (Russia)
3. Ochkovskikh Svetlana (Russia)
68 kg
1. Zahartseva Olga (Russia)
2. Veredenko Darya (Russia)
3. Shestera Albina (Russia)
72 kg
1. Ambartsumyan Galina (Russia)
2. Zhizhina Anna (Russia)
3. Potapenya Polina (Russia)
3. Orel Tatiana (Russia)
80 kg
1. Kharitonova Irina (Russia)
2. Fomina Ilona (Russia)
3. Adrova Sofia (Russia)
3. Biryukova Valentina (Russia)
+80 kg
1. Eremeeva Nadezhda (Russia)
2. Balina Marina (Russia)
MEN
52 kg
1. Ondar Artur (Russia)
2. Chadin Amyr (Russia)
3. Ismoilov Ardasher (Tajikistan)
3. Mullagaliev Aynur (Russia)
57 kg
1. Bokiev Murodullo (Russia)
2. Mikhail Danielyan (Russia)
3. Beketov Tolobek (Russia)
3. Chimeddorj Maral-erdene (Mongolia)
62 kg
1. Adzhemyan Mger (Russia)
2. Elaev Ramazan (Russia)
3. Magdich Evgueny (Russia)
3. Gevorkyan Arkady (Russia)
68 kg
1. Shemazashvili Georgy (Russia)
2. Matays Alexander (Russia)
3. Bondarev Alexander (Russia)
3. Tarasov Evgueny (Russia)
74 kg
1. Adzhemyan Manuk (Russia)
2. Shaburov Alexander (Russia)
3. Sedrakyan Sipan (Russia)
3. Khashiev Islam (Russia)
82 kg
1. Emelyanov Timofey (Belarus)
2. Saraykin Timofey (Russia)
3. Vanyukhanov Nicholay (Russia)
3. Moshenko Nikita (Russia)
90 kg
1. Maximov Evgueny (Russia)
2. Londarev Vladimir (Russia)
3. Lee Hyunbaek (South Korea)
3. Redin Roman (Russia)
100 kg
1. Ivanov Dmitry (Russia)
2. Rozhin Grigory (Russia)
3. Efremov Alexander (Russia)
3. Storozhenko Victor (Russia)
+100 kg
1. Ivanov Alexey (Russia)
2. Lee Sangsoo (South Korea)
3. Gvozdkov Pavel (Russia)
3. Usov Alexey (Russia)
Photo: Valentin Truhanenko