International tournament in Minsk 2016: why will the champions and prize-winners of the second competition day remember it
Competitions
22 February 2016
Sergei Grishin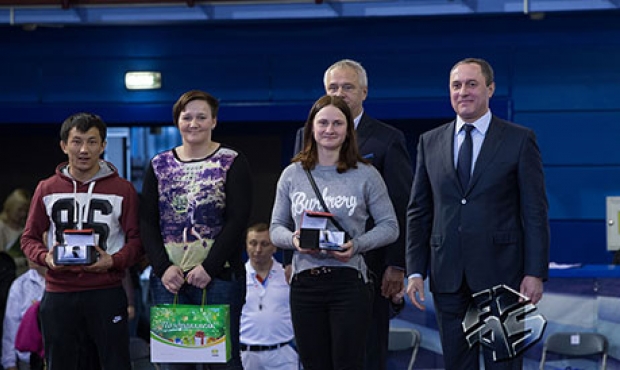 The sambo Sunday at the Palace of Sports in Minsk will be remembered by many bright moments of fighting, but we have identified some of the most memorable moments and interviewed their heroes. Here you can read about the dizzying victory of Andrey Kazusenok one second before the end of the fight, about Marina Zharskaya who celebrated her victory with her little daughter, a young silver medalist Vladislav Burd who still participates in the competitions among juniors, and the current world champion from Russia in the weight category up to 56 kg Anastasia Valova who is not afraid of experiments on the eve of the main ranking tournament of the year.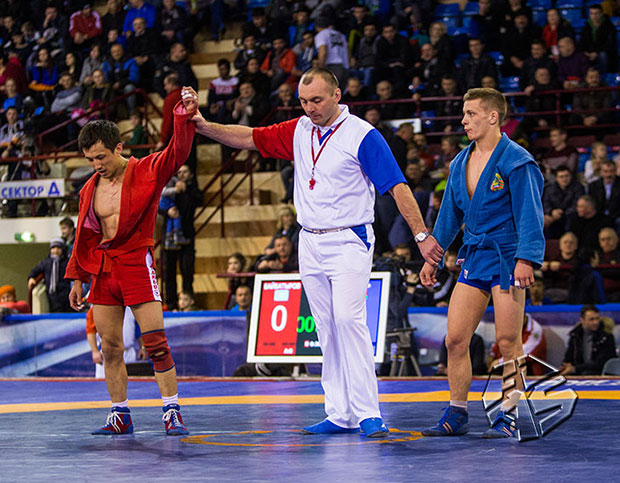 Vladislav Burd (Belarus) - "silver" in the weight category of 57 kg, sports sambo: "Expected more from myself " 
"How I lived and worked after the "bronze" at the European Games in Baku? All well, according to plan. Everything went as planned: training, training, training. Nothing new, just continuing. I am pleased with my performance, but not a 100 percent, I expected something more from myself. Wasn't happy at all with the final, of course. My opponent has a lot more experience, it's clear, but I still wanted to win. Have only done 60-70 per cent of what my coach asked, not everything we wanted turned out well. I have the selection for the European Championship and the World Youth Championship ahead. Of course, I really want to go to the European Championship in Toulouse, which kicks off in early April. The official decisions about my future will be made by the coaching council. And I will continue to work, there's a lot more to be gained in the physical part"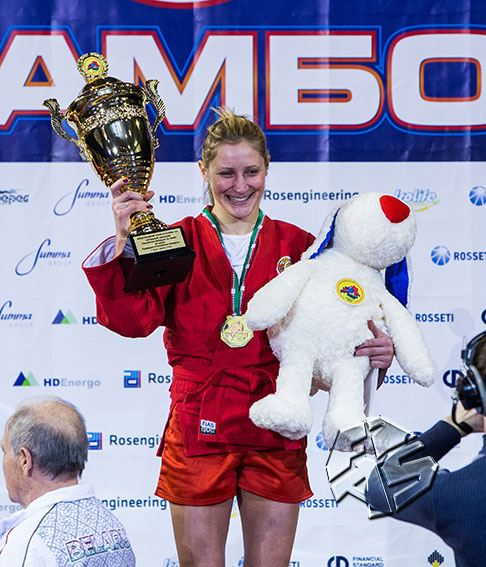 Marina Zharskaya (Belarus) - the champion in the weight category of 52 kg: "Many friends joke I must have one more kid and continue to fight"
"When I won, my daughter called me from the stands and asked me to wait for her, jumped down, we hugged each other, and it so happened we walked together along the spectator stands celebrating my victory. By the way, my son was also at the stands, they both rooted for me. My daughter in April will be 6 years old, and my son is 1 year and 5 months old. What is the secret of my good shape and rapid recovery after childbirth? Most importantly, the support I get from my spouse, family, children. Kids are also very glad about my victories and wait very much for competitions where there will be toys (laughs). My coach also urged me to return to the big sport. But the most important reason, perhaps, is the fact that I haven't yet become a world champion. So there is something to strive for, I don't want to finish my sports career without this prestigious title. Many of my friends joke I must have one more kid and still continue to fight."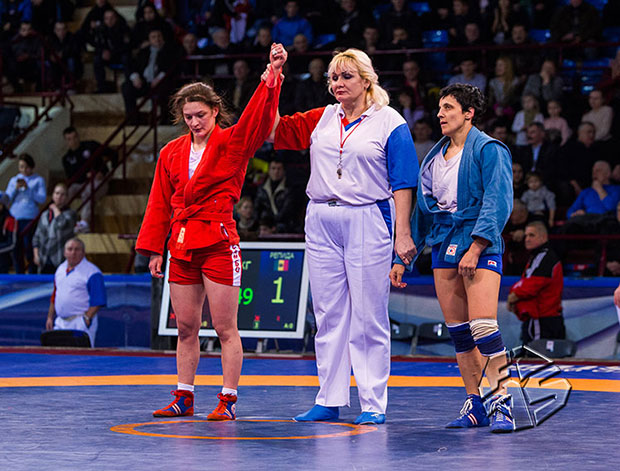 Anastasia Valova (Russia) - "gold" in the weight category of 60 kg: "I feel very comfortable out of my weight class"
How does it feel to fight 2 weeks before the main start of the year - the national championship? Very good! We arrived in Minsk together with Anna Kharitonova, didn't lose weight on purpose and competed out of our respective categories. We wanted to fight, breathe, prepare, see what works out and what doesn't. We have to correct our mistakes while there is still time. So it was a scheduled start, we have been preparing for it. I normally lose 4-5 kg before the fight but now I didn't and felt really comfortable. As for my weight, 56 kg in the Russian championship, you know, girls are all unstable. Many of the girls are changing weight categories. My main rivals Elizarova, Belykh, Buzina, Zenchenko, Zaitseva can all change their weight categories. And yes, and there always are "dark horses." And, of course, each championship of Russia holds surprises I don't need at all so I will try to fight better."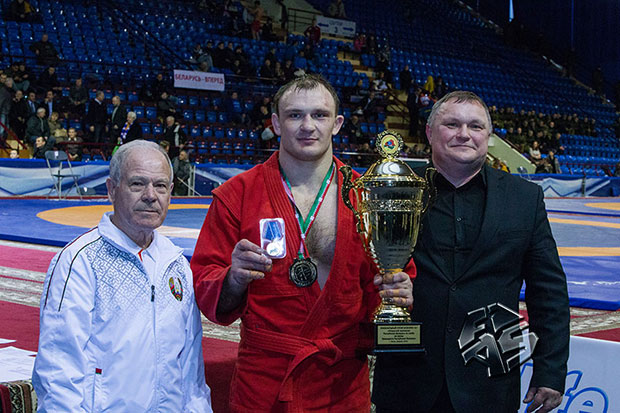 Andrey Kazusenok (Belarus) - the champion in the weight category of 100 kg, sports sambo "It felt so good to win one second before the end of the fight you were losing"
"This is only the third tournament for me in the 100 kg weight category: one was in Barnaul and one in Moscow, this one is the first official one. For me it is a mental check – should I move to this category for good, or not? Now we will decide this together with the head coach. There have been some changes, transitions of athletes to the different categories in my team. In my opinion, the main task is to balance all the weight categories of our team, so that we become competitive and win medals in all the main official competitions. On the eve of the fight my weight was high, almost 97 kg, but that was because I didn't lose it at all, my normal weight is 94 kg. Of course, it will be necessary to gain muscle mass, but for me this weight is very comfortable. What can I say about the hold that helped me win? I was trying to use it throughout the fight. It was clear that my opponent in the finals (Lasha Gruli, Georgia) comes from judo, he tried to block my hands the whole fight. He was very good, blocked my thoroughly, I started to become hysterical. At the end (5 seconds before the end of the meeting), I took a risk. At the beginning of the meeting I couldn't afford it. And it felt so good, winning a second before the end while losing before. I, frankly, did not even believe it. Suddenly I saw that he fell, I wriggled, and everything worked out."