Vasily Shestakov's "Polyhedron"
Competitions
4 April 2013
Sergei Grishin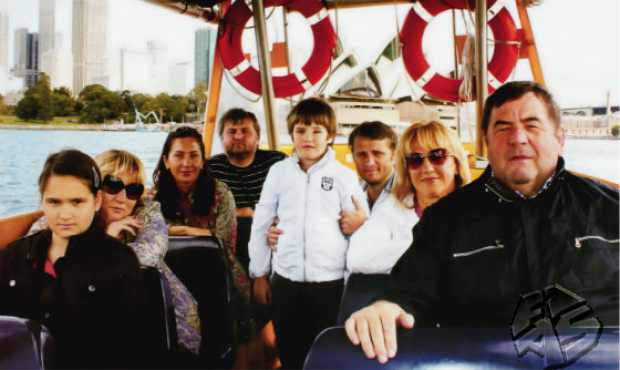 Today on the FIAS website we are opening a new column – "Polyhedron". New faces of a personality, unknown details of life, an interesting sight angle on the apparent obvious and familiar things. It is with these verbal tools, we'll try to open something new for you in the people and events that you think you've already known. On the day of the 60th anniversary of Vasily Shestakov, the International SAMBO Federation President we're beginning a new column of our website with the material about him. Well...
– Vasily Borisovich, I congratulate you on your birthday. I know that this year you will also celebrate one more anniversary, namely – 40 years from the date of the wedding with your lovely wife – Tatiana. There is a relevant question: how did Cupid wound you with his boom, and how has the "wound" not skinned over for 40 years already?
– Yes, the "wound" is severe and has become a true sign of faith for me for the whole life. We met at the common friend's birthday party. I brought to notice Tatiana at once, got acquainted and, as they say – we are still together.
We have been together this long not only because we are a good match and the two halves of the united body. This is certainly the fundamental but not the main thing. It is important that in the process of life we've changed ourselves, and our love has changed together with us, herein suffering various metamorphoses. We have come from ardent and passionate love to grateful love, respect and devotion to each other.
– It often happens that a person behaves in one way at work and just the other way being at home, with friends. What kind of person are you at home?
– It's a difficult question, that's why the answer will also be ambiguous (laughs). In the family I'm a rather hard-edged man. When decisions are made and there is a discussion, everyone in the family knows – it's impossible to argue with me. It's a different matter that while implementing Tatiana can be creative in the process. But in the final, I always have the feeling that my decision is implemented, and the wife in her turn has a complete freedom for creativity, but... only within the framework of my decision.
– While living together, people tend to "bed in" as I say – mimicry each other. That is, borrow from one another some character traits, habits, hobbies. What's about the things in your marital tandem?
– As far as I'm concerned, it was I who cultivated love of sports to Tatiana. Doing morning exercises, running, alpine skiing, biking – this is my contribution to the range extension of her hobby and its extension is exactly in the direction of sports. She made me a bit softer, with a more delicate soul. Her great contribution to our family but not just to our relationship is that she has cultivated the warmth and tenderness of relations to all of us. That is why not only we are at ease with each other but also children and grandchildren are very friendly and united.
– They say you – are a keen hunter and fisherman...
– Yes, there is a weakness. And, by the way, this is the activity which I have been able to "infect" my son. Now he is the same as me – a keen hunter. I am convinced that I managed to pass him over not only the trappings of the hobby, but also my internal sensation of hunting and fishing. First and foremost, as for me, it has always been and will be the way of escaping for my soul, an opportunity to enjoy the beauty of nature and its diversity, and trophies – is a minor issue.
I remember a lot of the experienced in this area. Australia with its crocodiles that threw themselves under the boat (it was scary). Kamchatka with a bear of 2 m 73 cm height and 500 kg weight, which I got down at 10 m away. And, of course, Yakutia, where bears and moose also impressed us, and fishing was just crazy.
– Sometimes you surprise us reciting Pushkin, Yesenin, Lermontov by heart. I know that you do write poetry yourself. Could you tell us about it?
– The fact is that as early as in childhood I was fond of literature and especially poetry. Something favourite stuck to my memory itself, something was specially taught, some things sank into the soul thanks to school.
I began to write poetry as early as in youth – the soul requested. And that's how I compose so far. For the most part, it's such a romantic lyrics, there are also verses that I dedicate to my wife.
– Vasily Borisovich, and would you be so kind to end the interview reading out your poetry? Over to you, if I may...
Black Sea is lapping,
Stars twinkle around.
It's a real pleasure to be with you,
My dear comrade and friend.
It's a pleasure together
To recall about our life
Stars, snuffling the shore,
Have something to tell us.
Perhaps how they were born
In the cold depths of the sea,
How parents fought,
Guarding their rest.
Perhaps how they gamboled
At the Turkish shores,
And how they later learnt
To distinguish friends and enemies.
Perhaps how they found both a friend
And a life partner,
Or perhaps, how they forgotten
That days of life have been counted.
And now, snuffling before us,
They are dying at feet,
As if they want us to recall –
To live, as our way is not so far.
Interviewed by Natalia Yukhareva
www.sambo.sport