World SAMBO Championship 2012 among Youth in Sofia: A Few Days before to Start
Competitions
5 October 2012
Sergei Grishin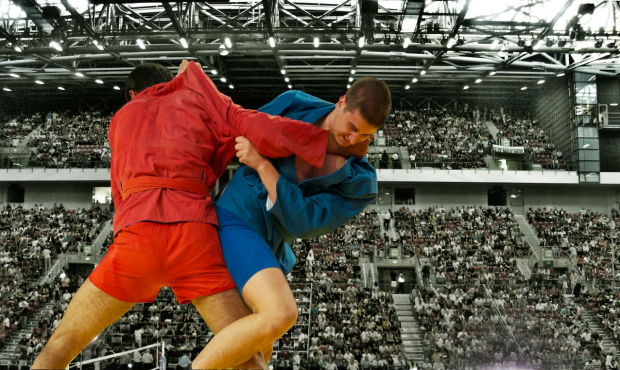 World Championship 2012 among juniors and youth this year will take place from 11 to 15 October. This time the future SAMBO stars will be welcomed by Sofia, the capital of Bulgaria. Bulgaria is the country where people are fond of, familiar with and have good understanding of technical and tactical skills of this combat sport. That is why there is no need to worry about the quantity of spectators who are supposed to fill the empty seats at the Arena Armeec these October days.
A week prior to the start SAMBO management officials are resolving remaining problems while organisers are in the homestretch with their preparations. The athletes are at the preparation stage where it is of utmost importance to gain emotional and physical freshness before a future start, coaches are wondering whether they have done everything correctly and finally take a decision to rely solely on God whereas atheists make a decision to "let it be the way it goes". the replies to the question "who is the strongest in Youth Sambo" will be definitely received this day week.
Now the Arena Armeec in Sofia, which will welcome SAMBO Championship for Youth this year, is taking its final preparations. A few words about this sports hall. It is a multifunctional Sports Palace in Sofia, one of the cutting edge sports complexes in Europe which opened its doors to sports fans quite recently, in June last year. It took exactly 18 months to build it. 8 is a number of sports which can use it as the ground to hold competitions. 12 thousand is the number of spectators that can enjoy a sports event held at this fabulous arena. This sports arena was named after its official sponsor, Armeec Insurance Company.
SAMBO is very popular in Bulgaria. Names of such famous Bulgarian SAMBO practitioners as Vasil Sokolov, Ivan Netov, Georgy Georgiev and many others are familiar to everyone in the country and worldwide.
Perhaps that is why FIAS had no difficulties in choosing the host broadcaster for the tournament. MediaProSofiaEOOD, company famous in Bulgaria, became its host broadcaster. FIAS is going on its cooperation with Eurovision (EBU) as well. It is Eurovision that will broadcast the final TV programme of the World Championship to 3 continents of the world - Europe, America and Asia. It is also planned to provide online streaming of the World Championship (preliminary rounds and final tournaments). It will happen on the updated FIAS site for the first time.
Last year a similar SAMBO Championship took place in Riga, the capital of Latvia. At that time SAMBO gathered 400 athletes from 24 countries all over the world in the comfortable Baltic city. Teams from Russia, Belarus, Georgia, Bulgaria and Kazakhstan, which are undoubted favourites of the modern SAMBO, were the leaders at the Olympic Sports Palace in Riga. Medals of the tournament hosts – the Latvians, as well as of the national teams of Serbia and Lithuania became a finding of the 2011 tournament.
Which stars are going to shine at the youth Sambo mats this time and what will the intense team competition in Sofia finish with? Answers to these exciting questions will be found very soon. But no matter who these future championship winners in Sofia will be, one thing is certain even now - it is they who are to be future stars of SAMBO.