The Ukraine SAMBO Youth Championships took place in Kiev
Competitions
27 January 2016
Sergei Grishin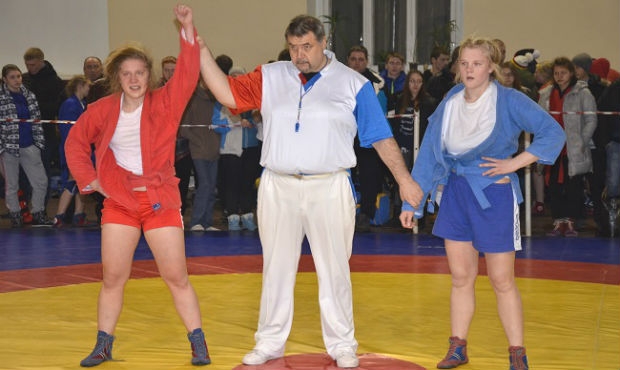 About 300 students from 19 regions of the country participated in the Ukraine SAMBO Championships among older girls and boys. During two days of the tournament, which was held from January 23 to 24, 30 sets of medals were awarded.
According to the organizers on the official website of Ukrainian SAMBO Federation, competitions have become a real celebration of sport and allowed the young SAMBO athletes to express themselves at a reasonably high level.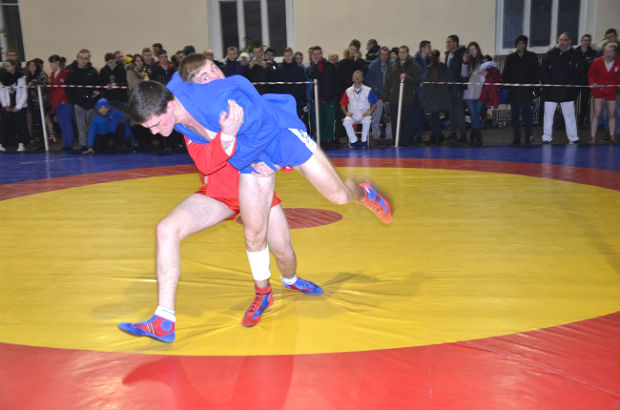 The festive mood was contributed by the opening ceremony of the championships, with a performance of graceful rhythmic gymnasts. They also participated in the athletes' victory ceremony at the end of the competition.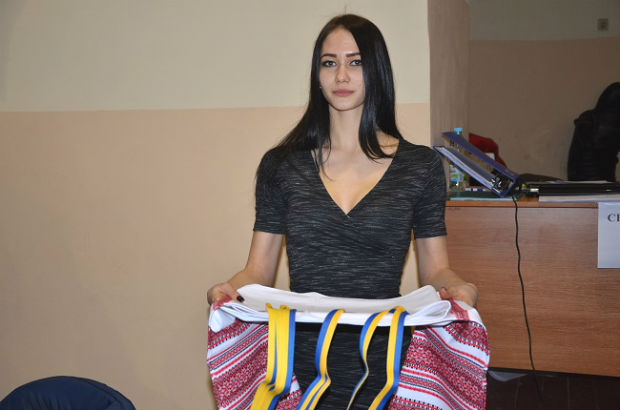 Winners of the Ukraine SAMBO Youth Championships in 2016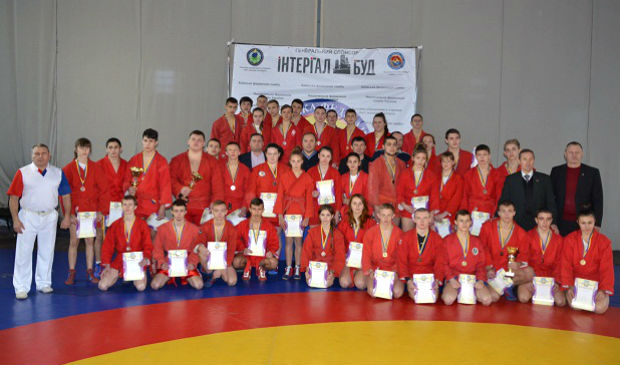 Youth (W)
Up to 40 kg
1. Alexandra PRISCHENKO (Vinnytsia region)
2. Irina Melnik (Ivano-Frankivsk region)
Up to 44 kg
1. Sofia BAGISHVILI (Kharkiv region)
2. Alla BEGEBA (Ivano-Frankivsk region)
3. Anastasia PEREHREST (Kiev) and Ilona NAZARCHUK (Rivne region)
Up to 48 kg
1. Anastasia BEZATOSNA (Kharkiv region)
2. Valeriya Petrova (Mykolaiv region)
3. Elizaveta PRIGOVA (Dnipropetrovsk region) and Katerina NOVITSKAYA (Kiev)
Up to 52 kg
1. Lidia VASHCHENKO (Zhytomyr region)
2. Angela TITARENKO (Sumy region)
3. Rusanna GENAY (Sumy region) and Maria MIKOLYUK (Kiev)
Up to 56 kg
1. Vitalina PETUKHOVA (Luhansk region)
2. Oksana MAYDANIK (Vinnytsia region)
3. Daria GULENKO (Zhytomyr region) and Liliana MIHALSKAYA (Dnipropetrovsk region)
Up to 60 kg
1. Mariana MIKHAILOVA (Kharkiv region)
2. Alina GERASIMENKO (Mykolaiv region)
3. Vladislav NETSVIT (Kharkiv region) and Victoria GAPON (Zhytomyr region)
Up to 65 kg
1. Katerina KHOMYAK (Zhytomyr region)
2. Anna KUPINA (Kharkiv region)
3. Katerina SKORA (Dnipropetrovsk region) and Anastasia POPKOVA (Zhytomyr region)
Up to 70 kg
1. Tatiana DIBROVA (Cherkasy region)
2. Ekaterina DZHUS (Kiev)
3. Oksana OBERTYI (Kiev)
Up to 75 kg
1. Ekaterina MOSKALYOVA (Dnipropetrovsk region)
2. Anna ANTIKALO (Mykolaiv region)
3. Jan BORSUK (Rivne region) and Maria GORBENKO (Cherkasy region)
More than 75 kg
1. Anna SLOBODYANUK (Khmelnytsky region)
2. Bogdan KENESCHUK (Ivano-Frankivsk region)
3. Karina KRAJEWSKAYA (Vinnytsia region)
Youth (M)
Up to 48 kg
1. Dmitry STREMENOVSKY (Kiev / Vinnytsia region)
2. Kirill MATUS (Dnipropetrovsk region)
3. Evgeny CHEPURNYI (Dnipropetrovsk region) and Arthur MARTIROSYAN (Luhansk region)
Up to 52 kg
1. Dmitry NAGORNYI (Sumy region)
2. Ivan BALASHOV (Kharkiv region)
3. Viktor YAKOVLEV (Odessa region) and Shtefan POPOVSKYI (Vinnytsia region)
Up to 56 kg
1. Dilshot HALMATOV (Kiev)
2. Dmitry DEREVIANKO (Kiev)
3. Denis RAJEWSKIY (Kharkiv region) and Ivan PEREBEYNOS (Kharkiv region)
Up to 60 kg
1. Alexander SPIVAK (Odessa region)
2. Ivan PILIPYAK (Ivano-Frankivsk region)
3. Daniil DROZD (Luhansk region) and Andrey KUCHERENKO (Herson)
Up to 65 kg
1. Daniil SHEVCHENKO (Dnipropetrovsk region)
2. Zaur UZHUEV (Kharkiv region)
3. Eren PAVLUKOV (Kharkiv region) and Stanislav SAMKOV (Khmelnytsky region)
Up to 70 kg
1. Oleg PLATONOV (Donetsk region)
2. Daniil BELOSTOCKIY (Kharkiv region)
3. Vladimir KIRICHENKO (Dnipropetrovsk region) and Vladislav ZAKIRNICHNY (Vinnytsia region)
Up to 75 kg
1. Ivan TIMINSKY (Ivano-Frankivsk region)
2. Daniel MALYOVANY (Donetsk region)
3. Alexey LYSENKO (Kharkiv region) and Igor KRAVCHENKO (Luhansk region)
Up to 81 kg
1. Dmitry TSYBANEV (Kiev)
2. Jaroslav DAVYDCHUK (Khmelnytsky region)
3. Maxim RIZNYK (Kharkiv region) and Stanislav SERHIYCHUK (Dnipropetrovsk region)
Up to 87 kg
1. Eugene WEGERA (Kharkiv region)
2. Alexander PEREPELITSA (Dnipropetrovsk region)
3. Sergei MOLODYK (Kiev) and Andrey CHICHIN (Donetsk region)
More than 87 kg
1. Vladislav BEREZKO (Kharkiv region)
2. Alexey MOISEEV (Cherkasy region)
3. Pavel CHISTOBORODOV (Dnipropetrovsk region) and Dmitry KHITROV (Dnipropetrovsk region)
Combat Sambo
Up to 48 kg
1. Vladislav VOLOSHIN (Vinnytsia region)
2. Dmitry NIKITIN (Vinnytsia region)
3. Pavel GOVDAN (Odessa region) and Alexander NASARTYKIN (Luhansk region)
Up to 52 kg
1. Alexander GOLOVKO (Dnipropetrovsk region)
2. Matin NAKSHBANDI (Kiev)
Up to 56 kg
1. Andrey TISCHENKO (Odessa region)
2. Roman YATSEVICH (Odessa region)
3. Maxim PODOROZHNY (Volyn region) and Vlad BONDARCHUK (Volyn region)
Up to 60 kg
1. Dmitry YACKO (Kiev)
2. Andrey KUCHERENKO (Kherson region)
3. Vadim VITVITSKIY (Luhansk region) and Artem NEVMYVAKA (Dnipropetrovsk region)
Up to 65 kg
1. Andrey GOROBCHUK (Kiev)
2. Eren PAVLYUKOV (Kharkiv region)
3. Vitaly SAVCHENKO (Kherson region) and Vlad MIZERA (Rivne region)
Up to 70 kg
1. Stepan SAMKOV (Rivne region)
2. Vitaly KRASNOZHON (Mykolaiv region)
3. Akim GRINKO (Kiev) and Innokentiy KATIN (Luhansk region)
Up to 75 kg
1. Daniil PIGUL (Kiev)
2. Evgeny MERESCHENKO (Dnipropetrovsk region)
3. Dmitry ANOKHIN (Cherkasy region) and Vlad SVITLAK (Cherkasy region)
Up to 81 kg
1. Kirill SKLONCHAK (Luhansk region)
2. Andrey MARININ (Rivne region)
3. Svyatoslav AVDIMIRETS (Rivne region) and Bogdan GOROSHKOV (Kiev)
Up to 87 kg
1. Andrey CHICHIN (Donetsk region)
More than 87 kg
1. Pavel BOYAKOVSKY (Kiev)
2. Dmitry KHITROV (Dnipropetrovsk region)
3. Vladislav BOYCHUK (Kiev) and Eduard OCHERETNY (Cherkasy region)