"We are having fun, because we see snow for the first time"
Competitions
1 December 2012
Sergei Grishin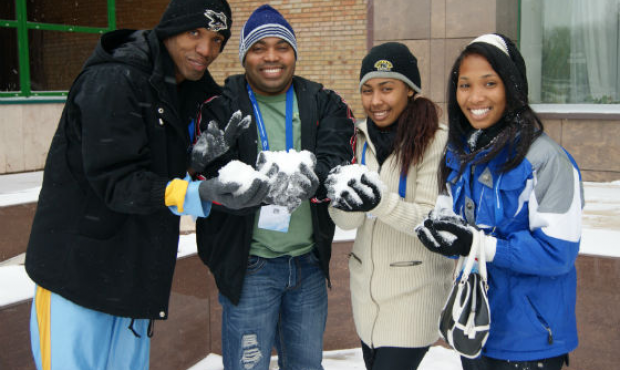 Weather that challenged SAMBO practitioners, volunteers who think of the country's image, and the Dominicans who have never seen snow before – a lot of interesting things happened just before the start-up of SAMBO World Cup among Students-2012. The report from Kazan on FIAS website features how athletes get prepared for the tournament, who tries to lose weight before the weighing, and what injuries are healed by the doctors.
The natives of Kazan call their city the sports capital of Russia, as well as the students' city, and they have every reason to do so. First, numerous modern sports facilities, the number of which will further increase by Universiade-2013, as well as outstanding success of Kazan sports on the international arena. Second, students of various educational establishments make up a quarter of the city population. At the end of November, the number of them increased by over 200 people – SAMBO practitioners from all over the globe came to the World Cup among Students in Kazan.
The journey to the capital of Tatarstan was not easy for the athletes. Abundant snowfall and even freezing rain came down on Russian cities having caused traffic collapse. Lucky were those whose flight was delayed for only an hour, as a lot of people set their own anti-records in moving from point A to point B. Thus, volunteers and organisers who were to meet the participants went through their "first baptism" before the athletes arrived.
Talking of volunteers, they wear a special uniform with the emblem of upcoming Universiade-2013. They seem to be everywhere; you meet them every now and then. They readily response to any request, and from time to time offer help themselves. Every national team has its own volunteer attaché who resolves any issues that athletes or team representatives may have, thus making their stay comfortable.
– I accompany the national team of Pakistan, tells attaché Ekaterina Zaripova. – I have been volunteering since recently, when I learned about the Universiade in Kazan. I visited a volunteer camp, and afterwards decided to apply for participation in SAMBO World Cup. Now I have to gain experience and get new knowledge for further work at the Universiade. As this is my first experience of volunteering, I'm a bit anxious, and it is a great responsibility. But the organisers believe in us, which is very inspiring.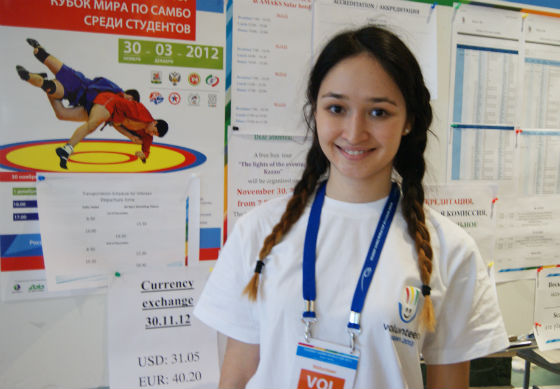 Ekaterina told that she had come to Kazan from Yekaterinburg as part of delegation of 10 people. She is a student of the Faculty of International Relations, so her volunteer work is closely related to her major.
– This is language practice, experience in intercultural communication. Besides, Russia will host numerous large-scale international competitions in the near future, and I would like people to have the right opinion of our country, so that everything, including organisation and people who meet the guests, was on the top level, and the guest felt excellent, says volunteer attaché of the national team of Pakistan at the World Cup Among Students in Kazan.
The well-being of participants from hot countries was a special concern. They seemed to be shocked to find themselves in snowy Kazan at minus ten. They live in a warm climate and know nothing of winter clothing. The Cameroonians tried to keep warm by putting on all the clothes they had, whereas the Dominicans preferred to warm themselves with quick and active movements outside throwing snow at each other.
– It's neither hot nor cold in the Dominican Republic now, about 26 to 30 degrees of heat, says Eliseo Romero Dominguez, Secretary General of the SAMBO Federation of the Dominican Republic. – Sure, we knew that it would be cold in Kazan, but not that much. However, it's not a problem - we are having fun, because we see snow for the first time. At first, we wanted to buy warm clothes, but then we decided that we would need them for two days only, so we can manage.
Excited Dominicans took the proposal to be photographed with snow in their hands in the cold street enthusiastically. They posed for a couple of seconds...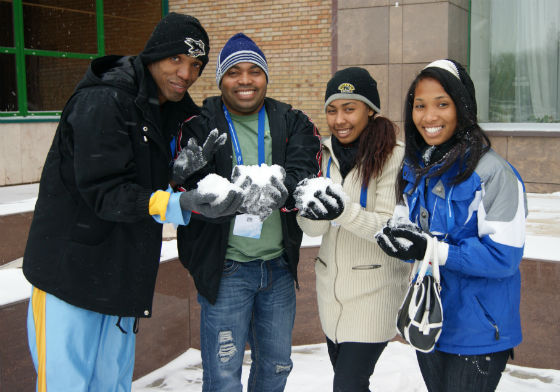 ...and couldn't help but throwing snow showing their brilliant smiles.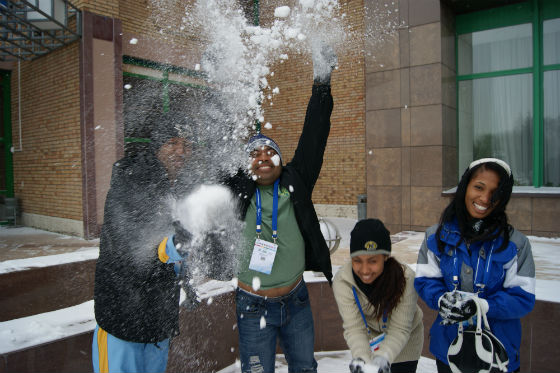 Fun is fun, but the tournament needs serious training. The organisers allocated a special sports complex with three mats to the athletes, where they could practise day and night before the competition. Not to distract the athletes before important starts, I decided to talk to the doctors at the trainings and ask whether the participants were able to avoid injuries. The doctors said that athletes hardly ever sought medical help, only some of them asked for band aid or bandage. Some of them were even cured from feet callus.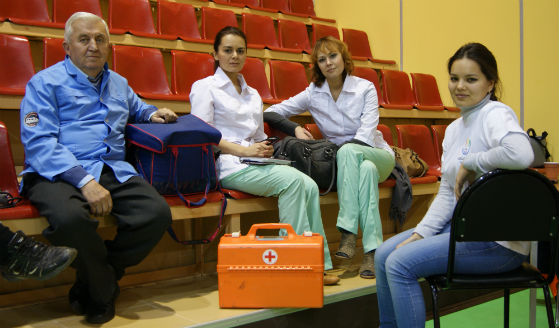 Less than ten minutes after our talk, one of the participants came to the doctors to complain of arm ache. I superstitiously felt guilty, and stayed away from the doctors ever since.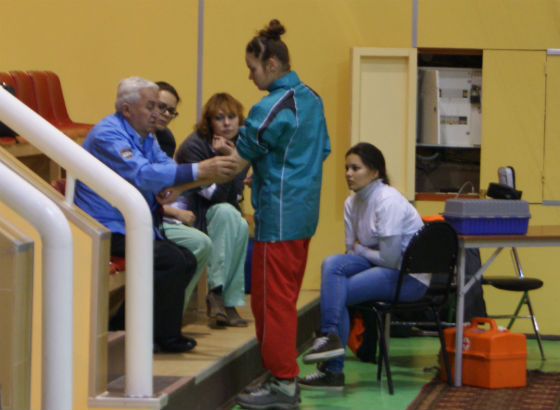 Weighing of SAMBO practitioners was one of the main events before the first day of the competition. Some athletes prepared carefully for the procedure trying to lose weight, some others were waiting relaxed. Anyway, it was followed by first day lot drawing, and the athletes got to know their competitors in the struggle for World Cup medals. We will find out whose lot was most successful, and who will excel the opponents during the tournament at Ak Bars Wrestling Palace very soon, 1 December evening.
We remind you that FIAS website visitors can see the grand opening ceremony and all the finals thanks to online broadcasting from the tournament.
Aleksandr Solomakhin, www.sambo.sport