Japan National Championship as 2014 World Championship Qualification
Federations
8 July 2014
Sergei Grishin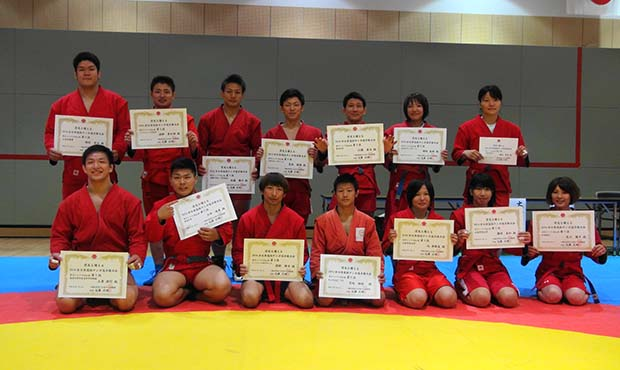 The Japan Sambo Championship was held in Tokyo on July 6. This tournament allowed not only to determine the strongest Japanese Sambo athletes to date, but has also become a qualification to form a national team for the World Championship. The winners will represent Japan at the 2014 global Sambo forum to be held in the Japanese city of Narita in November.
"It was one of the best national championships in history", - the press-service of the Japan Sambo Federation says. 61 sambo athletes in 14 weight categories took part in the tournament and fought at Sumida City Gymnasium. The competition for the gold medal was really serious, because the championship was not attended by random people, but only by experienced sambo athletes, each of whom is able to show good results.
At the opening ceremony welcome speeches were delivered by FIAS Executive Committee Member, Vice President of the Japan Sambo Federation Nobuyuki Asai, President of the Japan Sambo Federation Masaaki Kondo, as well as President of the Japan Wrestling Federation and the Japan Martial Arts Association Tomiaki Fukuda. The development of Sambo in Asia, as well as preparation for the upcoming World Championship in Japan and decent performance in the tournament were the leading motive of all the speeches. In a few months we will learn how the hosts of the global forum will fight in the main Sambo tournament of the year. In the meantime, we have an opportunity to get an idea of the national team of this country. We have the possibility to present you the list of the winners and prize-winners of the Japan Sambo Championship.
Results of the All-Japan Sambo Championship 2014
Tokyo (Japan), July 6, Sumida City Gymnasium
Men
52 kg
1 Yuya MIYAUCHI
2 Ryosuke KAWASUMI
3 Kota YAMAMOTO
3 Motohiro ONODERA
57 kg
1 Masanori ARAKI
2 Naoki MORIYA
3 Takeo SUZUKI
 62 kg
1 Shuto WATANABE
2 Takuma KAWAI
3 Takahiro KOMAKINE
68 kg
1 Kota ETO
2 Yasuhiro SUZUKI
3 Daiki HASHIMOTO
3 Genta TAKETANI
74 kg
1 Kenshiro WATANABE
2 Hirokazu TAKAMOTO
3 Yusaku SATO
82 kg
1 Tatsuhiko UEDA
2 Kaito MERA
3 Nozomi MINE
3 Shinya TERUI
 90 kg
1 Yosuke SATO
2 Yoshiyuki KIKUCHI
3 Masayuki NABEKURA
3 Keizo SAKAKIBARA
100 kg
1 Shigeyuki UEHARA
2 Yuto HOSOYA
3 Katana NISHIMURA
+100 kg
1 Kota NOMURA
2 Osamu HAYAMI
3 Kazuma TAKAHASHI
Women
48 kg
1 Yoko MAJIKAWA
2 Yoshiko KUSUMOTO
56 kg
1 Natsumi MUKAI
2 Yawara KOMATSU
60 kg
1 Miwa FUJIMURA
2 Rina TASAKI
64 kg
1 Haruna MINEMATSU
2 Haruka TAKESHIMA
68 kg
1 Yuri ENOKIDANI
2 Megumi MORIMOTO
Men's MVP
Masanori ARAKI
Women's MVP
Yuri ENOKIDANI
[Photogallery] Japan Sambo Championship 2014 in Tokyo