First Nicaraguan national Sambo championship
10 December 2013
Sergei Grishin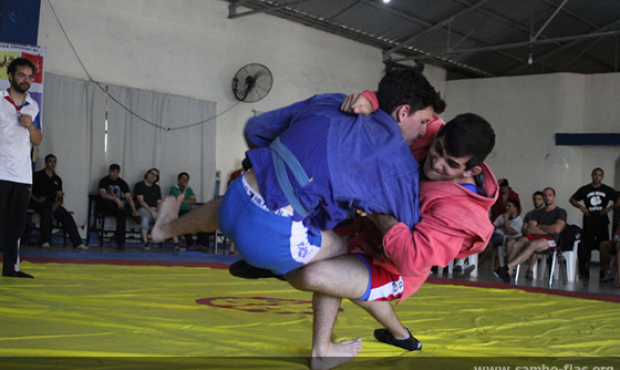 About 90 athletes participated in the first Nicaraguan national Sambo championship which was held on November 8-9 in the capital city of Managua. The Central American University provided the playground for this tournament which is historic for local sambo athletes. The competitions were held in sports sambo among men and women, as well as in combat sambo.
Sports judges Andres Aguilera and Daniel Torres, specialists of the International Sambo Federation from Colombia, were invited to help the young federation to hold the national championship. They conducted a seminar for representatives of Nicaraguan sambo, where local judges and functionaries learnt some sports secrets. In addition, FIAS representatives advised the tournament organisers on various issues of event planning, as well as closely followed the work of judges serving the fights.
"It is important to note that the judges who participated in the competitions were very attentive all the time, and we almost did not have any comments to their work", unanimously said Andres Aguilera and Daniel Torres. – "The competitions took place in a very smooth way thanks to the Nicaraguan Sambo Federation and the entire group that worked for the national team and showed sincere interest in the development of sambo."
It should be said that over the past several months Nicaraguan sambo athletes have been training under the guidance of another FIAS specialist Vladimir Dutov. He arrived in Nicaragua from Colombia in August to prepare local sambo athletes for the World Championship and help them organise and hold the first national Sambo championship.
The fights outside the hall – in the multipurpose sports venues within the Central American University (Managua) – became one of the interesting moves of the organisers. According to the observers, such a move gave good results and attracted a large number of viewers who saw sambo for the first time and became interested in this sport.
Thanks to television even wider audience learned about sambo in Nicaragua. The representatives of the National Sambo Federation, as well as judges from Colombia participated in the filming of a programme dedicated to this sport. Canal 6 television viewers learned what sambo is, where it came from and how it is developing today worldwide and in Panamerica. The most important achievement of Nicaraguan Sambo at the moment is the first Nicaraguan national Sambo championship.
15 female athletes and 33 sport sambo male athletes and 39 combat sambo male athletes took part in the tournament. .