Nobuyuki Asai: We want to hold the world championship in Japan
Personalities
27 July 2013
Sergei Grishin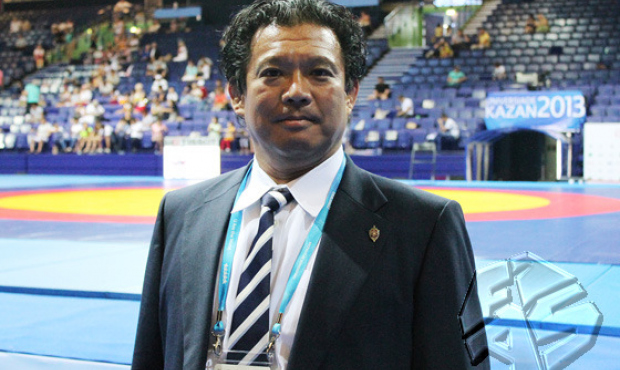 Japanese sambists' success at the Universiade in Kazan noticed everyone who followed the tournament. The sambists from the Land of the Rising Sun took home 5 medals of different ranks from the World University Games. Information about an immediate and confident leap of Japanese SAMBO, about its further development potential in this country and about judo athletes who make use of SAMBO secret tricks was provided by Nobuyki Asai, a representative of the Japanese sports delegation, member of the FIAS executive committee, in the interview to the FIAS web page.
– One year ago at the meeting the Russian President Vladimir Putin and the legendary Japanese judo athlete Yasuhiro Yamashita agreed upon active SAMBO development in Japan. Yasuhiro Yamashita commissioned me as his follower and assistant to develop SAMBO in our country. We managed to organize several seminars where athletes of different styles and judo athletes participated, which allowed us to prepare the Japanese sambists. It was they who took part in the unique competition, the first competition in the history of our country, the Russia's President Vladimir Putin SAMBO Cup. This event had great success and its winners afterwards came to Moscow, the home city of SAMBO, where participated in a very serious tournament – the stage of A. Kharlampiev Memorial World Cup.
Then we planned to prepare for the Universiade in Kazan. Jointly with the International Sambo Federation we managed to hold the seminar in Japan, where Russian sambists under the supervision of Sergei Tabakov, the FIAS Executive Director and Professor and Dmitry Maksimov, the FIAS Sports Director hold excellent training events for our sportsmen. At the Universiade the Japanese national team wan 2 gold, 1 silver and 2 bronze medals. That means that we performed the Vladimir Putin's commission.
– These are great results. What do they mean for SAMBO development in Japan?
– These results evidence that SAMBO development in our country will continue. Next year we would like to hold the Russia's President Vladimir Putin SAMBO Cup again and plan to hold it on the annual basis. This will allows us to actively develop SAMBO in our country. Besides, in the nearest future we would like to organize and hold in Japan a major SAMBO international tournament of the world championship level. By the way, holding in Japan the main SAMBO tournament of the FIAS calendar may become an important and significant event of 2014, announced the year of experience exchange in martial arts between Russia and Japan by Vladimir Putin and Shinzo Abe.
– Please estimate significance of SAMBO inclusion into the Universiade programme.
– This is what we all desired. I feel so grateful to Kazan where such a festive event took place. I should admit that this tournament was organized on the highest possible level. Considering what I observed at the Universiade, SAMBO is likely to become part of the Olympic Games in no time. This tournament was followed in Japan with great interest during all 12 days of the competitions in Kazan. Everyone knows in Japan that these games are very prestigious and significant. The Japanese delegation in Kazan amounted to more than 600 people consisting of sportsmen and coaches, and our final team place meant a lot. I am glad that Japanese sambists' medals were added to our country's collection.
– Coaching staff is the basis for SAMBO development. How do you plan to solve this problem?
– I suppose that at first we will invite coaches from the SAMBO parent country to train our sportsmen, as well we will continue visiting Russia for seminars and competitions. I would like to mention that judo athletes from our national team under the supervision of the head coach Kosei Inoue expressed their desire to participate in the seminar for sambists in May, organized by the FIAS in Japan. When a very interesting sambo submission hold was demonstrated, everyone wanted to learn it immediately. Now they are aware of a secret trick unknown for the most judo athletes. That's why if our Japanese judo athlete wins due to this particular SAMBO technique, I will be sincerely thankful to the FIAS.
Prepared by Aleksandr Solomakhin
www.sambo.sport