Here I am Celebrating my 74th Birthday...
Competitions
16 November 2012
Sergei Grishin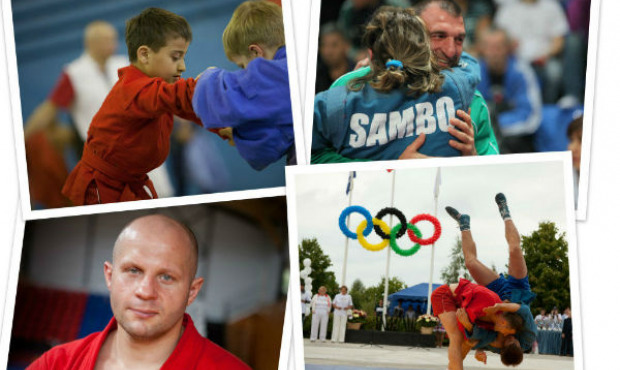 Here I am celebrating my 74th birthday ... In human years, this is probably what is called oldness - time when the only thing that remains is to recall and analyse your past time experiences. The time when you already have a lot to teach the youth, but practically no one listens to you. At my 74 I am lucky to have an army of fans listening carefully to every word I say. And this army is growing every day.
While this may sound immodest, even the most famous people in the world may be jealous of my fame. I am well-known in more than 80 countries of the world, and the geography of my fans is expanding every day. Some of them in a friendly way call me SAMBO, some others do not know me well enough and therefore address me, as it is written in the passport - Self-Defense without Weapons.
To be frank, I enjoy and love hearing both the names. By the way, about love ... Every time I hear the words "I love SAMBO", it feels like my heart just fills with joy and stops beating for a moment and then starts with renewed vigor. After all, love - is the foundation of the family, our friendly family of SAMBO.
Taking this opportunity I would like to say a big thank you to my parents - people who took part in my establishment. It's true I have a lot of relatives and ancestors and my family tree is quite large. I have a great deal of respect for all of them and I am proud that each of them put a piece of their soul into my establishment. But today I would like to express my special gratitude to those people I remember well from my childhood – well-known to all Sambo practitioner V.S.Oschepkova, V.A.Spiridonova and A.A. Kharlampieva.
My life that already lasts long enough but at the same time that is quite short, was full of meetings with different interesting people. Some of them used my knowledge to keep order in the streets and fight crime, others use my skills to defend their country during the war time. I feel a great sense of pride because I managed to help each of them, but as a matter of fact I am strongly in favor of humanity and peaceful coexistence of all. The best fight is one that was prevented.
Then why do people need Sambo? I strengthen courage and willpower, give confidence and make them learn the skills of leadership. That is why I am a friend to those guys willing to achieve something in their life, and not necessarily athletic. Well, in sports I really have something to be proud of. My followers get success at many contests, and not only at SAMBO contests.
Today, despite my 74th birthday, my body is full of strength and power, commitment and desire enabling me to advance gradually to my clear goal ahead. I have an ambitious goal to meet - I want to become a part of the Olympic family. I am sure that together with you, my friends, we will achieve this goal!