[Photo Story] In The Lead-Up To The International SAMBO Tournament In Nur-Sultan
Competitions
29 November 2019
Aleksandr Solomahin
The city of Nur-Sultan that most locals still habitually call by its former name of Astana, is gearing up to launch the International SAMBO Tournament for the Prizes of the President of the Republic of Kazakhstan. Approximately 150 sambists from 13 countries of the globe will take part in the competition that will take place from November 30 to December 1. While the athletes and coaches were arriving in Kazakhstan and started preparing for their performance at the tournament, the FIAS website set off to the "B-Platinum" Arena to witness its transformation from a playground into a SAMBO hall.
It's frosty outside, so no one lingers for a long time at the entrance to the arena. On the day before the tournament start, the main visitors of "B-Platinum" are the tournament organizers and arena workers who set up the platform from ground up for the performance of sambists.
The focus, of course, is on SAMBO mats which need to be correctly laid out by putting together several pieces as though it were a puzzle game.
Everything is promptly delivered to the arena and brought directly into the competition hall. In a quarter of an hour, the mat base has arrived in the hall and now needs to be laid out.
It is on these mats that fights will soon take place in which the champions and prize-winners of the tournament will be determined. In the meantime, we will go look for those who are going to fight for the victory.
It's hot in the warm-up gym: sambists are actively sparring, from time to time getting too keen on wrestling.
Representatives of sport SAMBO prefer to throw an opponent in an impressive way.
Meanwhile, combat sambists work out spectacular striking and kicking techniques.
At this time, the installation of equipment goes on in the arena. Professional sound and lighting, as well as a huge screen in the center of the arena will lend the desired decor to the sports event.
A team of volunteers will assist the competition participants throughout the tournament, and each of them will do their best so that the athletes do not think about anything other than their performance.
Banners and various promotional materials are also being prepared to become part of a grand sporting event. Apropos of the promotion, the tournament is supported by the Rostec State Corporation and "Russian Helicopters" Company.
In the meantime, the organizers are solving various issues that arise from time to time in preparation for the competitions.
The athletes have tasks of their own. Some are thinking of weight loss prior to weigh-in ...
... some are engrossed in fighting ...
... and others believes that relaxation is a critical part of preparation!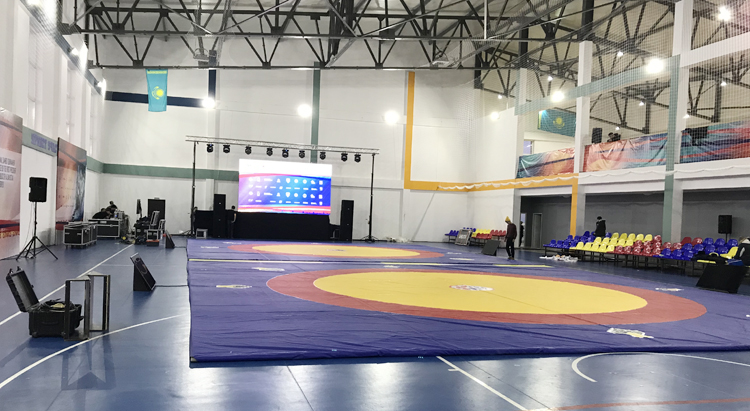 The hall is 70% ready for the start of the tournament.
And the athletes are waiting for the first bouts to begin.
You can find the results of each competition day with all the pertinent information on the FIAS website.