What Else Participants of International Seminar for Sambo Judges in Agros Talk About
Personalities
2 August 2014
Sergei Grishin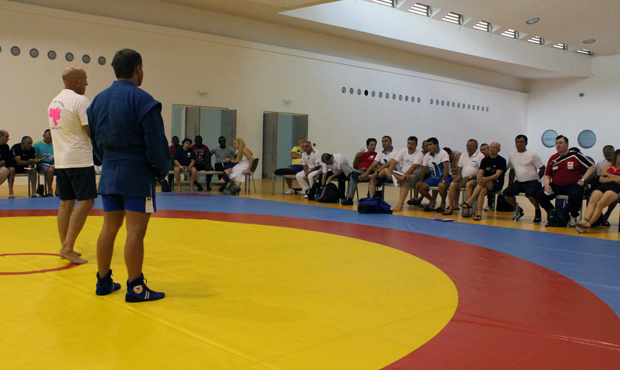 On the first day of the International Seminar for Sambo Judges in Cyprus the participants mostly listened to the lecturers and took notes, and on the second day they actively participated in the learning process. The first part of the day was devoted to the analysis of disputable situations from various tournaments captured on video. The afternoon became the main challenge for the judges as they took exams. How is the language barrier at the seminar overcome? Is it difficult to change the status of an athlete for the status of a judge and cooperate with the referees who judged you before? Why is Sambo more difficult for referees than other types of martial arts? Read the answers to these and other questions in the FIAS website reportage from Agros.
The seminar was attended by judges from more than 20 countries. It took someone a long time to get to Agros, Cyprus, someone did not spend a lot of time for travelling, but the easiest way to the venue of the seminar was for Cypriots. Athlete, beginner in coaching and debuting judge George Eliseos from Cyprus told us about his career: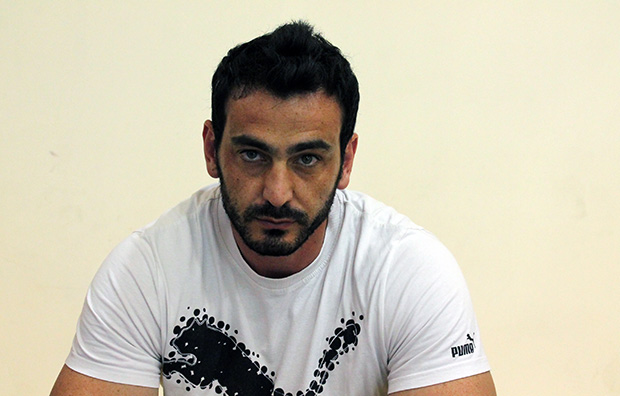 "I've been practicing Sambo and performing as an athlete for 8 years already, and now I want to pursue a career as a judge and coach. I have little experience in coaching – together with my coach I teach Sambo to children in our club. And when my coach asked me if I wanted to take part in the international seminar for judges, I, of course, said "Yes!" immediately. This is a great opportunity to gain new experience and become a part of the FIAS team. During two days of training we discussed a lot of different interesting situations. I'm not sure I've seen so much throughout my Sambo career. Now I watch the competition not as a participant of fights, I take a detached view and assess everything that is happening on the mat as a referee. Besides the fact that we get a lot of information from the lecturers of the seminar, we gain a lot of experience by communicating with participants from other countries. Everywhere Sambo has its own peculiarities, and I'm very pleased that communication among participants from different countries is taking place in Cyprus, my home country", George Eliseos says.
In contrast, Dane De Rose from the United States had a 14-hour flight to participate in the seminar for judges. He has first-hand knowledge of sports, coaching and refereeing career: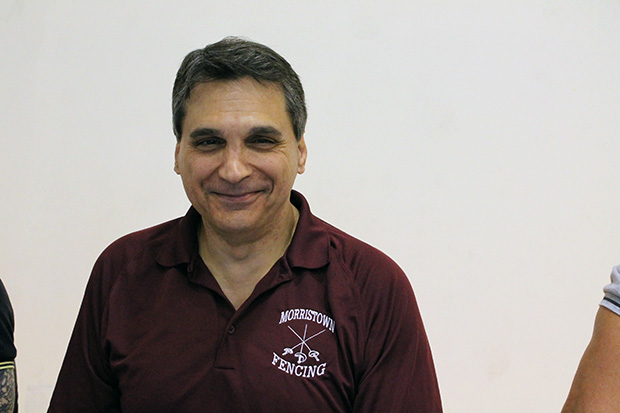 "I started practicing Sambo in 1980, when a group of Sambo athletes from the USSR came to our country and "infected" us with their love to this sport. We all wanted to learn and understand Sambo, because this martial art seemed to us a real secret at that time. After my sports career was over, I started to train American Sambo athletes and accompanied the USA team at major international tournaments. Now I've been working hard as a referee, and I hope to receive a FIAS certificate after the seminar.
When I came to the seminar I had an impression that no one really knows each other, but then we began to get acquainted, and it was very nice when people remembered my name and turned to me. Of course, at the beginning there was the language barrier, but we had a great interpreter who speaks perfect English. He helps us both during classes and after them, so there's absolutely no problem. Of course, I was a bit nervous before the final test, but I was self-confident. I trained hard, because I had a chance to get an international FIAS license", Dane De Rose says.
torgom ovanesyan representing France accumulated rich Sambo experience as well. He said that he was actively restoring previously accumulated knowledge and was ready to take up a career as a judge with renewed vigour: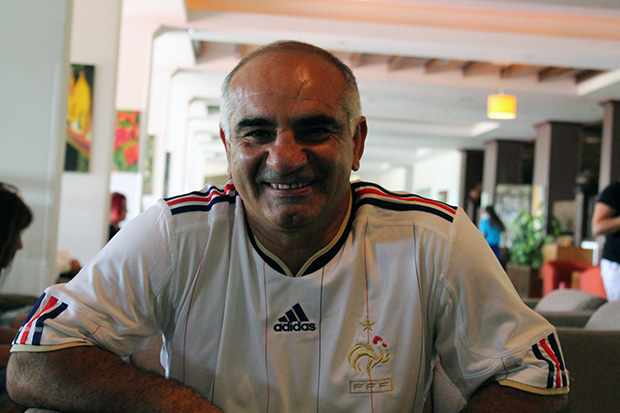 "Firstly, we communicate with colleagues a lot at the seminar, and secondly, we get much information on how to work at competitions. Previously, I worked as a referee in Armenia, and 12 years ago I moved to France, and I was away from these activities for some time. But not so long ago he became interested in judging Sambo competitions again. France holds a lot of tournaments both among adults and youth. We have two extra class judges and three international referees. What do I think of the seminar? It's great! The presentation of information, the participants, and the atmosphere of the seminar are just wonderful. Today, we have analysed situations from different tournaments recorded on video, which was a difficult task. Sometimes I was able to give the correct answer, sometimes I was wrong, but it helps to learn and improve one's skills. After examination of disputable situations at the seminar, each of us will be able to clearly resolve these moments at competitions. The second day of the seminar ends with an exam. I carefully prepared for it, both at home, and here. That's why, despite a little excitement, I'm sure everything will be fine", torgom ovanesyan radiates his optimism.
Sambo and Judo amateurs are well aware of such a name as Angela Polevaya-Sakereanu. The representative of Moldova repeatedly occupied the podium at major international competitions. Now she is working shoulder to shoulder with the people who judged fights in which she participated: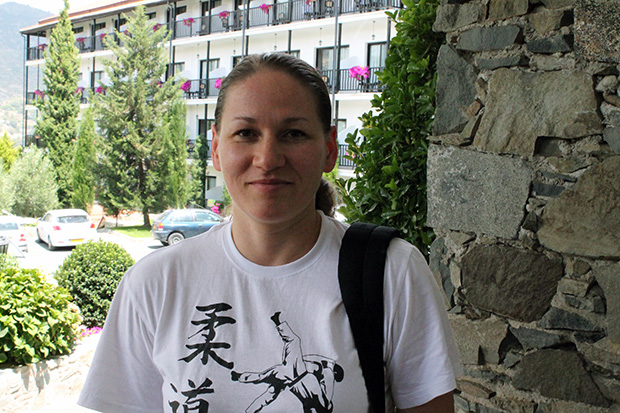 "I've been at the national level for a long time, and I have recently made my debut at the international one, the European Sambo Championship in Bucharest in 2014. The first international refereeing was followed by the first international seminar. I'm going to continue this practice in the future. I've practiced Sambo as an athlete for a long time, and I'm a double world champion among students, as well as nine times World and European Sambo medalist. I've always wanted to attend a Sambo seminar, so I took advantage of the opportunity when it offered.
I liked the lesson with video analysis, in which we were asked to properly assess technical actions of Sambo athletes. As wishes for the future, I would like to get more detailed information about the work of secretaries, because it's quite a difficult activity. What concerns other moments, everything is fine. The venue is wonderful. I know many participants of the seminar since the 1990's, because at that time I fought at World and European Sambo Championships. The change of the status of an athlete for the one of a judge is not given immediately, but the most important thing is like in the fight, i.e. to act and start judging. And then everything happens without your efforts. Especially, I like judging both sport and combat sambo. I worked at various fights at European Championships", Angela Polevaya-Sakereanu says.
Refereeing at the highest level is not new to Anatoli Khalkadarov representing Austria. Despite the fact that he judged a large number of athletes, there are many nuances in Sambo that need to be learned anew: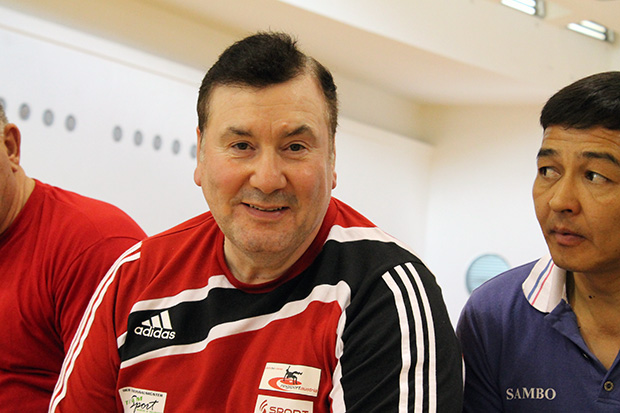 "I started as a child and tried my hand in almost all types of martial arts. My first sport was Kurash, then I switched to freestyle wrestling, then to Greco-Roman wrestling (it was called classical at that time), then I was keen on judo, sambo, and belt wrestling. Now I teach Sambo to kids in Vienna. I'm also an international FILA judge. I've been working in the international arena and judging at European and World Championships for more than 25 years. This is the first time I'm attending a Sambo seminar. Previously I participated in many sport wrestling and judo seminars. The organisers have prepared a very good program in Agros for us, so we will benefit from the knowledge received.
Every sport has its own nuances. Sport wrestling is an Olympic sport, and Sambo is only trying to become a member of the Olympic family. Of course, it would be great if Sambo participated in the main Games every four years. Sambo, I think, is more an applied sport that can really provide a person self-defense. In terms of judging Sambo, this sport is a bit more difficult than other types of wrestling. This applies at least to those that I practiced. It's simpler and easier to judge sport wrestling, as there are not so many nuances like in Sambo. Some of my colleagues were really nervous before the exam. I think it's not important to pass the exam. It's important to know the rules, apply them properly and evaluate athletes. And exams can always been retaken", Anatoli Khalkadarov shares his worldly wisdom.
As always, experienced Sambo judge Emin Rashi from Georgia was one of the most active participants of the seminar for judges. He managed not only to receive information, ask questions, joke, but also carefully explained various nuances to his colleagues, helping them to better understand Sambo: 
"I've acted as a judge at fifteen world championships, but I believe that each seminar provides new knowledge. We need to learn and improve our skills, because nothing stands still, and life is constantly changing. The seminar is followed by the Youth Championship and the World Sambo Championship, so we need to get ready for the events. I'm very pleased that a lot of young guys attended this seminar. It's great that they are also involved and want to get to know the rules, and then to work at major international Sambo competitions. I think when young referees learn from experienced judges, both benefit from the process. By the way, there are three representatives from Georgia, i.e. I, as the Chairman of the Panel of Judges, as well as two young referees. After each class with lecturers, we gather together and analyse different situations. If they don't understand something during the lectures, I try to thoroughly explain it to them in an understandable form, so that they could pass the exam successfully. And, of course, I worried a bit before the test, but mainly for the guys", Emin Rashi says.
Chairman of the FIAS Panel of Judges Eugene Selivanov summed up the seminar: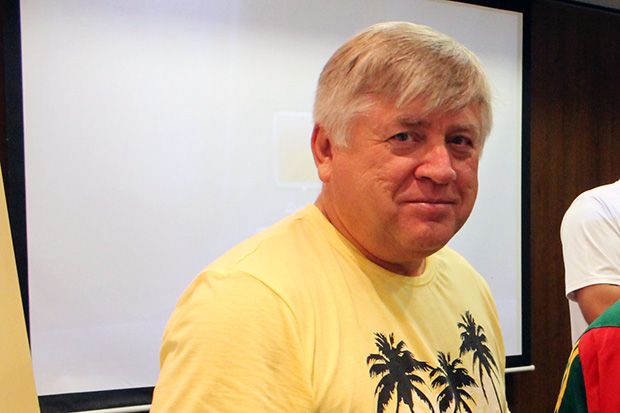 "We have held a two-day seminar for judges. It helped us to define the list of arbiters, who will work at the Youth Championship and the World Sambo Championship. The seminar brought together more than 50 referees from 22 countries. After two days of classes, we held an examination, and those who passed it received certificates. As a result, we will form a team of judges who will work at major competitions. Until the end of the year we have 5 planned major international tournaments. I am sure we will cope with it", Eugene Selivanov looks into the future with confidence.
[Photogallery] International Workshop for Sambo Referees in Agros (Cyprus)