What Participants of International Seminar for Sambo Judges in Agros Were Talking About
Personalities
1 August 2014
Sergei Grishin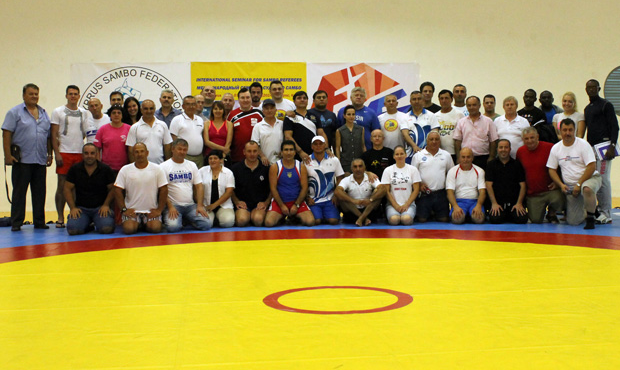 The first day of the International Seminar for Sambo Judges has taken place today, on the first day of August, in the village of Agros, Cyprus. Nuances of judicial affairs - from dress code for sambo athletes to the criteria for determining the knockout and knockdown – were discussed both in theory and in practice. Today's FIAS website reportage will tell you about the frequency of such seminars in the future. It also contains revelations of the participants that explain why girls like judging combat sambo, and why some people cover the entire body with tattoos, as well as many other topics. 
Russian Referee Boris Sova acted as one of the lecturers at the Cyprus seminar, having competently and clearly explained lots of nuances of judicial affairs to the participants. He outlined an overall picture of the event especially for the FIAS website: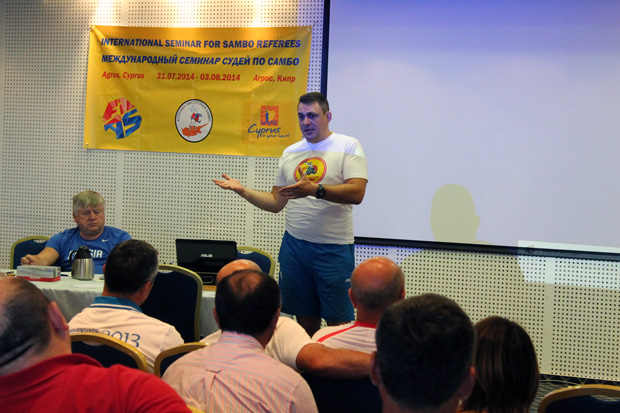 "The purpose of the international seminar is to improve the professional level of FIAS judges. Nowadays, such seminars are very important, because only within the framework of seminars we can consider the most difficult situations encountered in the martial art, and analyse judicial errors that sometimes occur. The format of these seminars is needed. Moreover, today our panel of judges is discussing the possibility of holding such international seminars more often than once a year. Furthermore, there is an idea to hold regular workshops separately for each continent, where Sambo is being developed. Then international seminars will generalise them.
The analysis of complex situations means examination of video materials that we collect during the year. We test the ability of judges to understand complex situations captured on video. Following two days of work, theoretical and practical exam will be held for the panel of judges to obtain a license for the next year. Every year we will make the format of the exams more complicated, expand the list of questions and practical situations, as well as introduce more and more difficult moments. I think the more such seminars we have, the more beautiful and colourful our sport is presented at international competitions", Boris Sova said.
As it turned out, one of the few representatives of the fair sex at the seminar, Tatiana Trivich from Serbia, prefers rigorous male martial arts: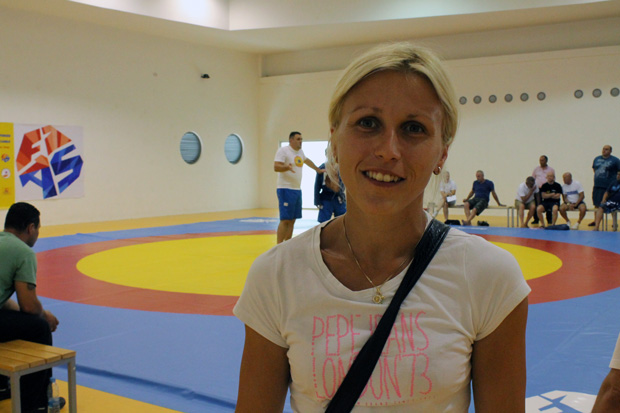 "I've come to attend the seminar and gain new knowledge and consolidate the skills that I already have. My Sambo career began 10 years ago, and I've been working as a referee at competitions for 3 years. I do like the level of lecturers at this seminar and a large number of my colleagues who came here as well. Communication with other referees is very useful to know the profession well. As far as I'm concerned, it's equally easy for me to judge fights between both men and women, but most often I act as a referee at combat sambo fights. And I love it!" Tatiana Trivich says.
One of the main members of the seminar who covered a long distance to get to Agros, Richard Crenwelge from the U.S., impressed everyone with his seriousness and the number of tattoos on his body: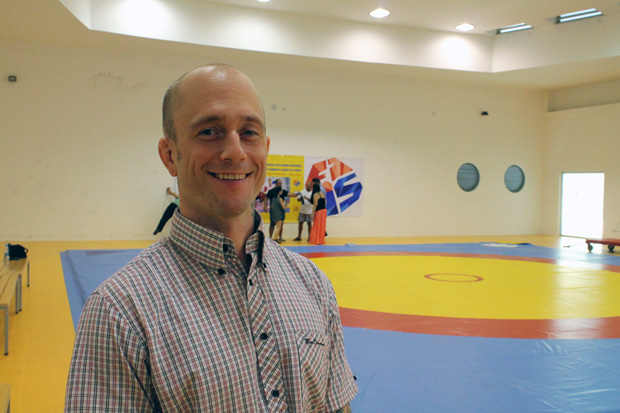 "I haven't worked as a referee, but I've been engaged in Sambo for the past 5 years. Some people think that I practise MMA. This is a very popular sport in the United States, but Sambo is the best sport for me. I used to practise judo and Brazilian jiu-jitsu, and then I joined a Sambo club and took part in competitions, representing the United States. The trip to Cyprus wasn't easy. It's been two days since I came here, but I'm still suffering from jet lag. By the way, the mountains in Agros remind me of a piece of Texas, my home state. My tattoos? I had my first one when I was 15, and can't stop till now. Almost all my body is covered with tattoos that are mainly connected with the martial arts", Richard Crenwelge says.
Experienced Lithuanian Referee Feliksis Jankauskas always tries to keep abreast of the trends of the Sambo world: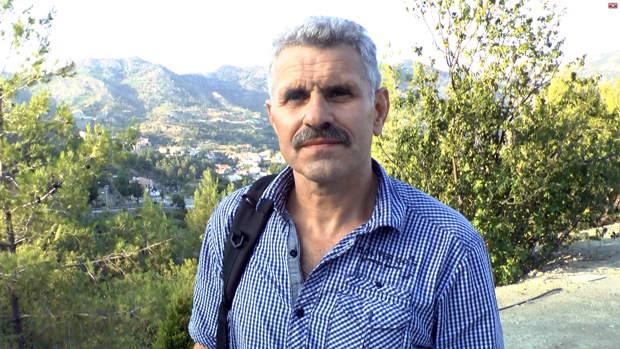 "I've come to attend the seminar and learn the latest changes in the rules, current trends and future prospects, as well as share my experience. The workshop is of a very high level, and it's clear that the organisers and all the lecturers are carefully prepared. Information is clearly and effectively communicated, which is especially important in view of multi-ethnic participants. Of course, as I'm in the judicial sphere, I know almost all the details of judging, but there are half-forgotten things that need to be reminded especially to those people who attend competitions or seminars rarely. It should be also said that after the lectures my colleagues and I can discuss disputable situations and analyse them for a long time. This is how we share our experience", Feliksis Jankauskas says.
Carlos Gomez from Spain is sure that judges must always keep up with the times and that one should learn from professionals who come from the homeland of Sambo: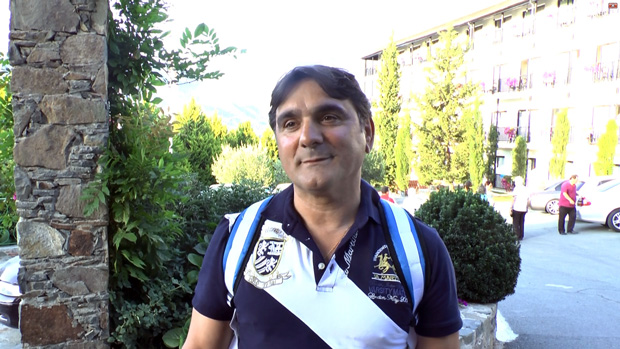 "We arrived at the international Sambo seminar, which seems to me fantastic. These workshops are very good, because we have the opportunity to learn from the Russian judges, professionals who come from the homeland of Sambo. Spain, as, perhaps, other countries, is not so strong in refereeing. We need the experience and wisdom of the Russians, so we are happy to learn. Every day, a person should learn something new, and we do a lot at the seminar. In addition, athletes don't make us get bored by inventing new prohibited methods that are difficult to notice. However, here we are taught how to deal with it.
Judges should always keep up with the times, and know who is to be punished and for what. We are having an exam tomorrow, but I'm absolutely calm because I've already worked at such serious and important events as the Universiade and SportAccord Games. In addition, on the first day of the seminar many tricky issues were resolved. By the way, it's been 40 years this year since I started practising Sambo. I am in love with this sport, so I'm pretty sure it will become an Olympic type of sport soon", Carlos Gomez looks into the future.
The seminar has not been finished, so new experiences of its participants will be tomorrow on the FIAS website.
[Photogallery] International Workshop for Sambo Referees in Agros (Cyprus)