Reflections Of The Prize Winners Of The Second Day Of The SAMBO Tournament At The Asian Games In Jakarta
Personalities
8 September 2018
Aleksandr Solomahin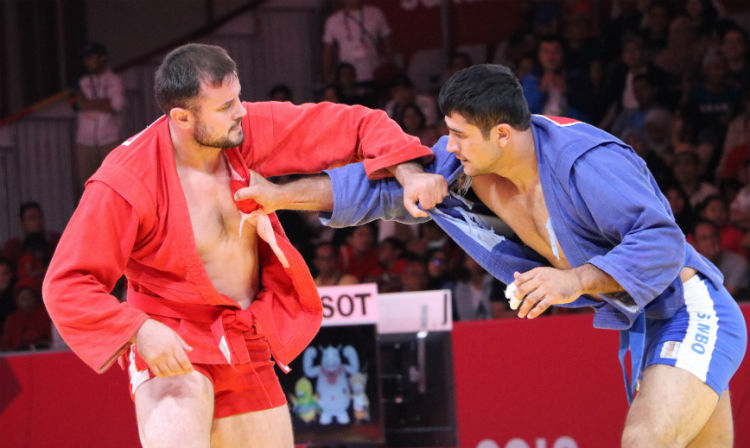 On the second day of the SAMBO tournament at the Asian Games in Indonesia that took place on September 1 two sets of medals were up for grabs. Prize winners in the up to 68 kg weight category among women and in the up to 90 kg weight category among men had been singled out. Medal winners have shared their emotions and spirits in the exclusive interviews to the FIAS website.
Komronshoh Ustopiriyon (Tajikistan), a bronze medal winner in the up to 90 kg weight category among men.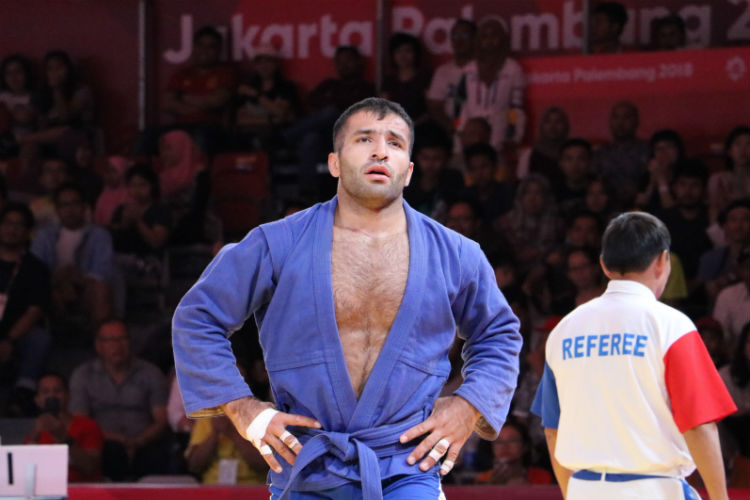 'At these Asian Games, I've won two bronze medals: the first one in judo, and the other one on the very next day in SAMBO. I am very glad that SAMBO has been introduced in the Games program in Jakarta, and I believe that this is a serious step towards the Olympic recognition of our favorite sport. At all my competitions, even if I perform judo, I always represent SAMBO. And all my friends regard themselves primarily as sambists, we take great pride in our SAMBO school that functions in a small town in Tajikistan, with population of some 3 thousand people.
While being a trainee of our school, I became a medal winner at two youth and two adult World SAMBO Championships, and this tournament is a serious achievement for my country. My next big tournaments will be the World SAMBO Championships in Romania, and I'll come there very well prepared, I should hope. I will try to win the gold there, to the best of my abilities.'
Natsuki Tomi (Japan), a bronze medal winner in the up to 68 kg weight category among women.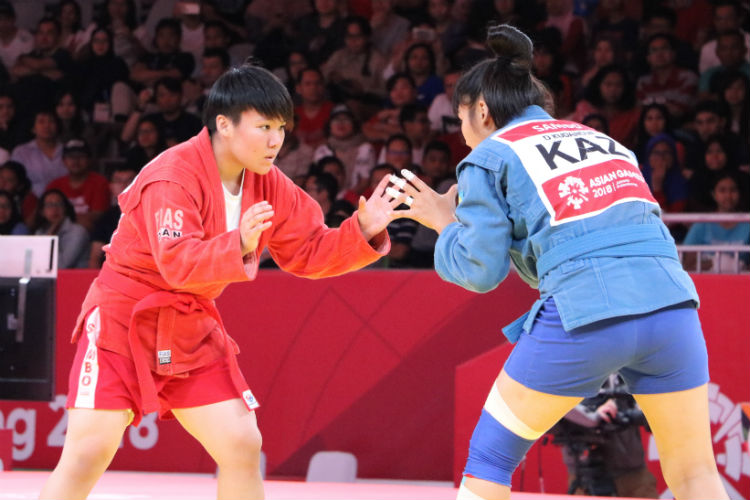 'Here in Jakarta, I've performed at international SAMBO competitions for the second time in my life. Earlier I had succeeded to win a silver medal at the Asian SAMBO Championships in Mongolia. Nevertheless, I was feeling very nervous, for these were my first Asian Games. I think I've managed to get some good experience.
I was afraid of my opponents at first, because almost all of them were taller than me. However, during the fights, my fears dispelled, as I was just trying to fight in my style. And, of course, in the fight for the bronze I was determined to win a medal for Japan. Already at the beginning of the fight I carefully tested the movement of my opponent, and then I performed my winning throw. I wish to make a special mention that apart from my coach and my family, Indonesian fans were rooting for me in the stands of the sports complex in Jakarta. Their support helped me a lot.'
Alibek Zekenov (Kazakhstan), a bronze medal winner in the up to 90 kg weight category among men.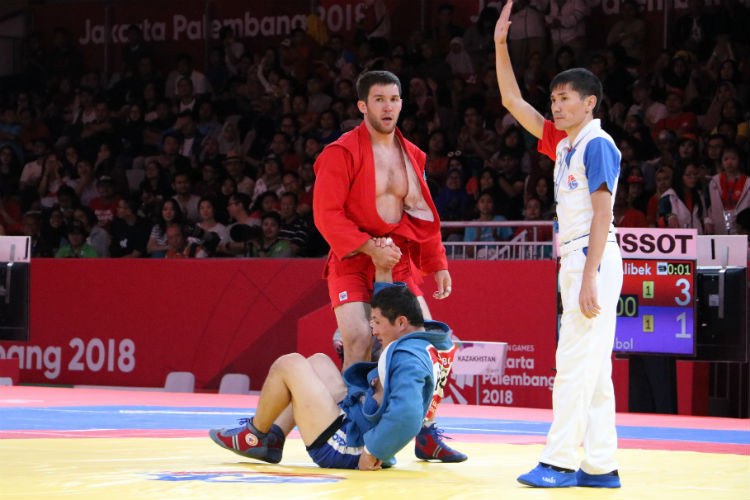 'I never dreamed that the SAMBO tournament would be held at competitions of such a large scale. And the fact that my weight category had been featured in the Asian Games, and that I've become a bronze winner is doubly a big day for me and for all Kazakhstan. Thanks are due to Indonesia for the fact that everything is so beautifully organized and conducted, everything has been done at the highest level.
Well, certainly, I was not relishing a prospect of fighting for the third place with my fellow countryman, yet who can escape one's fate? One of us two should have won, it turned out that I managed to do this. We had not a slightest temptation to make a deal between us, for everyone wants to show the result, to demonstrate what he had been working for – and that for oneself, not for someone else. Now I can hang a medal at home and enjoy it, it's going to be an object of my lifelong pride. Who knows if I still could perform at a competition of such high level 4 years later.'
Dildash Kuryshbayeva (Kazakhstan), a gold medal winner in the up to 68 kg weight category among women.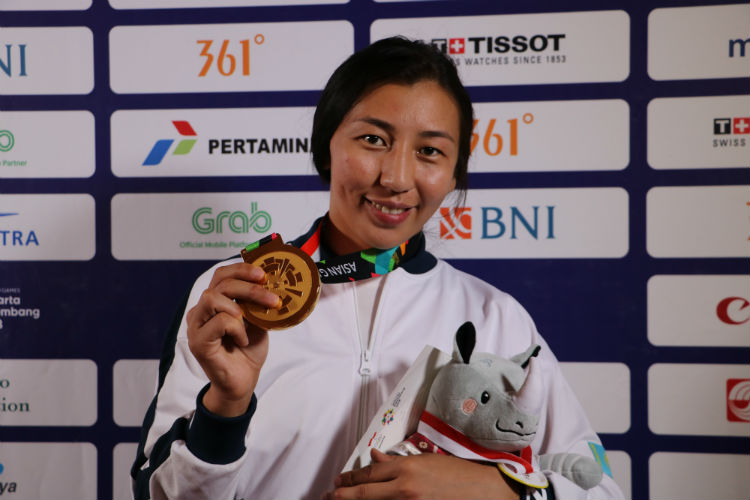 'I had been preparing for this tournament for half a year, as this is a great historic event: for the first time ever SAMBO had been included in the Asian Games program. To me, it was like going to the Olympics, and the gold medal that I've won here is just a great, incredible joy. It was very difficult to win, the competition in Asian SAMBO is incredibly high today.
We do hope, we wish for SAMBO to become an Olympic sport. Already at the Games in Jakarta we have experienced this incredible atmosphere, with its pleasant excitement and tension, with great competition and the desire of each competitor to win. Now, when this medal is already in my hands, I feel very good, really relieved. The day before I was deeply worried indeed, I couldn't sleep all night.
My second fight at the tournament became the most difficult for me, because my opponent was a Japanese athlete with a fine technique. She had a vast experience of performing at judo competitions, and I managed to overcome her owing to SAMBO technique only. Honestly, I had expected that in the finals I would be matched against one tough sambist from Mongolia, but she lost in one of the preliminary fights, so we did not meet on the mat. Now I am going to prepare for the World Cup in Romania. Hope I can compete for the gold there.'
Kamoliddinq Kholmamatov (Uzbekistan), a gold medal winner in the up to 90 kg weight category among men.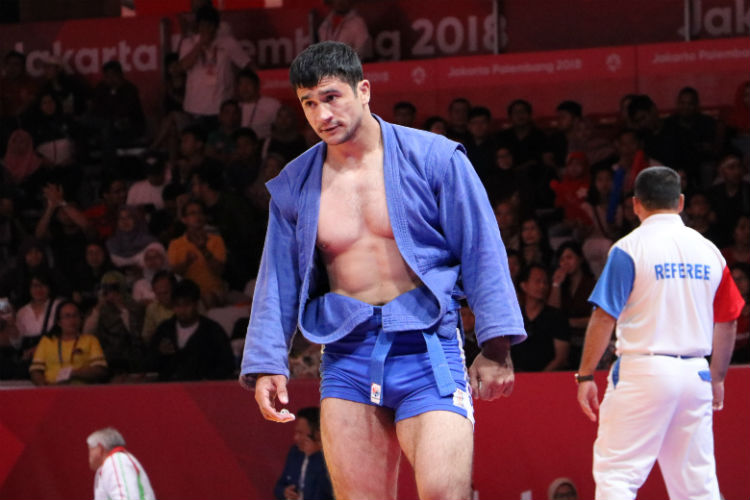 'I feel very excited about my victory, it has been a long way, I had many challengers. But now I'm just glad, everything is forgotten. On the eve of the tournament, of course, I was picturing it in my mind, how everything would happen, but tried to get distracted from it by something else and not to think about my opponents at all. I am happy that my victory has happened on the Independence Day of the Republic of Uzbekistan, I want to present my medal to my whole country. I have waited for a long time and dreamed that SAMBO would be included in the Asian Games, and I am very glad that I have become the first champion in my weight category, it's a great honor for me. I am sure that in the future SAMBO will be included in the Olympic Games, too.'
[Photogallery] Day 2. SAMBO at the Asian Games in Indonesia