Reflections of the Winners of the 2nd Day of the World SAMBO Championships in Korea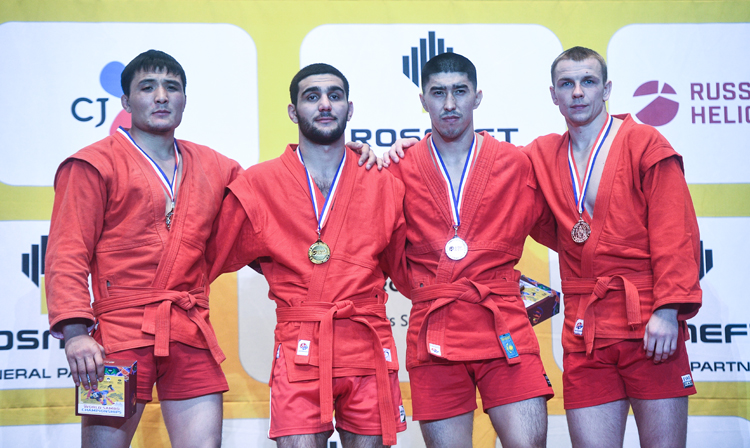 November 9, the second day of the World SAMBO Championships in the Republic of Korea is over. The best sambists from all over the globe competed for the tournament medals on the mats of Seokwoo Culture Gym arena. By the end of the day, the world champions were singled out in 9 weight categories. The impressions and emotions of the tournament winners and of those who have nearly scored the gold are in their interviews to the FIAS website. General partner of the World SAMBO Championships is the Rosneft Oil Company.
Luisaigna CAMPOS (Venezuela), a bronze medal winner in the up to 52 kg weight category among women: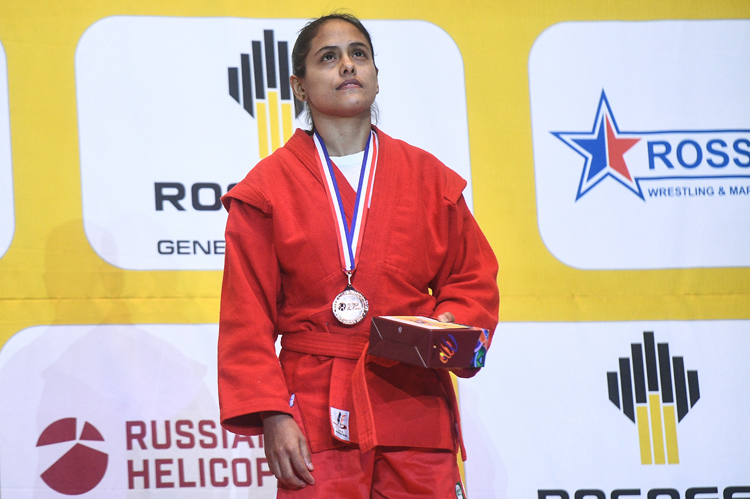 - I am very pleased with my result. And, of course, I was longing for the gold, yet the fact that I've won a medal, albeit of lesser value, is incredible. Where did I fail? To be honest, I got confused by the actions of the referees, as I received quite a large number of fouls, and that unsettled me. I lost my control and failed to pull myself together.
My husband, Lucas, performed at the World Championships on the same day. He supported me after my losing in the semifinals and congratulated me on my achievement, the bronze medal of the World Championships. We both sacrificed a lot in order to attain this result. I hope that next year I would be able to improve my score.
Julia ROSSO (France), a silver medal winner in the up to 52 kg weight category among women: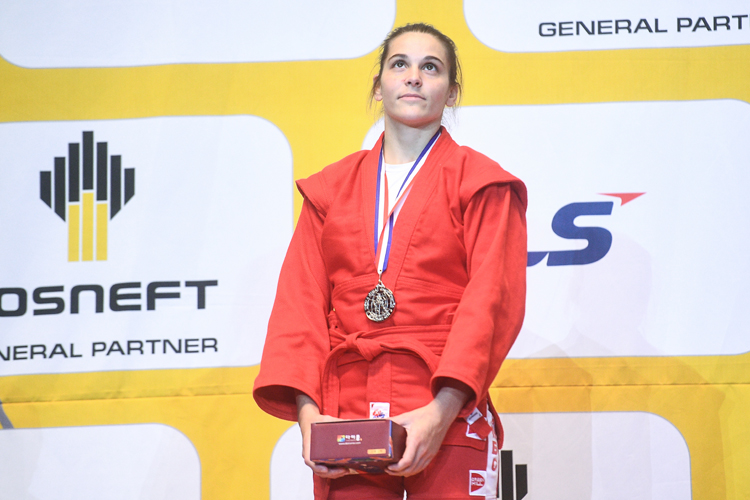 - This medal opens a new page in my sports career. I came to SAMBO from judo and already succeeded to win the silver at the European Cup in the Czech Republic, and now another one at the World Championships.
Thanks to SAMBO, I discovered a new technique for myself, found out new elements of fighting. In the final match with a Russian athlete, I lost in par terre, as I feel myself more confident in the standing position, and I'm still not aware of all the SAMBO secrets. Yet today I have gained useful experience for myself, it has become something completely new to me. Now I understand that I need to train even more, what to pay attention to both in defense and in assault. I hope that my main success in SAMBO is yet to come.
I was practicing judo for almost 15 years, and now my SAMBO training brings me tremendous joy, because these are very close sports. To me, SAMBO is a kind of challenge, I should prove to myself that I am able to succeed in this martial art which is new to me.
Stsiapan PAPOU (Belarus), a silver medal winner in the up to 74 kg weight category among men: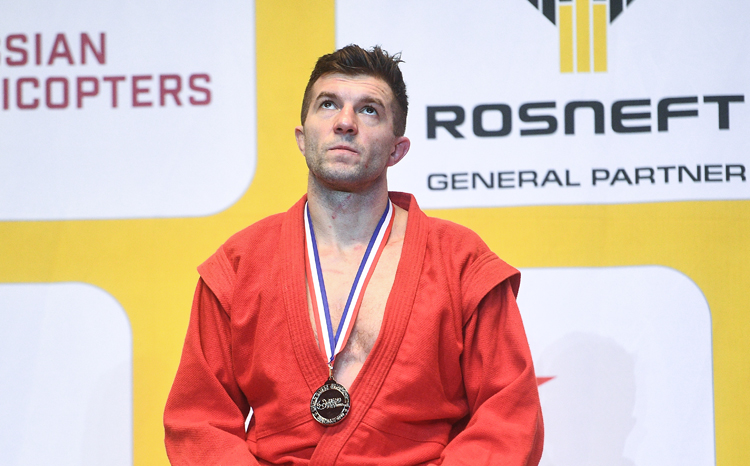 - In the preliminaries, my opponents were not particularly titled, but I was really impressed by their patience and fortitude. In my first fight, when I performed an arm lock on my opponent from Algeria, he did not give up. I began to press further, and until his hand crackled and started to break, he did not surrender. The same thing happened with the Japanese: I was applying a lock on his Achilles tendon, and until it began to crackle, the sambist did not give up. In the semifinals, I was matched against a Georgian sambist who defeated me at the European Games in Minsk. Now I've taken revenge. But in the finals I faltered a bit. I came within an ace of winning.
Honestly, this year turned out to be quite difficult for me. The II European Games slightly spoiled this season's performance, then I fell seriously ill at the competitions in Armenia, and in Georgia I had to come out on mat with high temperature. After that, I was laid up with the illness, and started to recover only in the run-up to the World Championships. Physically, it was pretty strenuous, yet somehow I managed to control my breath better than my opponents.
The prize money at the World SAMBO Championships is, of course, a very pleasant thing, but I try not to think about it. Sport is primarily a sport, even though additional motivation wouldn't harm anyone.
Kerimberdi DOVLETOV (Turkmenistan), a silver medal winner in the up to 62 kg weight category in combat SAMBO: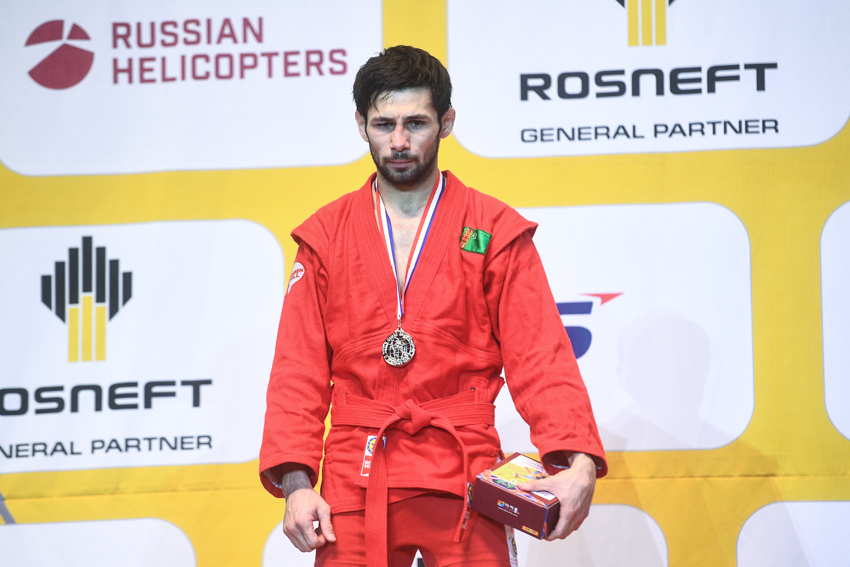 - Today I hit the medal stand for the third time, before that I had taken third place twice, and now I took the second, though, certainly, I was hoping for the gold.
What was missing? I don't even know, it's hard to say. I lost on points with the score of 3-0, probably the defeat was tactical, though the Russian turned out to be better in the fight. During the combat I've got an impression that my opponent does not fall, at all.
Perhaps it was also caused by the injury that I received while participating in the Tournament for the Prizes of the President of the Republic of Belarus in Minsk. A collarbone fracture seriously knocked me out of my track: I could not train for 3-4 months, then I gradually got back to shape. It also resulted from changing time zones, as I wasn't sleeping for almost two days. And, of course, my weight loss: 10 kg in a week is quite a lot. Probably, weight loss is the most difficult period when your nerves are at the limit.
But defeat is defeat, and I am not trying to justify myself, because my opponent was sharing the same conditions. It's no big deal, though, next year I will definitely be the first.
Paula MARTINEZ (Spain), a bronze medal winner in the up to 80 kg weight category among women: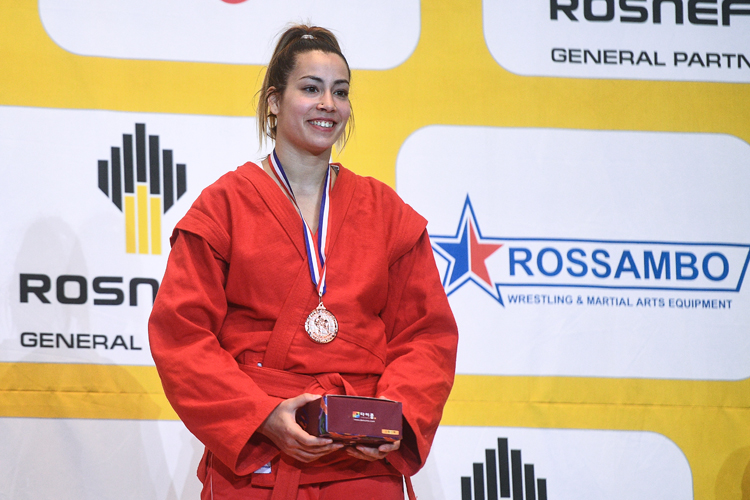 - I'm blissfully happy. As a matter of fact, I had to train hard for so long, to reach the top three and hit the medal stand. Given that this is my first participation in the World Championships, I treat my performance as successful.
I shifted from judo to SAMBO, because this sport appeared very interesting to me. Besides, my coach persuaded me to do so in every possible way, by emphasizing its attractiveness and great variety in terms of technique. To be honest, financial motivation also matters, the money bonus that the medalists receive from FIAS at the World Championships is by no means useless for the athletes.
Now I will start preparing for the SAMBO Championships of Spain that are to be held in April next year, and if I win again, I will go to the European Championships.
Maxwel DJANTOU NANA (Cameroon), a silver medal winner in the over 100 kg weight category in combat SAMBO: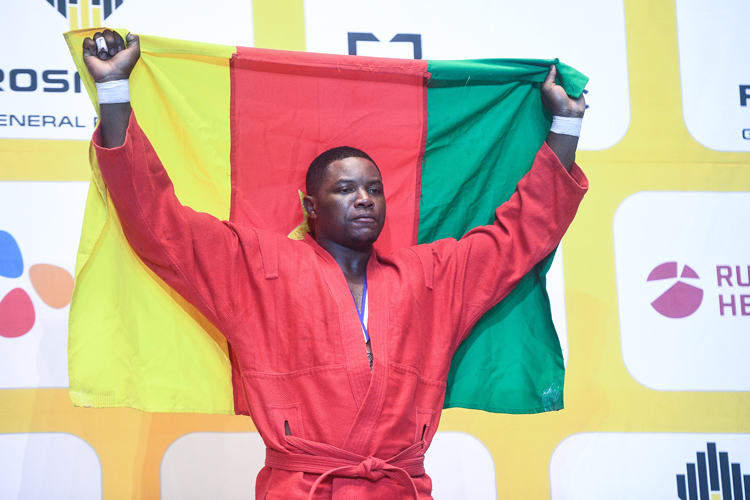 - I was working very hard and for long, with a great deal of practice and preparations. I knew that the mastery of athletes at the World Championships would be very high, and that proved correct. It was especially difficult to fight against the Russian sambist in the finals. During the combat, I realized that he and I were at approximately the same level, although technically he was superior to me. Despite the defeat, I am happy both with the silver and my performance, because I know that I have done my best. I've also gained invaluable experience that will help me see my mistakes and correct them.
I met Kirill Sidelnikov for the first time and did not know what to expect from him, so in the course of the fight I adjusted to my opponent, rearranging my tactics from time to time. If the Russian changed his approach, then I changed mine. Fortunately, the combat SAMBO basics that I have been practicing for 8 years allow me to feel confident both in the stance and on the ground.
[PHOTO GALLERY] WORLD SAMBO CHAMPIONSHIPS 2019. DAY 2. FINALS
[Photogallery] World SAMBO Championships in Cheongju, Republic of Korea. Day 2. Finals