Reflections of the Winners of the 3rd Day of the World SAMBO Championships in Korea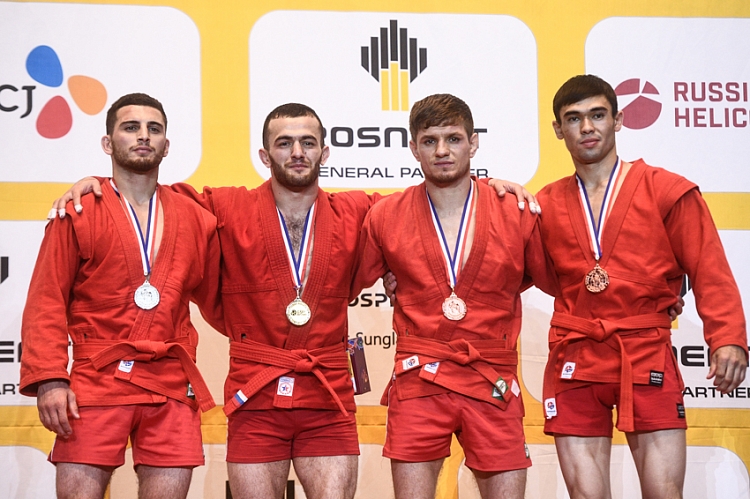 November 10, the third day of the World SAMBO Championships in the Republic of Korea, is over. The best sambists from all over the globe competed for the tournament medals on the mats of Seokwoo Culture Gym arena. By the end of the day, the world champions were singled out in 9 weight categories. The impressions and emotions of the tournament winners and of those who have nearly scored the gold are in their interviews to the FIAS website. General partner of the World SAMBO Championships is the Rosneft Oil Company.
Marina MOKHNATKINA (Russia), a gold medal winner in the up to 68 kg weight category among women: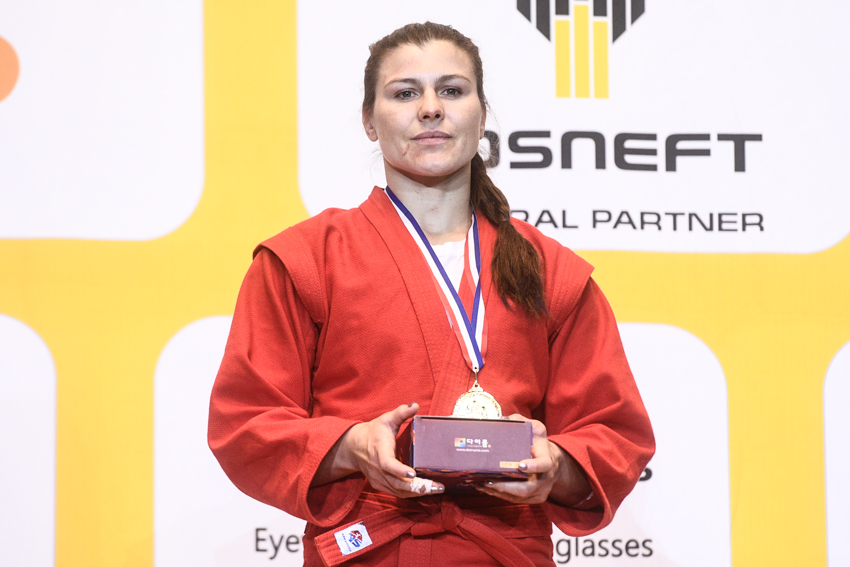 - The draw was not the most favorable for me. In my first fight, I went on the mat against a Mongolian athlete whose level was very high, I knew this, since I had already been matched against her. Therefore, my very first fight felt like the finals to me. And it was not incidentally that the struggle was very intense and lasted until the last second. As to the rest of my opponents, I had already fought with them before, and realized that I could surpass them. And so it happened.
To be honest, this year proved to be not very rich in gold medals, plus a row of minor injuries that constantly knocked me out of the track. Probably, a serious preparation for the World Championships that I'd undertaken in Armavir helped me win today. I am very grateful to the school that has been training me.
Davlatjon KHAMROEV (Uzbekistan), a gold medal winner in the up to 62 kg weight category among men:
- It was a close fight, and the Greek athlete was very well prepared. Until the last seconds, the score was 1:1 in my favor, so he was compelled to attack, but I managed to trip him up and make a throw. This was my tactics for this fight: to fight on grips for the first 2-3 minutes, and then to advance towards throws. And, of course, to lead the fight. It bore fruit.
I have been engaged in SAMBO for 20 years, three times I won the World Championships, in Russia, Japan, and Morocco, and finally, this long-awaited gold.
Certainly, I am very pleased with the prize money, this is an amazing bonanza, but the main thing is a gold medal. I do enjoy SAMBO, for me it is my profession, my hobby, and my state of mind altogether.
Savvas KARAKIZIDIS (Greece), a silver medal winner in the up to 62 kg weight category among men:
– Of course, silver is not gold. It was probably my mistake, as I was winning on points but then lost my advantage. But this is sport, things happen. Last year I won the bronze at the World Championships, and now it's the silver. So there is some progress.
By the way, the silver is haunting me this year, all the time I stop within a centimeter from the gold. But this is only the journey's start, and I'll move forward for more victories.
Do my victories motivate other athletes of the national team? Yes, they do, the guys watch my fights, congratulate me, follow me on Instagram, look at the elder generation. And so I was taking example from my elder teammates. What do they ask me? The guys often ask questions about physical fitness, they ask a lot about how I lose weight, or things related to the functional component. I'm trying to be helpful.
Now I plan to relax, then I ought to win at the SAMBO Championships of Greece in the coming December. If one thinks there would be little competition, nothing could be further from the truth. There's a plenty of very talented guys in Greece, so you should always stay on the lookout.
Saidyokub KAKHRAMONOV (USA), a bronze medal winner in the up to 68 kg weight category in combat SAMBO: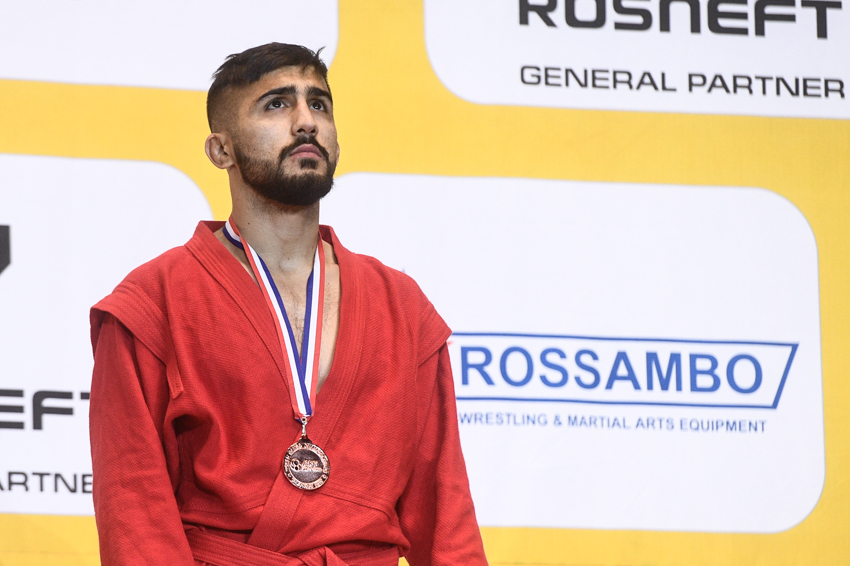 - As I proceeded to the finals, I lost to a Russian athlete who eventually became the world champion. In my fight against him, there was a moment when I was in the lead, and I had an opportunity to win. He attacked, and I succeeded in carrying out an effective counter-attack that made him lose his balance, and at that moment I could finally defeat him. However, SAMBO rules impose a number of limitations that have kept me from doing this. Then we engaged in the fight in which Stepan proved stronger.
As a matter of fact, in recent years I have been practicing mixed martial arts and have not as yet got used to fighting in SAMBO jacket. Today, precisely because I lack this habit, my jacket interfered with my movements. And the Russian, on the contrary, felt great in his outfit. As a result, he was able to transfer the fight to an area comfortable for himself and therefore was able to win the match.
This was my first SAMBO tournament of such a level at which I gained an excellent experience. I grew up on fights of the iconic sambist of all times, Fedor Emelianenko. It was his technique that inspired me to study combat SAMBO and participate in competitions. I believe that a combat sambist is an athlete who has no weak points, who feels comfortable in both positions, in the stance and on the ground.
Now I am very happy not only for myself, but also for my country. I won the first medal for the USA in these Championships. And it is very gratifying.
Purevdorj DAMDINSUREN [Mongolia], gold medal in the over 100 kg weight category: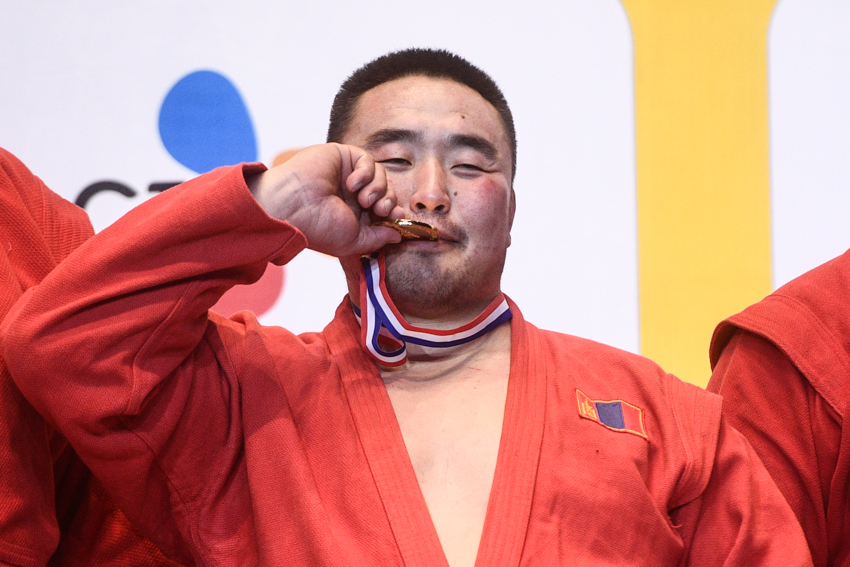 - In order to win, I had to train a lot. And, of course, my coaches and our entire team, as well as the spectators who supported me, contributed greatly to my victory.
As I was preparing for the finals, I pondered on the relevant tactics, since the Romanian athlete was superior to me both in height and in weight. Yet, despite such a discrepancy in size, I was mentally prepared to fight against him. The fact is that our national wrestling is based on this principle: we fight against any opponent, regardless of their weight class. I think it was this experience that helped me win.
And my tactics consisted in studying my opponent, his strengths and weaknesses, in looking for a chance to perform a throw. And so it happened.
Daniel NATEA (Romania), silver medal in the over 100 kg weight category: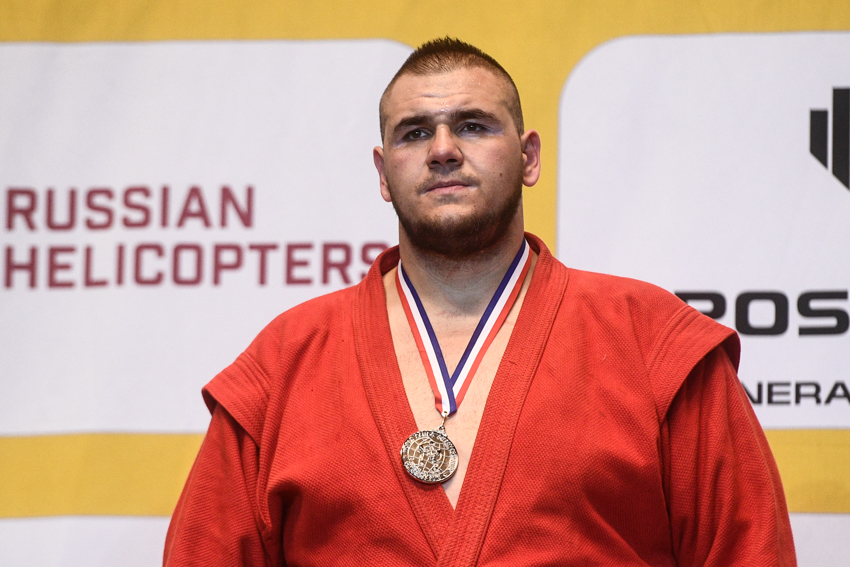 - I came to Korea for a gold medal, but in the semifinals I got an injury that did not let me fight to the full extent of my strength in the decisive match. In fact, the doctors were going to forbid me from performing in the finals, but I did not heed them as I came here to win.
I have no exact diagnosis yet, but I think that my meniscus is damaged. It is not torn, but most likely there is a sprain. Here's the rub. If it were some other tournament, not the World SAMBO Championships, I would probably have refused to take part in the finals with such a trauma. But for the sake of the gold medal of such value, I decided to take a chance.
Regrettably, I was still unable to fight in full, but against all odds I feel great. I've got the silver of the World Championships, I participated in a SAMBO tournament of such scale for the first time. And next year I will definitely win the gold.
[PHOTO GALLERY] WORLD SAMBO CHAMPIONSHIPS 2019. DAY 3. FINALS

[Photogallery] World SAMBO Championships in Cheongju, Republic of Korea. Day 3. Finals